Avian (2023) by April Hickox. Image provided by artist via Nuit Blanche website.
Toronto's free all-night art celebration will return this year from Sept. 23 at 7 p.m. to Sept. 24 at 7 a.m.
From sunset to sunrise, the 17th Nuit Blanche will feature exhibitions across downtown Toronto, Etobicoke and Scarborough with more than 80 art projects and close to 250 participating artists.
This exciting city-wide event will include works by dozens of OCAD University students, alums, faculty members and staff members, held together by the theme Breaking Ground.
This year's theme encourages exploration within the arts community to focus on issues related to nature and change. Specifically, Breaking Ground invites artists to explore themes of climate change, the impact of urban development on communities and collective responsibilities around land and stewardship.
Nuit Blanche will feature works from award-winning artists, such as OCAD U Assistant Professor Suzanne Morrissette (to notice) and Associate Professor Emerit Bonnie Devine (Circle of Enquiry for a Dish with One Spoon).
Many OCAD U community members will be featured at the all-night event, including Associate Professor April Hickox (Avian), and Sculpture and Installation graduate Hannah Busse (The 'Living' Room).
Entry is free for the public to engage with the art projects.
For those seeking daytime events leading up to and during Nuit Blanche, alum Emerald Repard-Denniston (Drawing & Painting, 2022) has a solo show during Gallery Weekend from Sept. 21 to 24, entitled She's Been Haunting Me in My Dreams at SpacemakerII. Join the artist for a group painting session and tarot reading on Sept. 22 starting at 3 p.m.
Onsite Gallery to remain open for Nuit Blanche Fresh Pop study (2023) by Tarralik Duffy. Image courtesy of artist.
OCAD U invites the public to visit its flagship professional gallery, Onsite Gallery, which will be open from Sept. 23 at 7 p.m. to Sept. 24 at 7 a.m. as part of Nuit Blanche.
As a result, the gallery will be closed during its regular Saturday operating hours from noon to 5 p.m.
Visitors will get to experience Onsite Gallery's current exhibition On Americanity and Other Experiences of Belonging, guest curated by Analays Álvarez Hernández and Colette Laliberté. This exhibition brings eight artists together to explore the notion of "Americanity" and what it stands for today.
And, don't miss Fresh Pop, the captivating new digital mural on the gallery's exterior façade, by Tarralik Duffy. This is part of the series, Up Front: Inuit Public Art at Onsite Gallery, a partnership between Onsite Gallery and the Inuit Art Foundation.
Fresh Pop is part of Duffy's ongoing examination, which finds her spotlighting the prominence of everyday objects that have become customary to contemporary Inuit culture and iconic in the North.
Duffy is the 2021 winner of the Inuit Art Foundation's Kenojuak Ashevak Memorial Award and presents solo exhibitions at the Art Gallery of Ontario and the Winnipeg Art Gallery in 2023.
Explore works by OCAD U community members at Nuit Blanche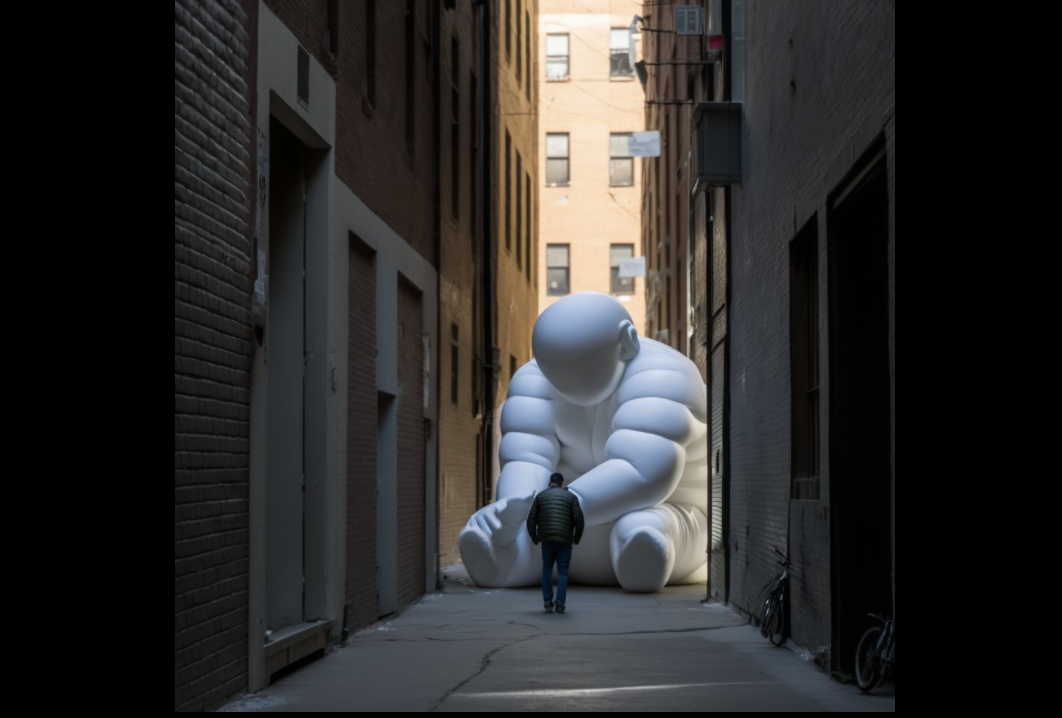 Tight Spaces (2023) digital rendering by Roda Medhat. Image provided by artist via Nuit Blanche website.
A range of OCAD U community members are participating in Nuit Blanche this year. The following is a list of some works by OCAD U students, alums, faculty members and staff members that will be on display across the city.
Don Mills
Downtown Toronto
East Danforth 
Etobicoke
Fort York
Scarborough
Sterling Road