Photo credit: Tyler Gray
Since graduating from OCAD University, Natalie Armata has worked at some of North America's top ad agencies and won national and international awards (such as AdAge Silver Small Agency of the Year '22, ONE Show, D&AD, Communication Arts and Maclean's Growth 500), mentoring students and speaking on panels along the way. She wears many hats as a Registered Graphic Designer, art director and entrepreneur.
Notably, Armata has co-founded two thriving ventures alongside her business partner, Alanna Nathanson: G&G Advertising, and Giants & Gentlemen Old Tom Gin. Armata holds the titles of Co-CEO and Chief Creative Officer behind these businesses.
Together, Armata and Nathanson shape the mission and vision for the companies and oversee all the strategy and creative. Armata says that by trade, she is an art director and Nathanson is a writer, leading the duo to bring the best of both worlds to our clients, from both a creative and leadership perspective.
G&G Advertising came first, followed by Giants & Gentlemen Old Tom Gin, which is produced locally and has won 12 awards to date including Gold/Country Best at the World Gin Awards in London, England. The renowned gin brand is currently available in select LCBO locations. 
In conversation with Natalie Armata
How did you go from OCAD U grad to entrepreneur?
I've been fortunate to work at some of North America's top ad agencies throughout my career and have won numerous national and international creative, effectiveness and business awards along the way. I was working with Alanna Nathanson in 2011 and we clicked immediately, from both a creative and entrepreneurial standpoint.
We talked about starting our own agency very early on: it was like finding 'the one', in a professional sense. We started with our philosophy: Be Brave. Be Decent., which we haven't waivered from since. It means we make our clients giants in cluttered markets, and we always do so with integrity. We also developed a strategic tool called Outthinking that we still use today, whereby we tap into professionals in different verticals to garner unique and competitive insights for our clients.
What inspired you to start Giants & Gentlemen Gin? 
About nine years ago, our agency was working with a Distiller and thought 'why don't we make a gin to give to our clients this holiday?'. It was such a hit, we decided to turn it into a separate business. 
How we landed on the recipe: we investigated various spirits and decided on gin (also just happens to be Alanna's drink of choice.) In order to be unique, we didn't go the typical London Dry route. Instead, we created an Old Tom style gin, based on a Victorian recipe and which has a more balanced and mellow palate. After many tastings we finally landed on the exact right ingredients: based on the old style with a twist to be more contemporary. 
How we created the brand: Giants & Gentlemen Old Tom Gin is the embodiment of classic and current, in other words: Old Tom, New Gin. The logo encompasses a cyclops wearing a monocle and a top hat, ie. a giant and a gentleman. We found a unique off-white ceramic bottle to pay homage to the Victorian bathtubs the gin was originally made in, sorted out operations and got into the LCBO (this is the simple version of the story). We have won 12 awards to-date, including Gold/Country Best at the World Gin Awards in London, England. We're now looking at distribution outside of Ontario.
The name stems from our philosophy: Be Brave. Be Decent. Brave like a Giant - stand out in cluttered markets. Decent like a Gentlemen, colloquial for acting with integrity and respect.
Your companies are women-led. Can you speak to the significance and power of this?
Alanna and I believe diversity brings a new perspective to business and marketing problems. Historically, there have been very few women at the top; we're trying to change this by example and through various initiatives. Some of the ways that we're supporting our industry and women: 
We co-founded The Mighty Women list alongside The Message (2021 & 2022). As Co-Chairs, we wanted to celebrate women in the industry; not just their business successes but the impact they've made as individuals in the world around them and the obstacles they've overcome as well. 

We've both taught at The Miami Ad School, judge award shows, mentor students and speak on panels. 

We have a long-standing working relationship with the Assaulted Women's Helpline, developing impactful creative to drive awareness, especially during the pandemic when domestic abuse was on a steep rise. 

G&G Advertising is certified by the WBE (Women Business Enterprises Canada Council). An organization championing women-owned businesses through procurement processes.   
How has your education at OCAD U supported your career?
OCAD U did an excellent job at instilling genuine creativity. Students were inspired to truly find the essence of the product or service and then be original and push the boundaries. Playing it safe was discouraged.
What advice do you have for artists and designers currently studying at OCAD U? 
Now is the time to experiment, have fun and really push yourself. Demonstrate to your teachers what you're made of, how far you can go and how unique your work can be. When you graduate, aim high. Try to land a job at one of the best companies in your industry. Ground-breaking companies serve as an excellence shortcut on your CV. Lastly, remember that it's always about the work - the money will come. 
Make a Giants & Gentlemen Old Tom Gin 'G-tini' this holiday season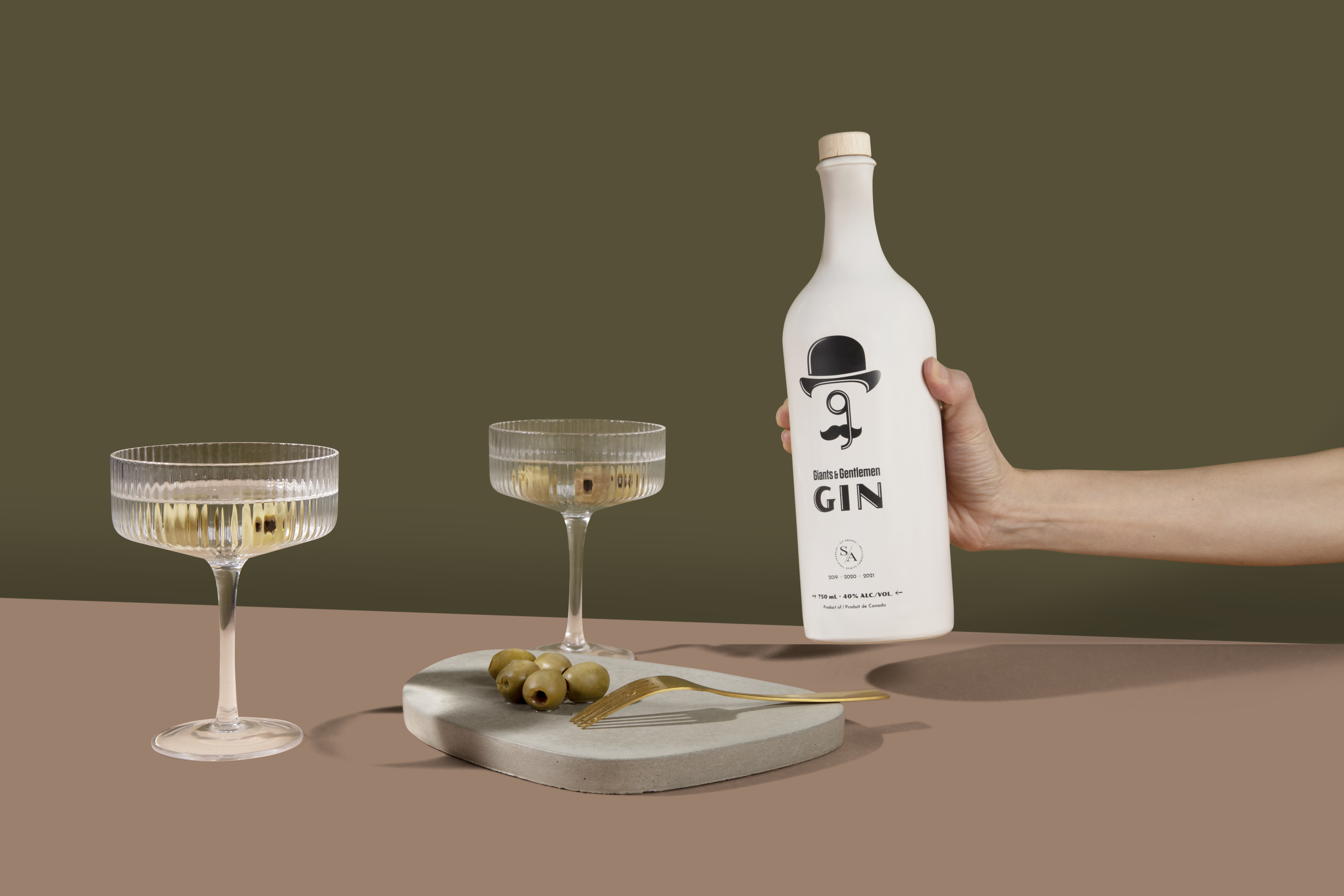 Founded for the holidays almost a decade ago, Giants & Gentlemen Old Tom Gin has a unique recipe highlighting an aromatic blend of juniper berries, lemon and orange peel and subtle hints of vanilla and elderflower.
Armata recommends a G-tini for the holidays.
"Giants & Gentlemen Old Tom Gin is so smooth and balanced, it's perfect for a Martini," she says. Find the recipe below.
2½ ounces Giants & Gentlemen Old Tom Gin

½ ounce of your favourite dry vermouth

Green olives or lemon twist for garnish