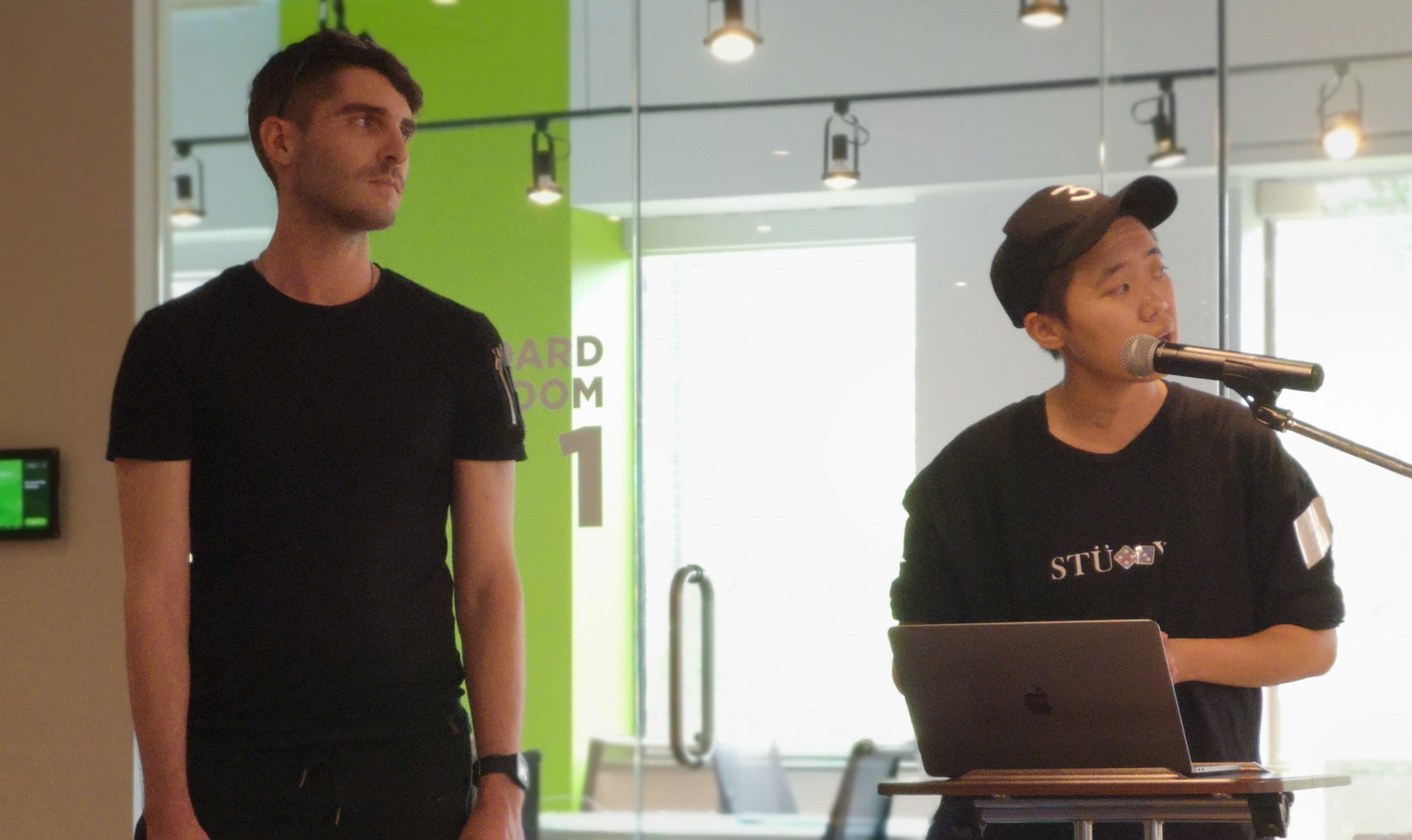 Geordie Graham (left) and CG Chen (right). Photo courtesy of Ample Labs.
Tackling employee burnout may have not been on the minds of CG Chen and Geordie Graham when they were students, but the OCAD University graduates saw a need and it was timely, especially during the pandemic.
Having founded two successful tech companies within the last six years, the resourceful colleagues have decided to give back to the University, where it all started.
The $50,000 Ample Labs endowed gift to OCAD U will support a new Student Research Fund ($25,000) and a new prize as part of the RBC Centre for Emerging Artists & Designers for a new pitch competition for students who want to launch tech companies that address social problems ($25,000).
Chen and Graham credit OCAD University with inspiring their current work and their ongoing success. "Creatives have a very bright future," says Graham. "OCAD U is a research university… there's so much depth in the academic experience. Everyone thinks that the next tech CEO is going to come from an engineering school, when equally they can be coming from a design school."
Both graduated from OCAD U in 2016 – Chen, with a Bachelor of Design (BDes) degree in Graphic Design and Graham, with a Master of Design (MDes) degree in Inclusive Design.
"We wanted to support OCAD U in the areas that would really benefit the University – inclusive research and entrepreneurship. So, for us, this donation is very meaningful to support current students," explains Graham.
The goal of the research funding is to help students recruit individuals with lived experience and bring them into the software development process, specifically focused on vulnerable groups.
"We are immensely grateful to Ample Labs co-founders, CG Chen and Geordie Graham, for recognizing OCAD U's role in their career development with this gift and for supporting our current students," said Ana Serrano, OCAD University's President and Vice-Chancellor.  "This generous gift will provide students with much needed support to conduct research and build tech solutions in an ethical and equitable way."
As founders of mello, a software product that companies can use to measure, track and action on employee burnout, Chen and Graham found themselves burning out while building their first company, Ample Labs.
"With mello, we wanted to support people going through a really rough time, especially when the pandemic happened," said Graham.  "Having studied inclusive design, we made our product accessible to people with disabilities," said Graham. "We were able build a product that was inclusive from day one."
The two met as students, when Graham was the Director of Operations and Finance for the OCAD U Student Union and Chen headed a student club for entrepreneurs, called The Grind.
Chen was supported by Graham as her mentor while completing her thesis at OCAD U. She had partnered with a local charity in Toronto, Fred Victor, to run co-design sessions with people who lived in the shelter. From the co-design sessions, they built an app that inspired the City of Toronto's shelter department to create and implement a version of, for their own website.
Inspired by that work, Chen went on to conduct further research into homelessness solutions. "In 2017, I travelled to Los Angeles to visit Skid Row, notorious for homelessness, where I met a lovely lady who was running a non-profit and she was essentially teaching people living on the street how to use computers."
In 2018, Chen went on to found Ample Labs with Graham, where they developed a new app, Chalmers, that built technology solutions for the homeless community.  "We decided to pick up where my thesis left off," said Chen.
While developing Chalmers, they conducted multiple interviews, workshops and consultations with the homeless, at-risk youth, community organizations and social services in Toronto.
After moving on to develop their new remote company, mello, a Y Combinator backed company, Chen and Graham decided to open source the software they built for Ample. Now, any city in North America can use the code they built to deploy a local version of their chatbot.  
The Ample Labs prize will be included as one of the award categories in the 2021-22 version of the pitch competition and the call for expressions of interest for OCAD U students and recent alumni will be made available this fall.