OCAD U is in the final stretch of finalizing renovations and upgrades in several buildings, all part of the goal to enhance our studio-based teaching and learning spaces for the new academic year.
As part of these upgrades, some studio seminar and tutorial rooms in 113 McCaul St., 100 McCaul St. and 205 Richmond St. W. will have new chairs, tables and teaching stations to provide a flexible, comfortable and contemporary teaching environment for students, faculty and instructors. OCAD U has also created and expanded new studio spaces at 205 Richmond St. W.
Funding for some of these renovations and upgrades has come from Ontario government grants while others have been financed through the capital budget. 
See below for the full list of campus renovations and upgrades.
100 McCaul St.
On Level 1, OCAD U has added a universal washroom facing the green stairwell at the south end of the lobby (funded through the Employment and Social Development Canada's Enabling Accessibility Fund). The Lambert Lounge kitchenette has been upgraded to meet the needs of OCAD U community and Student Union for preparing food and hosting events.

On Levels 5 and 6 in the open areas, visitors will find new chairs, work benches, dividers, pin-up surfaces, storage and computer stations to provide an environment that is more supportive of studio and maker activities.

In room 667, a new agnostic 2D studio is getting new furniture and equipment to provide a new model of workspace supported by staff to explore 2D-related making and printing processes.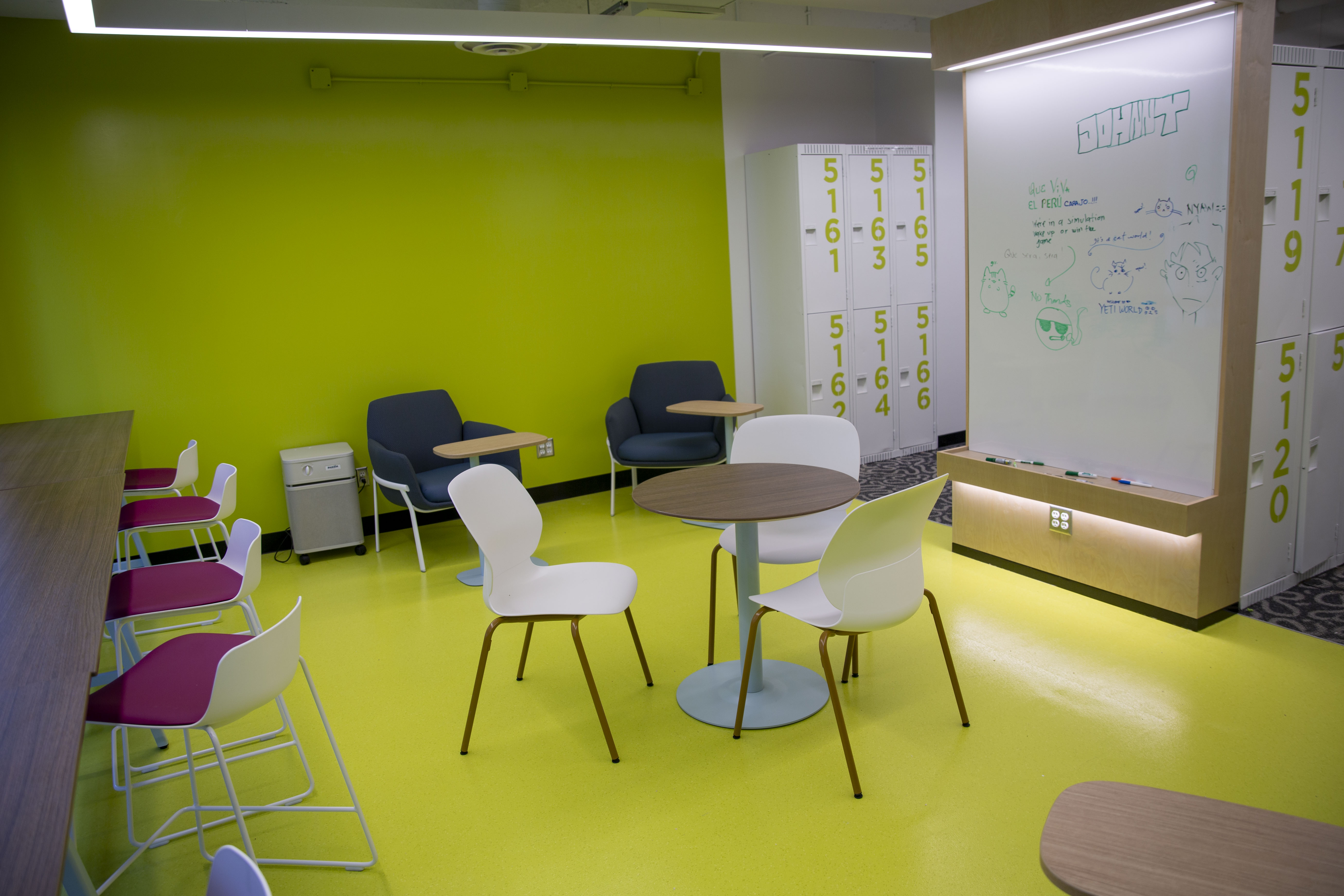 Lockers and new furniture and LED lighting at 113 McCaul St. 
113 McCaul St. 
The social hub corridors on Levels 3, 4 and 5 have been renovated to provide areas for gathering, work and study for students, faculty and staff to provide a refreshed and welcoming experience for people using the building.

Lockers have been reorganized to provide space for new flexible furniture and LED lighting has been installed to be more energy efficient. Painting, tack surface, whiteboards, digital monitors and additional outlets have been provided to support various activities.

These renovations were funded through the Ontario government's Facilities Renewal Program. New tables, chairs and teaching stations will be added to the studio seminar rooms throughout the building.
205 and 230 Richmond St. W.
At 205, a fresh, new paint colour scheme has been added throughout the public space of the building.

At 230, work is being done in the lobby. Hullmark, the building's owner and property manager, is making improvements to the HVAC system and installing baseboard heaters.

New wayfinding signage is coming to both buildings, including directories, digital monitors and display surfaces in the lobbies and at elevator landing areas. This is part of OCAD U's strategy to make it easier to navigate in these buildings, enhancing the campus experience.
Reallocated offices and new and expanded studio spaces
OCAD U has also consolidated some offices as part of its Future of Work initiative to create new studio spaces by optimizing space by having departments share offices where this makes sense. This is part of the University's ongoing commitment to foster a studio-based learning environment and provide improved access to student services.
230 Richmond St. W.
The Offices of Finance and Continuing Studies are now co-located in room 715 on the seventh floor.

The Offices of the Registrar and School of Graduate Studies are now co-located in room 501 on the fifth floor. New furniture has also been added to create a warm and inviting environment. The School of Graduate Studies was previously located on the fifth floor at 205 Richmond St. W. 
205 Richmond St. W.
The open area in room 701, the Graduate Student Lounge, has been outfitted with tables, chairs and soft seating to provide graduate students with a space to gather, eat or just lounge while they are at 205. The lounge will include a student pantry with a fridge and freezer, courtesy of the OCAD U Student Union. 

The Race and Equity Lounge in room 701K has been outfitted with new soft furnishings and Teams technology. This is a dedicated space for faculty members who are Indigenous, Black and People of Colour.

Studio space for the Strategic Foresight and Innovation program has moved back to 205 from the Waterfront campus to rooms 315 and 415.

New studio space for the Interdisciplinary Master's in Art, Media and Design (IAMD) program has been created in room 501 (this builds on the existing studio space in room 611). 

New studio space has been created in rooms 714 and 716 for undergraduate students in the Digital Futures program.