Project 31 is back and in person on Tuesday, November 28!
This unique fundraiser is featuring an auction of artwork from acclaimed faculty and alums in support of OCAD University students.
"We are thrilled to hold this event in person, bringing art and design collectors and enthusiasts together to participate in one of Canada's most important contemporary art auctions," says OCAD U President and Vice-Chancellor Ana Serrano. "The collection is being curated by an esteemed jury and will showcase work by members of the OCAD U community, including faculty and graduates."
Early-bird tickets now on sale
Early-bird tickets are now available for $150 until Oct. 12.
The event gets underway at 6 p.m. at 100 McCaul St. in the heart of Toronto's art and culture corridor. Guests will enjoy cocktails, hors d'oeuvres and an exclusive live auction with up to 20 lots and a silent online auction of up to 30 lots works. Auctioneer Stephen Range will talk about his top picks from the featured artists in the auction. Early bidding on both auctions opens on November 21.
Project 31 Jury Committee
Members of the jury committee are Jason Baerg, Associate Professor, Faculty of Art; Kestin Cornwall, Assistant Professor, Faculty of Design; Stephen Foster, Dean, Faculty of Art; Dr. Nithikul Nimkulrat, Associate Professor, Faculty of Design; Suharu Ogawa, Assistant Professor, Faculty of Design; and Gordon Shadrach, Assistant Professor, Faculty of Art.
Since its inception in 2010, Project 31 has raised more than $1 million to support OCAD U students. Proceeds from the 2023 event will support bursaries and programming for OCAD U students who are Indigenous, Black and People of Colour.
Participating artists
Among the faculty members who have donated works to date are: Instructor Misbah Ahmed, Assistant Professor Shea Chang, Professor Paul Dallas, Instructor Scott Everingham, Associate Professor Jody Hewgill, Associate Professor Anda Kubis, Associate Professor and Acting Chair, Ada Slaight Contemporary Drawing and Painting JJ Lee, Associate Professor Wrik Mead, Professor Sarah Nind, Assistant Professor and Chair of Photography, Printmaking and Publications Emma Nishimura, Assistant Professor Gordon Shadrach, Assistant Professor Meera Margaret Singh, Assistant Professor Julia Rose Sutherland, Professor Gary Taxali and Professor Emerit Michèle White.
Many graduates have also donated works, including Anthia Barboutsis, Jasmine Cardenas, Emerald Repard-Denniston, Mitchell Fenton, Atleigh Homma, Vladimir Kanic, Mitsuo Kimura, Timothy Manalo, and Michelle Peraza.
Spotlight on two artists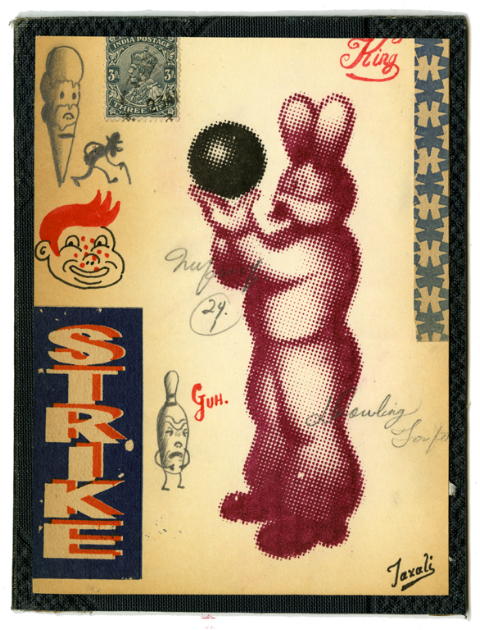 Contemporary Canadian fine artist and illustrator Gary Taxali has donated a work entitled, Strike, which was created in 2011 for his solo show My Feelings Like You at Outsiders Gallery in Convent Garden, London (U.K.). The gallery is owned and operated by Steve Lazarides, Banksy's longtime art dealer.
Taxali is a graduate and tenured full professor in the Faculty of Design (Illustration) who has been teaching at OCAD U since 2003. His retro stylized art, reminiscent of depression era artwork, advertising, typography and packaging, has earned him important placement as world renowned artist. He has been listed as one of the top 100 illustrators in the world by art book publisher TASCHEN in The Illustrator: 100 Best from Around the World.
His artwork has been exhibited in galleries and museums around the world including The Victoria and Albert Museum (U.K.), The Whitney Museum of American Art (U.S.), The Andy Warhol Museum (U.S.), The Contemporary Art Museum in Rome (Italy), and his work is in the permanent collection of The Library of Congress (U.S).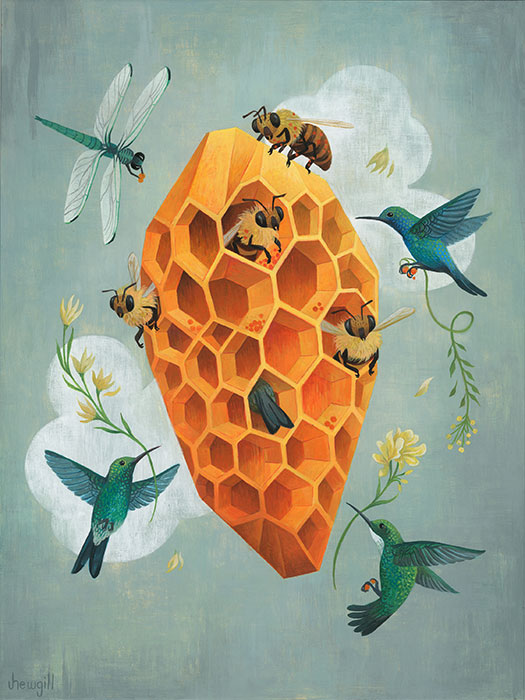 Award-winning illustrator and artist Jody Hewgill has donated a piece entitled Collaboration, an acrylic painting on Masonite panel (12" x 16"). Hewgill is an associate professor and graduate who has been teaching in the Faculty of Design (Illustration) since 2008.
Her work has been featured in publications by Gestalten, Taschen and Communication Arts, among others. Her works have been commissioned by a wide range of clients, including National Geographic, Rolling Stone, Time magazine, and The United States Postal service.
According to Hewgill's artist statement, Collaboration is a playful allegory, exploring the idea of reciprocal relationships functioning outside of conventions and is part of her ongoing series on birds. Hewgill's work explores narratives that emerge from the convergence of representation and fabrication, where the natural and the artificial meet and redefine ecological relationships. Her detailed acrylic paintings employ pop-surrealism, infused with references to 18th century naturalist art, to reflect the ageless, and fragile, human relationship with the natural world.