Image: pi'tawita'iek we go up river by Jordan Bennett, at 100 McCaul St., OCAD University, 2022. Photo by Jeremy Mimnagh.
pi'tawita'iek: we go up river

A large-scale outdoor mural by Jordan Bennett 
Curated by Lisa Deanne Smith, Senior Curator, Manager OCAD U Galleries System, Onsite Gallery
pi'tawita'iek: we go up river on the south wall of OCAD University's main campus, adjacent to Butterfield Park, will ground the space in Indigenous material culture. This new, public artwork is rooted in Bennett's relationships with Mi'kmaq porcupine quillwork. He brings forward and reimagines their graphic patterns, bright colours and inspiring stories. In visiting with these cultural objects Bennett connects with their visual language and furthers this visual conversation through his contemporary influences and experience. 
The Jordan Bennett mural received grant funding as part of ArtworxTO: Toronto's Year of Public Art 2021–2022, a year-long celebration of Toronto's exceptional public art collection and the creative community behind it. Working closely with artists and Toronto's arts institutions, ArtworxTO will deliver major public art projects and commissions, citywide, from fall 2021 to fall 2022. Supporting local artists and new artworks that reflect Toronto's diversity, ArtworxTO is creating more opportunities for citizens to engage with art in their everyday lives.  Since September, the City of Toronto invites the public to discover creativity and community–everywhere. Visit www.artworxTO.ca for full details. 
We also acknowledge the support of the Canada Council for the Arts and TD Bank. 
Souvenir
A solo exhibition at Onsite Gallery with Jordan Bennett
Curated by Ryan Rice, Executive Director & Curator, Indigenous Art, Onsite Gallery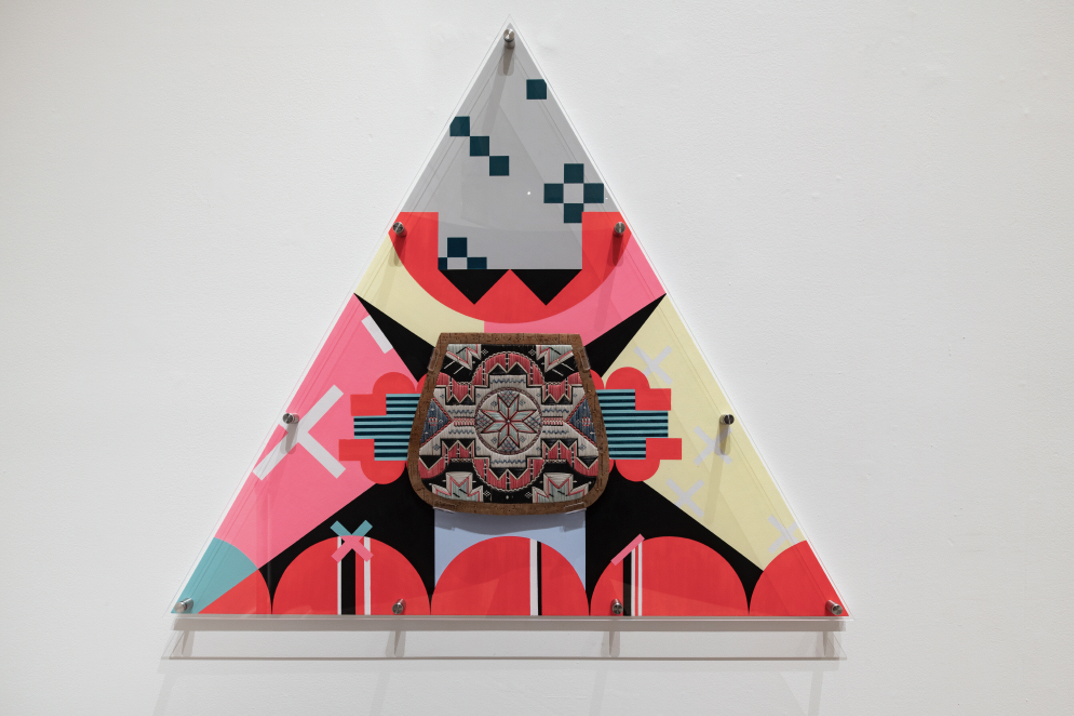 Jordan Bennett's solo exhibition Souvenir draws upon his inspired intentions to visit, activate and respond to the innovative heritage embedded, woven and veiled in the richness of Mi'kmaq material culture and design. His interdisciplinary and intuitive approach grants new vitality to overlooked cultural expressions that carry elaborate Mi'kmaq cosmologies interpreted through customary geometric motifs embellished in a highly valued era of porcupine quillwork and basketry souvenir trade commodities that was thriving in the 19th century. The exhibition brings together Bennett's newly designed site-specific work, museum collection loans, and installation to celebrate the vitality and influence of Indigenous aesthetic as contemporary practice. 
Ryan Rice, Kanien'kehá:ka, is an independent curator and an Associate Dean at OCAD University.
This exhibition and mural will offer mentorship work-study opportunities for emerging Indigenous artists. A free publication, public program of events and educational tours will activate both projects.
Jordan Bennett Online Brochure Publication
Jordan Bennett Artist Statement
My practice utilizes a variety of mediums and techniques, including but not limited to painting, sculpture, video, performance, installation and sound. These mediums allow me to fluidly explore land, language, and the act of visiting ancestral histories. By not constricting my practice to a single artistic medium, I am instead led by an idea or concept and explore what medium(s) might suit best. The use of colour in my work is very important. It allows me to express various states of time, place and season.
I often find myself working in a variety of materials for single artworks, creating uncommon combinations to create a new narrative or way to explore an old story. All aspects of my practice aim to create a welcoming environment where a dialogue between the viewer and the work can form. Each work I create allows me to further explore how I position myself within my culture and community, by analyzing Mi'kmaq visual language through the cultural connections to ancestral objects.
Having a methodology that is deeply guided by the Land of my ancestors, my ongoing work possesses qualities of familiarity that can serve as a connection for a wide range of audiences spanning culture and generation. My work, though not always directly challenging colonial perceptions of indigenous histories and presence, lends itself to discussions regarding contemporary indigenous realities within urban and rural communities.
With my ongoing series of two-dimensional work which includes works of bright blocks of acrylic paint on cradled wooden panels, murals, textiles and carvings, I am attempting to add my voice in the reawakening and remembering of certain aspects of Mi'kmaq visual culture. Although my paintings are often viewed as abstract, they are rooted in a deep history of porcupine quillwork, which is rich in pattern through shape, colour and composition. I take inspiration from various aspects of historical art and culture including popular culture, community and art history.
Over the past decade I have observed various pieces of quillwork in archives online, in historical texts and have had the honour of visiting them in museums nationally and Internationally. It's through these visits and time spent with cultural objects of my home territory that I've begun to further explore the design, symbolism and history of these intricate and beautiful art forms. Most of the porcupine quillwork that I have been researching exists in the form of baskets, containers, chair seat covers and wall hangings. Each work is focused on connecting and visiting with this visual language, remembering and reimagining our relations to each other, to our histories and with the land.
Jordan Bennett Biography
Jordan Bennett is a Mi'kmaq visual artist from Stephenville Crossing, Ktaqmkuk (Newfoundland). He lives and works on his ancestral territory of Mi'kma'ki in Corner Brook, Newfoundland. Bennett's ongoing practice utilizes painting, sculpture, textiles, video, installation, public art and sound to explore land, language, the act of visiting, familial histories and challenging colonial perceptions of Indigenous histories and presence with a focus on exploring Mi'kmaq and Beothuk visual culture.
In the past 10 years Bennett has participated in over 90 group and solo exhibitions nationally and internationally, as well as created numerous public art commissions. Bennett is currently working towards several public artworks nationally as well as group and solo exhibitions, including the upcoming solo show Souvenir, curated by Ryan Rice at Onsite Gallery at OCAD University in Toronto, Ontario. He is the recipient of several awards and honours, most notably the 2020 Lieutenant Governor of Nova Scotia Masterworks Arts Award. He was longlisted for the 2015 and 2016 Sobey Art Award, was shortlisted for the 2018 awards and was a longlist winner in 2020 along with being a 2019 recipient of the Van Houtte Masters' Fund Program, a Hnatyshyn Foundation REVEAL award and was presented with the 2014 Newfoundland and Labrador Arts Council's Artist of the Year.
Bennett has taken part in several artist in residency programs including NSCAD Lithography Workshop: Contemporary Editions, Halifax, NS in 2019, With Secrecy and Despatch, Campbelltown Art Centre, Campbelltown, Australia an Santa Fe Art Institute, Santa Fe, NM in 2015 RMIT University international Artist in Residence Program, Melbourne, Australia in 2014, Shared Lands- Centre D'artistes Vaste et Vague, Carleton-sur-Mer, Quebec and Woodland School, What Color is the Present, Visual Arts, The Banff Centre, Alberta in 2013.
He is the recipient of several awards and honours most notably one of the 2020 winners of the Sobey Art Award, long listed for the 2018, 2016 and 2015 Sobey Art Award, a Hnatyshan Foundation REVEAL award and presented with the 2014 Newfoundland and Labrador Arts Councils Artist of the Year. Bennett holds a BFA from Sir Wilfred Grenfell College, Memorial University and an MFA from The University of British Columbia, Okanagan.
Past Public Events
Do not miss Jordan Bennett's Artist and Curators' Talk, Mural Launch and Solo Exhibition Launch, all happening on Wednesday, June 15, 2022.
Jordan Bennett: Artist and Curators' Conversation as part of the Mi'kmaq By Design Lecture Series - Wednesday, June 15, 12 p.m. to 1:30 p.m. at 100 McCaul St. in Room 230
Join Jordan Bennett in conversation with Ryan Rice and Lisa Deanne Smith about Bennett's art, design and public art practice.
Click here to reserve your tickets
pi'tawita'iek: we go up river Launch - Wednesday, June 15, 3 p.m. to 5 p.m. at Butterfield Park, 100 McCaul St.
The mural, pi'tawita'iek: we go up river, curated by Lisa Deanne Smith, activates public space and in its multiple connections (to the land, between the artist and his ancestors and with our communities) widens our perception of Indigenous creativity.
pi'tawita'iek: we go up river Mural Launch - Call for Submission to All Indigenous OCAD U Students & Alumni 
Souvenir Launch - Wednesday, June 15, 5 to 7 p.m. at Onsite Gallery, 199 Richmond St. W.
A solo exhibition curated by Ryan Rice, draws upon Bennett's intentions to visit, activate and respond to the innovative heritage embedded, woven and veiled in Mi'kmaq material culture and design.
Curator's tour with Ryan Rice - Wednesday, August 24 – 2:00 p.m. to 3:00 p.m. at Onsite Gallery, 199 Richmond Street West
Join Ryan Rice for an in-depth exhibition tour of Souvenir & Up Front: Inuit Public Art at Onsite Gallery
Click here to register: https://bit.ly/3vhGi8C
Curator's Tour with Ryan Rice and Lisa Deanne Smith Onsite Gallery – Wednesday, September 21 – 3:30 p.m. to 5:00 p.m. at 199 Richmond St. W. and Butterfield Park, 100 McCaul St.
Rice and Smith lead an in-depth tour of Souvenir and pi'tawita'iek: we go up river.
RSVP Tickets here
Birchbark and Quill Workshop with Kyle Sauve of Mnaabndam Creations - Saturday, September 17 — 11 a.m. to 2 p.m at Onsite Gallery, 199 Richmond St. W.
The fundamentals of quillwork are covered in this three-hour beginner's course. Spaces are limited with priority given to Indigenous students at OCAD U. Please check our website for the opening date for registration. The workshop is a co-presentation and partnership with OCAD University's Indigenous Visual Culture program and the Indigenous Student Centre. Additional support was made possible with the generous support of OCAD University's annual donors.
Julia Rose Sutherland as part of the Mi'kmaq By Design Lecture Series* – Saturday, September 24 – 1 p.m. to 3 p.m. at Onsite Gallery, 199 Richmond St. W.
Sutherland's art practice employs photography, sculpture, textiles, performance and adapted traditional materials and techniques from her Metepenagiag Mi'kmaq Nation that often emphasize concepts of loss and absence
RSVP Tickets here
Nuit Blanche at OCAD University - Proud Joy –  Saturday, October 01 at 7PM to Sunday, October 02 at 7 AM
Artists Jordan Bennett and Natalie King's artworks are grounded in Indigenous pride and joy. Their use of vibrant colour, symbology and connections to the land, water and sky reflect their Mi'kmaq and Anishinaabe histories, present and future. 
Grant Jonathan: Cultural Economies Lecture – Wednesday, October 05, 6 p.m. to 8 p.m. at Onsite Gallery, 199 Richmond St. W.
Jonathan, a Tuscarora beadwork artist, collector and researcher discusses his commitment to preserve the history and uphold the cultural vitality attributed to the distinct techniques, aesthetic and creative practices of Tuscarora beadworkers. He traces the legacy of Haudenosaunee material and cultural economies displayed across the once thriving souvenir market at Niagara Falls and beyond
RSVP Tickets here
Logan MacDonald as part of the Mi'kmaq By Design Artist Talk Series* – Saturday, November 19 – 1 p.m. to 2 p.m. at Onsite Gallery, 199 Richmond St. W.
Logan MacDonald is an artist, curator, writer, educator and activist who focuses on queer, disability and Indigenous perspectives. He is of European and Mi'kmaq ancestry, who identifies with both his Indigenous and settler roots. Born in Summerside, Prince Edward Island, his Mi'kmaq ancestry is connected to Elmastukwek, Ktaqmkuk.
*Mi'kmaq By Design is a series of artist talks coinciding with the exhibition Souvenir. Invited Mi'kmaq artists will speak about their creative practice and discuss the extent to which L'nu visual culture and history informs and/or inspires their work.*
Eventbrite Registration: https://bit.ly/3fsE2Xh
Reviving Lost Histories in Indigenous and Black/African Communities – Wednesday, November 30 – 1 p.m. to 2:30 p.m. – Online Event
A discussion of contemporary art and design practices engaged in reviving suppressed histories through customary objects and visual culture, language and storytelling.
Click here to register: https://bit.ly/3Gkoa3W
DYKE NIGHT - Friday, December 09, at Onsite Gallery, 6 to 7:30 p.m. and at Sweaty Betty's, 8 p.m. till late,
Our next installment of DYKE NIGHT begins at Onsite Gallery (199 Richmond St. W.) with a tour of Jordan Bennett's exhibition Souvenir and continues at Sweaty Betty's (13 Ossington Ave.) with readings by Patricia Wilson, T Williams, Isobel Carnegie, Mahfam Nikoo and Jess Dobkin, a Night Market and DJ's Fawn Big Canoe, Sasha Van Bon Bon, and Kiki LeFreak.
All are welcome!