On Tuesday, March 10, OCAD University's most outstanding student leaders for the academic year 2019/20 were celebrated at our annual Student Leadership Awards dinner.
Generously hosted in the Centre for Emerging Artists & Designers (CEAD) on the third floor of the Experiential Learning Centre in the Rosalie Sharp Pavilion and catered by Pow Wow Café with Indigenous inspired cuisine, the dinner honoured the contributions of the university's peer mentors, student groups and other student leaders for excellence in diversity and equity, as student employees, and Indigenous student leadership.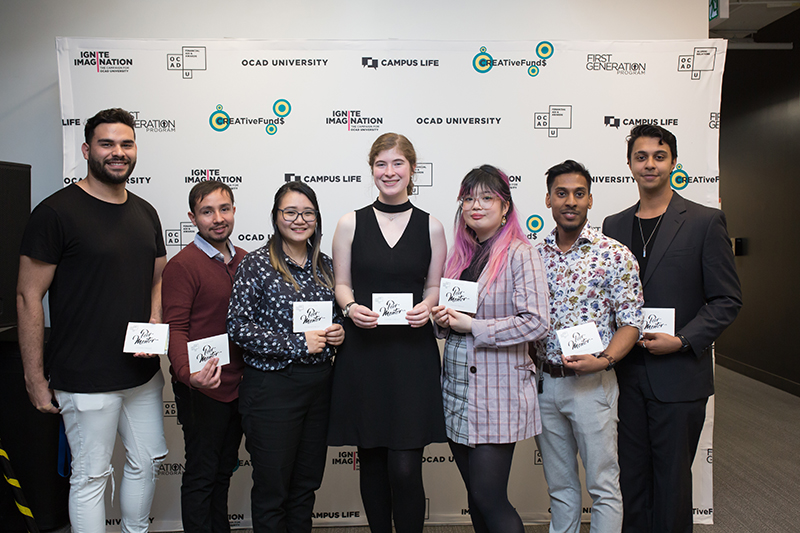 Emceed by Campus Life Coordinator Brent Everett James, remarks were given by the President, Dr. Sara Diamond and Vice-President, Academic & Provost Caroline Langill. OCAD U's student representatives on governance bodies, peer mentors, peer wellness educators in the Student Wellness Centre, and student group leaders were all acknowledged for their great work. Peer mentors Patricia Luk and Daniel Naraindas were recognized for serving four years, while Francis Ho, Daniel Lugo Travieso, Mahpara Mobin, Andres Navas, Mathisan Paramanathan, Liz Sullivan andBecky Wu were recognized for three years, all receiving a special commitment pin.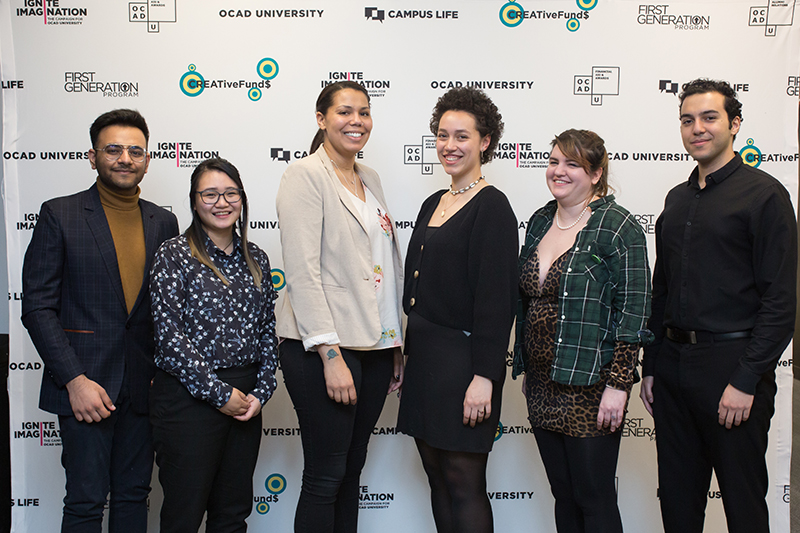 Additionally, awards selected through a nominations process were given out in several categories: 
Ahmad El Sarraff - Student Group Leader Award
Roshan Thiruchelvam, Executive Director, OCAD SU and Sarah Mulholland, Manager, Student Communications & Campus Community announced Ahmad as the recipient the Student Group Leader Award, supported by David Holland, for his work leading OCAD U's Muslim Student Association (MSA). This award is presented to a group leader who, through facilitation and involvement, demonstrates outstanding contributions, commitment and support to their group members and the OCAD University community.
Ahmad is a dedicated, diligent leader who has strived to improve OCAD U Muslim Student Association for the next generation of new, incoming students. Monthly meetings have become bi-weekly and Ahmad has made successful strides to collaborate with other student groups, OCAD U programs and services, and outreach programming with MSAs from across the province that have raised awareness and motivated others to get involved on campus. 
Jihyun (Jessie) Lee and Patricia Luk - Peer Mentor Excellence Awards
The awards were supported by David Holland and presented by David Thomas of OCAD U's Alumni Association and Brent Everett James, Campus Life Coordinator.
Jessie was recognized for her outstanding patience, timely and inclusive approach, and warm and friendly attitude, helping new students navigate new information, new social relationships and new expectations. Her advocacy, guidance and encouragement truly help make OCAD U a welcoming and supportive community.
Patricia was recognized for her commitment, inclusive and reassuring approach, and the wealth of knowledge and insight she shared with any new students, her assigned mentees, and fellow peer mentors. Patricia's energy and positive attitude shines through her many roles on campus – from providing enthusiastic support during Peer Mentor recruitment and training, through remarkable leadership at O-DAYS!
Natia Lemay - Diversity & Excellence Student Award
Supported by OCAD Student Union and the Office of the Vice-Provost, Students & International, this award acknowledges an outstanding student whose advocacy and leadership promote and advance human rights, equity and social justice. 
Natia is an advocate, facilitating tools for social change. Through her art practice, she encourages and contributes to change by reflecting on the negative imagery and communication that perpetuates myths about communities of colour and contributes to racism and social injustice. Her leadership role in the coordination of human rights initiatives and projects such as Common Collective, a network of fellow BIPOC students who work together to work and exhibit their work, evolved into TINT, a group show. Natia took a very active role as student representative on the Search Committee for Associate Chair, Drawing & Painting, and again on the OCAD U Working Group for combatting sexual- and gender-based violence. She has served as a Peer Note Taker in the Writing & Learning Centre for the last two years, specifically as a scribe for students with disabilities. Her involvement with off-campus charities and underprivileged communities is equally impressive—ensuring that diverse voices have an opportunity to be heard.
The award was presented to Natia by Kais Padamshi and Roshan Thiruchelvam of the Student Union, with Cathy Cappon from OCAD U's Office of Diversity, Equity & Sustainability Initiatives. Other students nominated for this award were Adé Abegunde, Kadine Lindsay, and Nicole Hull.
Kaya DaCosta - Indigenous Student Leader Award
Supported by K.M. Hunter Charitable Foundation, this award recognizes an outstanding Indigenous student who has demonstrated exceptional leadership skills by actively participating in and contributing to the Indigenous student community at OCAD U.

Kaya DaCosta is a multi-disciplinary Afro Caribbean Indigenous artist whose work focuses on healing, transcending ancestral knowledge and creating dreamscapes rooted in spiritualism from the lands of their ancestors. A fourth-year Indigenous Visual Culture student, Kaya is involved in both the Indigenous Student Association and Black Student Association and is at the forefront of work produced by these groups, which along with their Student Monitor role in Indigenous Student Centre, fosters a supportive environment and safe cultural space for dialogue and production. In 2019, Kaya take an active role in Our Stories Our Truths, an art-as-healing program dedicated to   creating safe space that links various medicine people, educators, knowledge keepers and artists from diverse Indigenous nations across Turtle Island to urban Indigenous Youth, to connect with and build meaningful relationships with Mentors in the Indigenous Community and share teachings that ultimately aid in healing, reconnection and decolonization.
Melissa General and Reagan Kennedy from OCAD U's Indigenous Student Centre presented the award. Student Megan Feheley was also acknowledged as a nominee.
Rahul Bagdai - Student Employee Excellence Award
Supported by OCAD U's Centre for Emerging Artists & Designers (CEAD) and OPSEU Local 576, this award acknowledges the considerable contributions made by OCAD U student employees (monitors) towards the operations of the university by recognizing student employee excellence, achievement, leadership and skills development.
Rahul is a student monitor working with the office of International Student Support & Exchange Programs, and Manager, International Projects & Partnerships. An international student himself, Rahul has taken a pro-active role in helping address gaps in the provision of information and services to international students at OCAD U. He recently completed a major rebranding project to showcase the three areas of the University now under one umbrella: International Projects & Partnerships; International Recruitment; and International Student Support & Exchange Programs. Rahul also took initiative to create a pocket-sized booklet about UHIP, the University Health Insurance Plan, containing important information about healthcare to help students understand enrolment, plan details and the benefits. Written with a student-perspective, the booklet was inspired by Rahul's participation in a healthcare workshop for international students, where he happily shared his experiences and strengthened the presentation. 
The Student Employee Excellence Award was presented by Shellie Zhang, Community Animator, CEAD and Brian Joe, President, OPSEU Local 576. Other nominees for this award were Annie Chen, Karla Justo, Rachel Morris and Anisa Nagakawa.
Emma Klassen-Brule - Excellence in Student Leadership Award
Supported by David Holland, this award recognizes the outstanding contributions of student leaders across the university in a variety of contexts, including (but not limited to) representing student perspectives in positions on OCAD U committees, working groups, task forces, governance bodies (such as the Senate or Board of Governors), or through publications, advocacy groups or the Student Union.
Emma has a relentless drive and wealth of compassion. Her creative practice, reflective curiosity and optimism are an asset while embracing student-driven initiatives. She contributes her voice to challenging stigma: mental health; sharing the power of lived experience; celebrating body positivity; supporting survivors of gender-based violence; and sharing the power of recovery through her experience. As Peer Health Educator in OCAD U's Student Wellness Centre, her passion for student wellness and innate ability to produce original wellness programming, share experiences and strategic insight offer students novel pathways to personal growth and mental health in her role. As a Peer Mentor in Campus Life's Student Mentor Program, Emma has a drive to improve student experience. Emma makes tremendous contributions and inspires others—whether it be the success of Journaling Club, a grounding method to focus on wellness; collaborative enthusiasm during PRIDE month, with a special focus on a Pronoun Bracelet Workshop, and event planning with Student Union; or advocating for more queer spaces and trauma-informed, survivor-centered programming on campus.
Caroline Langill, Vice-President, Academic & Provost and Deanne Fisher, Vice-Provost, Students & International awarded the final award of the evening. Other nominees were Charlotte Durnford-Dionne, Roshan Thiruchelvam and Ramsha Zaman.
Thank you!
OCAD U's Campus Life office extends a sincere thank you to those who contributed to our selection committees: Connie Arezes-Reis, Stephanie Dayes, Kathryn Ellis, Deanne Fisher, Melissa General, Alexandra Hong, Amanda Hotrum, Simone Jones, Nadia McLaren, Jason Northway-Frank, Kais Padamshi, Robyn Shaw, Roshan Thiruchelvam and Monica Zhong.
The event would not be possible without the generous financial support of Alumni Relations, Centre for Emerging Artists & Designers, Financial Aid & Awards, Indigenous Student Centre and Student Wellness Centre 
Watch for the 2020/21 academic year student recognition nominations period to open in the new year 2021, and consider nominating a student you know for these important accolades.