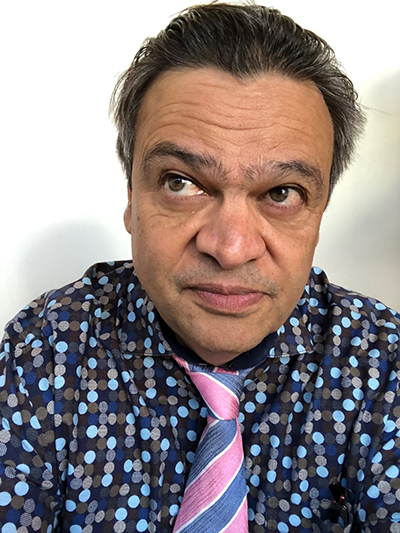 Ashok Mathur, PhD, Dean, Graduate Studies, and Interim Vice-President, Research & Innovation
For Ashok Mathur, PhD, research is at the core of OCAD University's art and design culture, and as he takes on the new role of Interim Vice-President, Research & Innovation, he is excited about providing researchers with the necessary support and opportunities to pursue their respective initiatives.
"As the largest art and design university in the country, OCAD U is primed to be a main conduit for creative research and its faculty is up for this challenge," he says. "OCAD U is at the leading edge to creatively address social justice and radical opportunities to engage a changing world -- research is at the centre of this."
His appointment, approved by the Board of Governors on September 4, ends June 30, 2021. Dr. Mathur will retain his current position as Dean of Graduate Studies.
"I want to thank Ashok for taking on this interim role and I look forward to working with him to continue our efforts to increase not just the number of research projects we launch but their impact on the broader community," says Ana Serrano, President and Vice-Chancellor, OCAD University.
"He is passionate about OCAD U and brings a wealth of educational and research leadership experience, not only at our University but in previous roles at the University of British Columbia, Thompson Rivers University and Emily Carr University of Art + Design."
As the Interim VP of Research & Innovation, one of Dr. Mathur's top priorities is to provide support to both faculty and students as they pursue the questions of our time through research.
"Artists and designers are researchers at heart, intent on shining a light on and solving the challenges of our time. We are now experiencing a global pandemic and heightened anti-Black and anti-Indigenous racism, which amplify the issues we are already facing this century, such as the climate crisis. Within this context, artists and designers are needed, more than ever, to show us the path towards a more equitable and just world.," he says.
Dr. Mathur will report to Ana Serrano, providing leadership and oversight to the Office of Research & Innovation, as well as to the Inclusive Design Research Centre. He will continue to report to Caroline Langill, VP, Academic and Provost, in his role as Dean of Graduate Studies.
He will also assist with implementing strategic directions and priorities for research services to advance the institution's research growth agenda.
About Ashok Mathur
Dr. Mathur has held the previous leadership and research-oriented roles of Head of Creative Studies at the Okanagan Campus of the University of British Columbia, Tier 2 Canada Research Chair in Cultural and Artistic Inquiry, and Director of the Center for Innovation in Culture and the Arts in Canada at Thompson Rivers University.
From 2001 to 2005, he served as Head of Critical and Cultural Studies at the Emily Carr University of Art + Design from 2001 to 2005.
He has produced five books and numerous projects, both creative and critical, that focus on and feature the intersections of artistic engagement. His most recent book is a long poem entitled The First Black White Man, which, supported by a Canada Council writing grant, was incorporated into a 'living arts' space revolving around one of Kamloops's early Black immigrants and his role in developing the city.
A long-time advocate of critical race theory as it pertains to the postsecondary institution, he has worked continuously to address radical forms of equity and Indigenous knowledge.
Dr. Mathur holds a PhD in Postcolonial Literature from the University of Calgary.