In this time of great change, when the news sinks morale and we feel especially vulnerable, advertising is playing an interesting and even more important new role: reminding us that we are all in this together.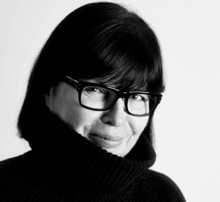 "The power of advertising during the coronavirus lies in stories, empowerment and connection," says Sandra Kedey, professor, and past chair of OCAD University's Advertising program. "We are seeing new models of advertising as some brands are using their position and voice to become advocates and problem-solvers during the pandemic."
Kedey is keenly observing trends in the advertising landscape, understanding that she and her colleagues at OCAD U will need to update the curricula of the distinguished four-year undergraduate degree for fall 2020. Current final-year students have completed their academic year, and have emailed, (rather than presented) their major projects—ad campaigns they developed in teams for real clients.
One new ad campaign that has impressed Kedey is Dove's Courage is Beautiful campaign, which showcases front-line health-care workers, with their stoic faces marked by their masks. Led by Ogilvy Canada, the campaign is part of a larger pandemic support effort by Dove Canada that includes donating $1 million worth of personal care products to Canadian healthcare workers.
"This is an innovative campaign and a smart pivot for Dove. Good for them for stepping up at a humanitarian level," Kedey says.
Other major brands have followed in Dove's footsteps to help in the fight against the coronavirus. Kedey cites examples such as Rogers donating one million meals to Food Banks Canada; Ford Motor Company producing face shields at its Windsor plant for front-line health workers; and Canada Goose manufacturing and donating hospital scrubs and patient gowns. As savvy brand marketers know,
just doing the right thing is in itself a powerful form of advertising.
It is also fascinating to see how brands are trying to help reinforce social distancing, Kedey says. Some companies have created socially distanced logos, sparking debate about whether this is actually clever advertising, or the design equivalent of "thoughts and prayers."

For the advertising industry, Kedey says, the disruption caused by the pandemic is not a blip but a bang, one that will continue to echo loudly in boardrooms. For the next generation of advertisers, this period of flux may tighten the job market in the short term, she says, but in the long term, it may create more opportunities to tell brand stories in more creative and meaningful ways.
"When we get to the stage of recovery, the jobs, projects and budgets will come back," she says. "I think this will make a lot of people shift towards making a contribution to the betterment of humankind through advertising."