On Tuesday, November 28, join art and design collectors and enthusiasts at Project 31, a unique in-person event that will showcase a world-class collection by some of Canada's leading artists and designers. It all takes place at 100 McCaul St. in the Great Hall beginning at 6 p.m. The Live Auction starts at 7 p.m.).
During this time-honoured event, guests will enjoy cocktails, hors d'oeuvres and an exclusive live auction with 20 lots and a silent online auction of 29 lots. Read our news story to find out the list of participating artists. You can also watch videos featuring participating artists Anda Kubis and Natia Lemay.
Proceeds from this unique fundraising event will support programming and bursaries for OCAD University students who are Indigenous, Black and People of Colour.
Tickets are now available for $175.
You won't want to miss this unique opportunity to add to your art collection by supporting Canada's leading artists and designers.
SAVE THESE DATES
Tuesday, November 21
Early bidding opens for the silent online and live auctions
Tuesday, November 28
Project 31 in-person event with live auction, refreshments and entertainment
OCAD University, 100 McCaul St., in the heart of Toronto's arts and culture district
6 to 9 p.m.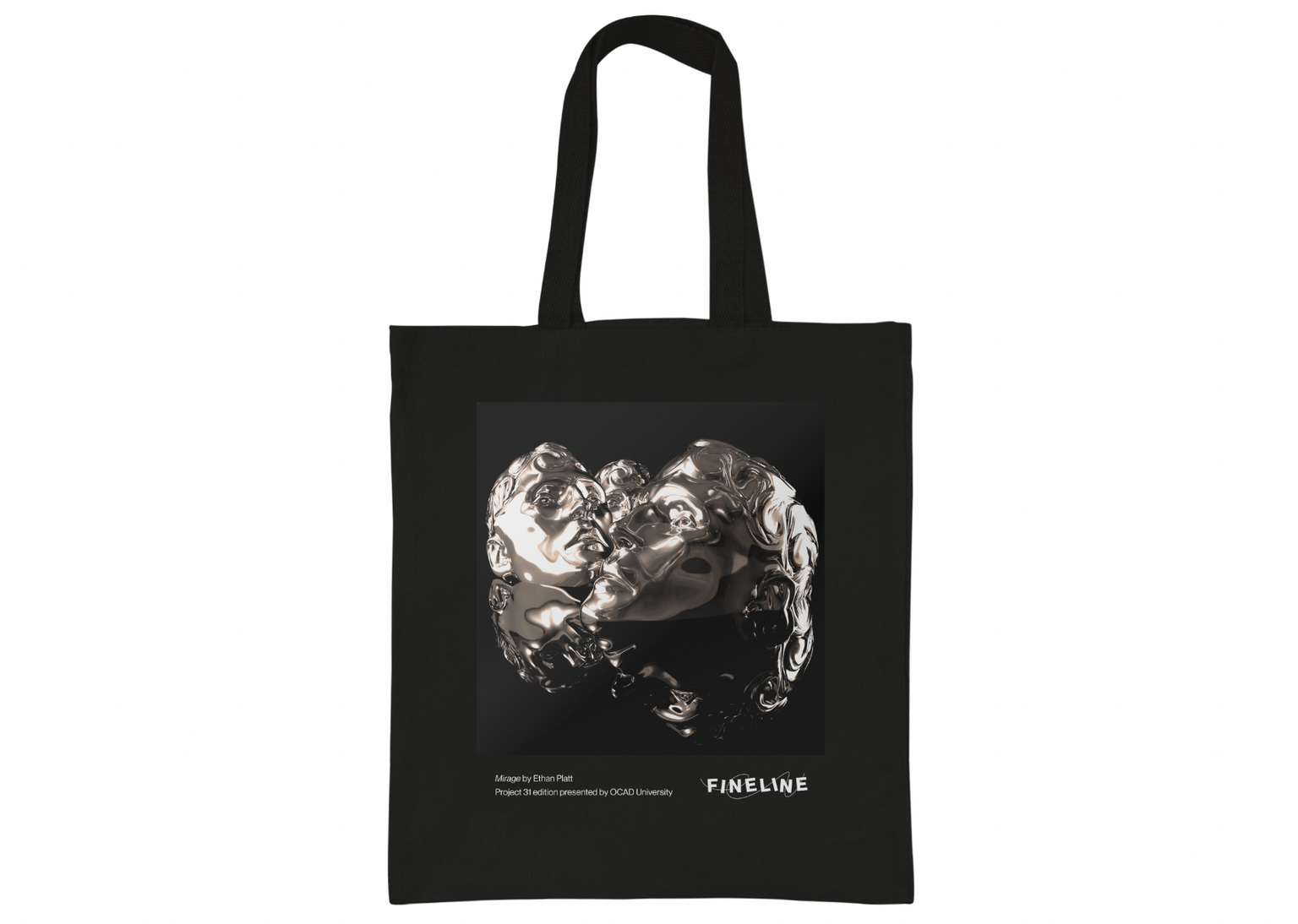 Complimentary tote bag
Guests attending Project 31 will receive a complimentary, limited editiion Fineline tote bag featuring Mirage, an original artwork by OCAD U graduate Ethan Platt.
Ethan Platt
Artist Ethan Platt graduated with a BFA (Hons) in 2023. He was the recipient of multiple scholarship grants and the Donna MacLean Award for portraiture at OCAD U. His work has recently been featured at Visionary Art Collective, Bau-Xi Gallery, Blitz Gallery, Ada Slaight Gallery, Purple Haze and Art Mur. In the coming months, his work will be featured as part of Visionary Projects at High Line Nine Galleries in New York City and at Maison Depoivre.
Platt's figurative painting practice is rooted in computer synthesized references to depict the human beyond traditional physical forms. His work explores the tension between technology and tradition, contrasting the craft of oil painting with contemporary computer simulations and digital rendering. He begins with computer rendered figures adorned with material such as metal and plastic and translates these references into paintings. He aims to spark conversations beyond the formal visual qualities of the work and contribute to our perception of digital surroundings, ultimately illuminating the human experience in the digital era.
Fineline: Project 31 Collaboration
Fineline is an art marketplace and artist collective launched by OCAD U in October 2023. Fineline is proud to be supporting Project 31 through a collaboration with artist Ethan Platt to create a limited edition Fineline tote bag for each Project 31 guest to take home on November 28. 
Want to be added to our mailing list?
Email events@ocadu.ca today.