Body
Image: Detail from the brand storytelling deck for the project Escape by OCAD U 2021 Advertising graduates Sydney Mia Gittens, Nat Smith and Alvin Zheng.
 
Faculty of Design students receive national graphic design awards
Nine OCAD University current students and recent graduates from the Faculty of Design are among the 2021 recipients of the Association of Registered Graphic Designers (RGD) Student Awards. 

The juried program received more than 850 entries from students across Canada. Launched in 1998, the awards program annually brings together emerging and established design professionals to promote excellence in the industry and to support the next generation of graphic designers in the country.  

As Dr. Dori Tunstall, Dean of the Faculty of Design at OCAD U remarked, "The RGD Student Awards help the wider design communities recognize how the worlds of design are changing. The projects that won this year are not the same ones that would have won 10 years ago. Graphic Design is changing and the students' who are being recognized this year are leading that change." 
The award-winning work by OCAD U students represents a range of categories including typography, branding, logo development and digital design. Dr. Tunstall continued, "Respectful design is what makes OCAD U's design students remarkable. In all the winning and honorary mention projects, you see our design students using their creative skills to celebrate culture and different ways of being with approaches that are inclusive, empathetic, and, basically, respectful." 
 
OCAD U's RGD Student Awards Winners 2021

Adel Bechara 
won the Premise Award for Strategic Design with the project Localizing Brands with support from Faculty of Design professor Isabel Meirelles. This project also earned Adel an Honourable mention in the Award for Social Good Design Category. Localizing Brands was Adel's thesis project in the Graphic Design program at OCAD U, in which he investigated and developed strategies (including custom typefaces) to make global brands culturally specific. Image: A screen capture of Adel Bechara's award-winning project, Localizing Brands.

Sydney Mia Gittens, Nat Smith and Alvin Zheng 
are the recipients of the Forge Media + Design Award for Logo Design with their collaborative project Escape with support from Associate Professor Nick Goso and Assistant Professor Dr. Sugandha Gaur. Escape is a Canadian digital music platform that aims to amplify diverse local artists while encouraging listeners' musical exploration.


Image: Escape logo design by Sydney Mia Gittens, Nat Smith and Alvin Zheng.
 
Maham Momin 
won the Context Creative Award for Storytelling Design with the project A Crooked Line, with support from Faculty of Design professor Keith Rushton. Her project also earned an honourable mention in the 52 Pick-up Award for Typography category.  A Crooked Line is a collective that Momin developed as part of her work at OCAD U in the Graphic Design program, that focuses on South Asian diaspora. For the RGD Awards she submitted a zine that uses typography to visually reflect displacement and fragmentation.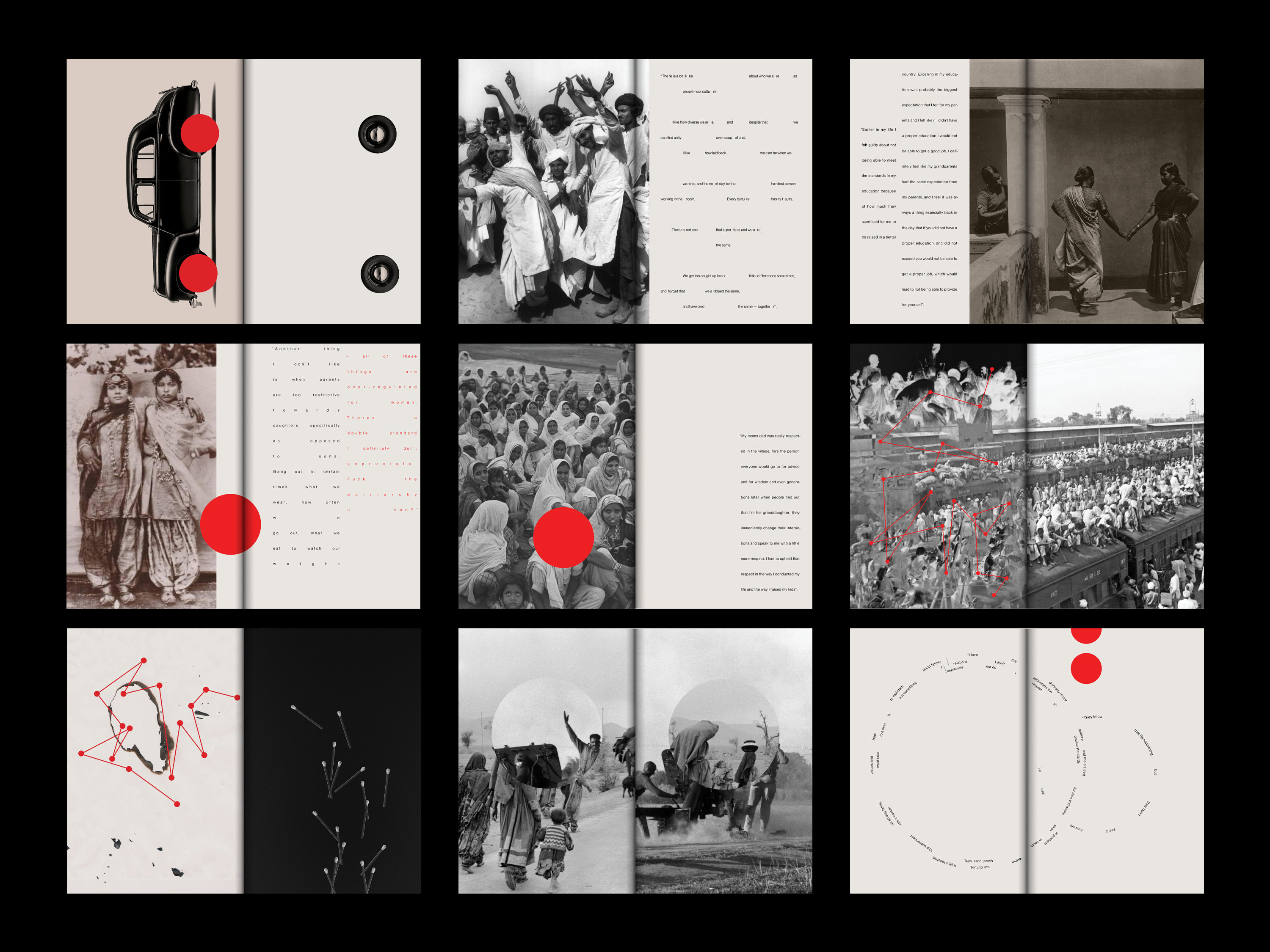 Image: Spreads from Maham Momin's zine project, A Crooked Line. 
 
Honourable Mentions

Eldrin Banares 
received honourable mention in the Quake Award for Creative Innovation category for the project Draw Your Loneliness with support from Faculty of Design professor Isabel Meirelles. This project was Eldrin's 2021 undergraduate thesis in the Graphic Design program at OCAD U and is a digital drawing platform that enables visitors to express feelings of isolation through creativity.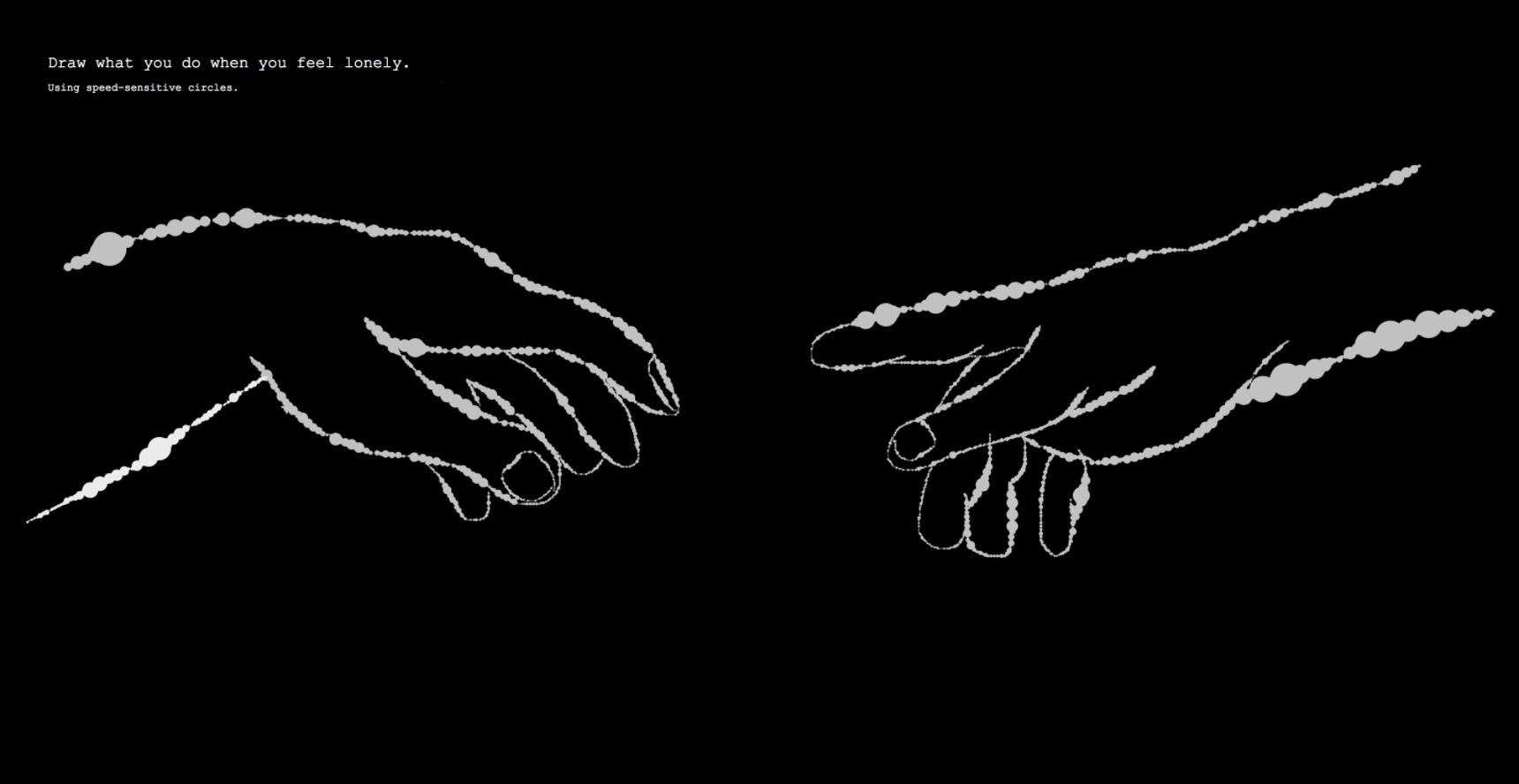 Image: An image submission to Eldrin Banares's Draw Your Loneliness website project.
 
Emily Lauren Gomes, Lily Hewitt and Jasmin Zhang
received honourable mention in the Entro Award for Placemaking Design category for their project Wear Your KRWN with support from Dean of Faculty of Design, Dr. Dori Tunstall and Professor Ann Urban.  For this project the design team developed a digital branding concept for KRWN, a female-led, Black-owned jewelry brand and virtual design studio which specializes in custom jewelry. Of the success of the project Gomes noted on behalf of her team, "We would like to give a big thank you for the generous time and dedication Ann Urban put into mentoring us alongside and into the completion of this project. Without her guidance none of this would have been possible."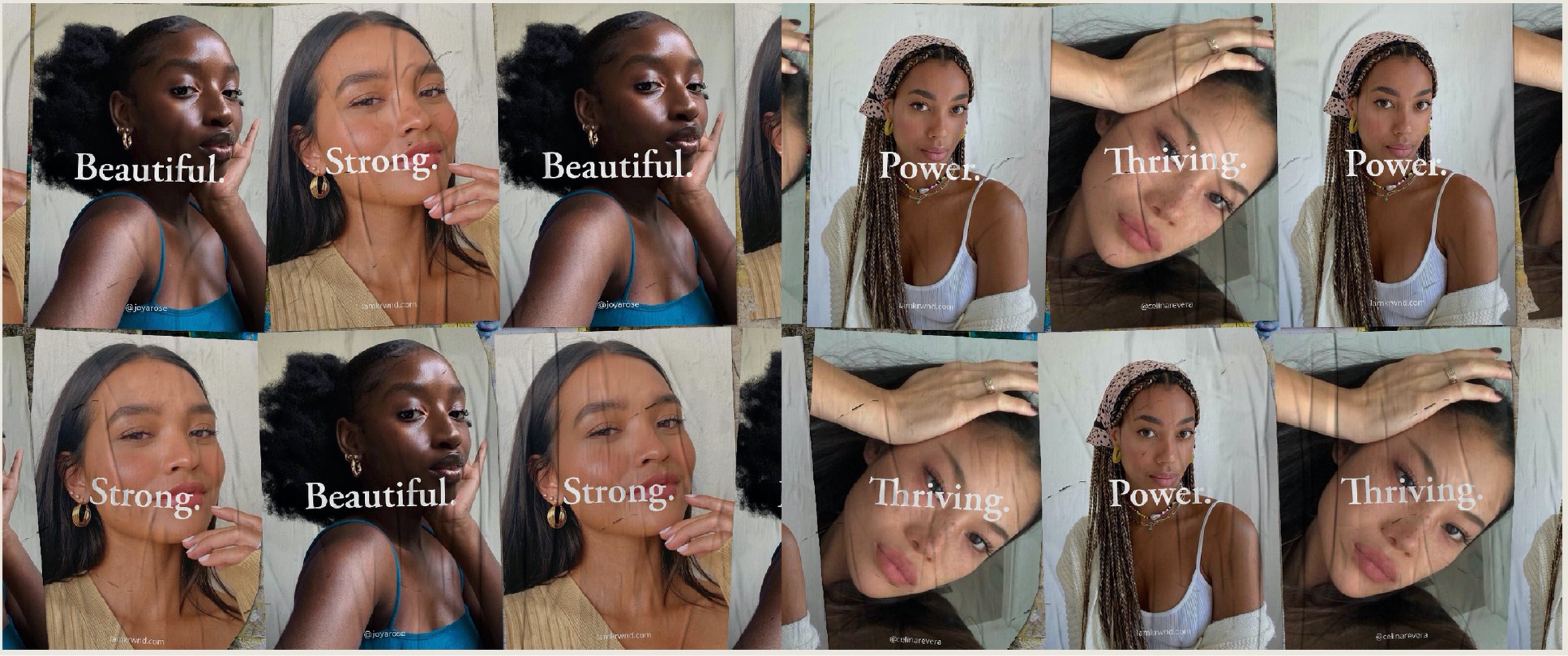 Image: Wear Your KRWN brand concept by Emily Lauren Gomes, Lily Hewitt and Jasmin Zhang.
 
Alvin Zheng 
received an honourable mention in the Award for Editorial Design category for the project Typography is Hard with support from Faculty of Design Associate Professor Richard Hunt. The project is an updated take on a conventional typography textbook, designed with an aesthetic that references risograph printing, a format that is known for its eco-consciousness and affordability.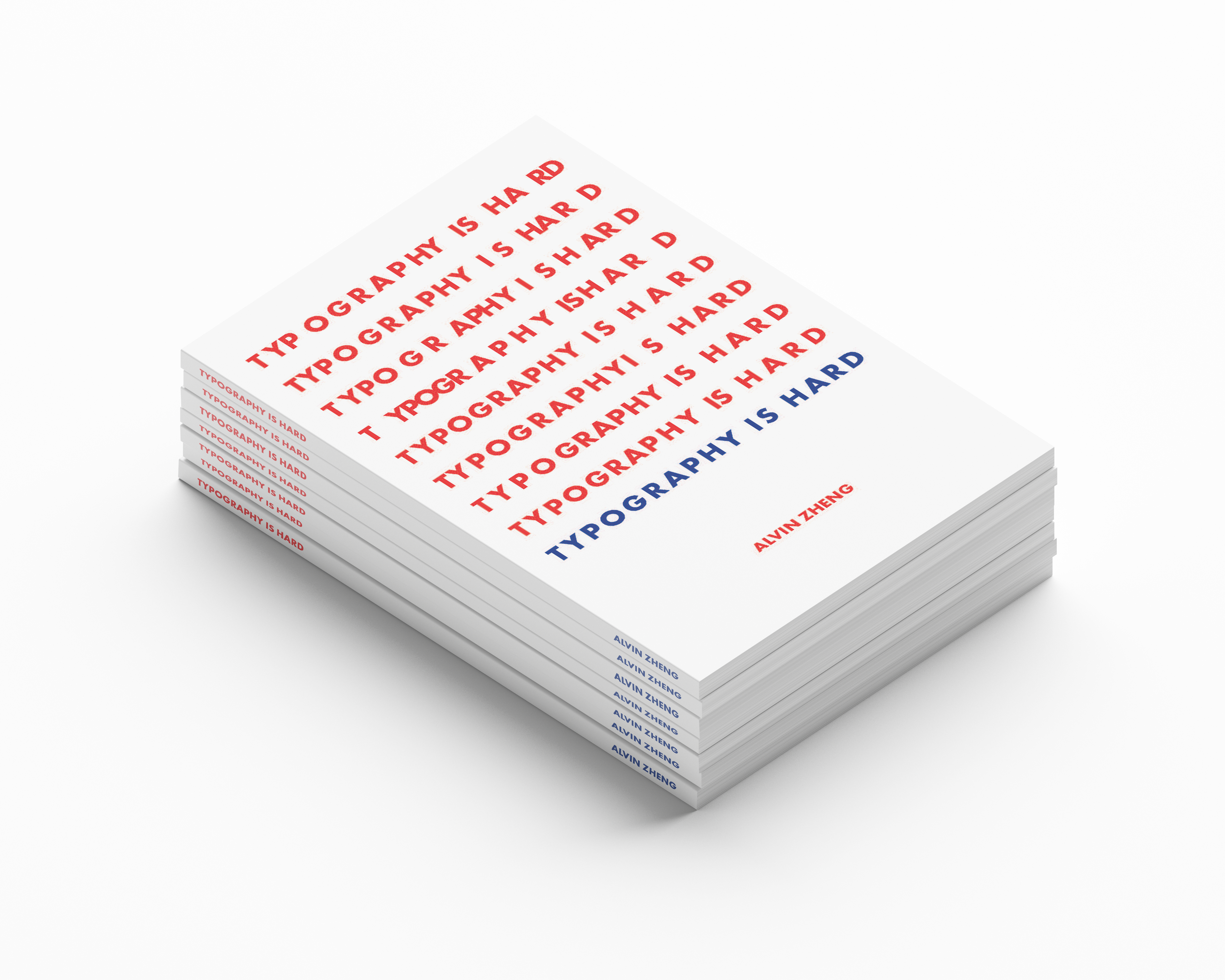 Image: Documentation of Typography is Hard, a typography textbook designed by Alvin Zheng. 

In celebration of the awarded students Dr. Tunstall notes, "Proud too poorly defines the depth of the feeling that I have about the creative contributions that you are making in the world. I admire how you are co-creating a place in design where your diverse histories and stories matter. You are the ones leading the decolonization of design."

Professor Isabel Meirelles added, "I am delighted to see the broader graphic design community recognizing the amazing work that OCAD U students are creating. I want to congratulate each and every one and wish them a most happy and fulfilling life as designers. I cannot wait to see what they will design next!"
 
More About the 2021 Recipients
Adel Bechara graduated from OCAD U in 2021 from the Graphic Design program and is interested in branding, typography and motion design. 

Eldrin Banares graduated from OCAD University's Graphic Design program in 2021 and has a passion for producing creative coding experiences, publications, motion graphics and kinetic typography. 
 
Sydney Mia Gittens is a Toronto-based artistic director and designer whose work focuses on amplifying BIPOC voices. Sydney graduated from the Advertising program at OCAD U and was a 2021 OCAD U Medal Winner. 

Emily Lauren Gomes graduated from OCAD U's Advertising program in 2021 and is a multi-disciplinary freelance art director and graphic designer. 

Lily Hewitt is currently studying Advertising at OCAD University and specializes in art direction and creative strategy. 

Maham Momin is a fourth year Graphic Design student at OCAD U, whose work focuses on design activism, typography and packaging. 

Nat Smith graduated from OCAD U's Advertising program in 2021. Their work as a creative strategist supports underrepresented communities and empowers emerging artists. 

Jasmin Zhang is a fourth year Advertising student at OCAD U with an interest in graphic design, advertising and social media. 

Alvin Zheng is a Toronto-based designer and art director who graduated from OCAD U's Advertising Program in 2021.  
Department
Keywords
News Summary
Nine current students and recent graduates from OCAD U's Faculty of Design honoured with RGD Student Awards for graphic design.
Date
Banner Image