Body
Swaby works in series form, and the exhibition features bodies of work spanning 2017 through 2021. Growing up surrounded by the threads and fabrics of her mother, a seamstress, Swaby chooses to work in mediums traditionally associated with domesticity as a means to imbue her works with familiarity, labor, and care. Swaby upends tradition, however, and gives the sewing medium a sense of monumentality with the life-size series Pretty Pretty. The subjects are intricately rendered in freehand lines of thread, and shown on the reverse side of the canvas so that the stitching process—its knots and loose threads, so often hidden—is visible. There's a vulnerability to "showing the back," but Swaby embraces and elevates the imperfections.
Learn more and make your plans to visit: bit.ly/mfafreshup
"Gio Swaby: Fresh Up" is co-organized with the Art Institute of Chicago, where it will open in 2023.
Made possible in part by generous support from The Margaret Acheson Stuart Society, PNC BANK, Gobioff Foundation, Sonia Raymund Foundation Inc., James G. Sweeny, and Garth Family Foundation. Contributing support provided by the City of St. Petersburg and the State of Florida, Department of State, Division of Arts and Culture, the Florida Council on Arts and Culture, and the National Endowment for the Arts.
#GioSwaby #fabric #textiles #claireolivergallery #portraits #blackportraiture #contemporaryartist #blackartinamerica #contemporaryart #fabricwork #exhibition #soloexhibition #fabric #Textileart #FreshUpMFA #freshup
@claireolivergallery @gioswaby @artinstitutechi @katherinepill @melindalwatt
Gio is a Bahamian multimedia textile artist whose work has been exhibited internationally and covered by @harpersbazaarus & @vanityfair #freshup Photo credit: @claireolivergallery
Department
Keywords
News Summary
Congratulations to MFA student @GioSwaby whose first solo exhibition at museum, Fresh Up, just opened @MFAStPete and is on until Oct. 2022!
Date
-
Banner Image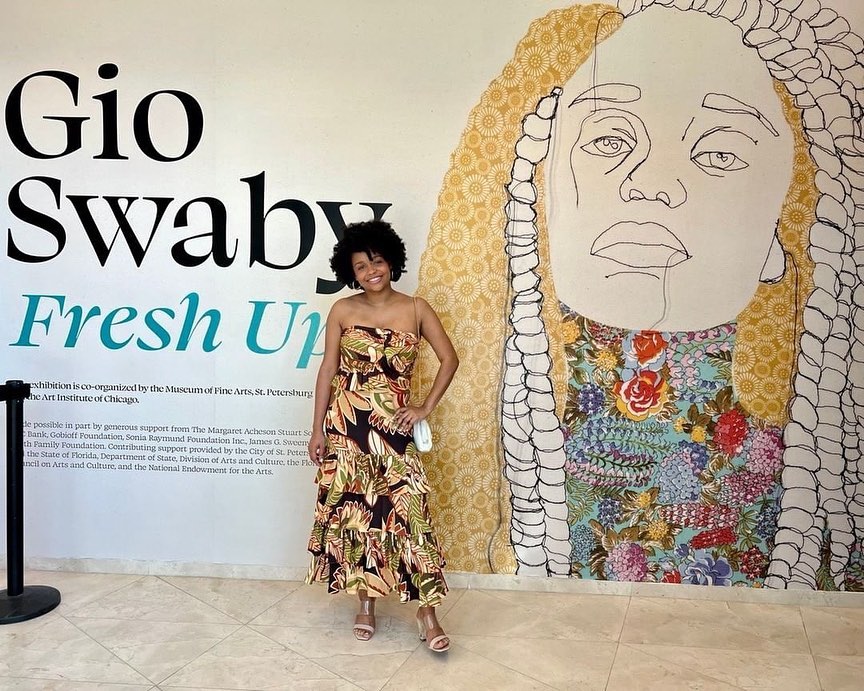 Poster