Body
If you're seeking exhibitions with works from OCAD University students, faculty and alum, you've come to the right place! Check out exhibitions in Toronto, outside the city and online.
Exhibitions in Toronto
Ignite Gallery
100 McCaul St. 2nd floor
Bittersweet Longing of Nostalgia "Book of People"
March 21 to 30, 2023
Works by Sara Shoghi, Interdisciplinary Master's in Art, Media and Design. Opening reception March 22, 5 to 7 p.m.
This exhibition aims to demonstrate the relationship between art, nostalgia and politics. The artist says: "In order to develop a connection to the Iranian Protest, I am creating artworks that are related to my memories and/or the common nostalgia of collective memory through Persian miniature, which is a form of art that has a long history in Iranian culture and contains a great deal of metaphor and hidden meaning."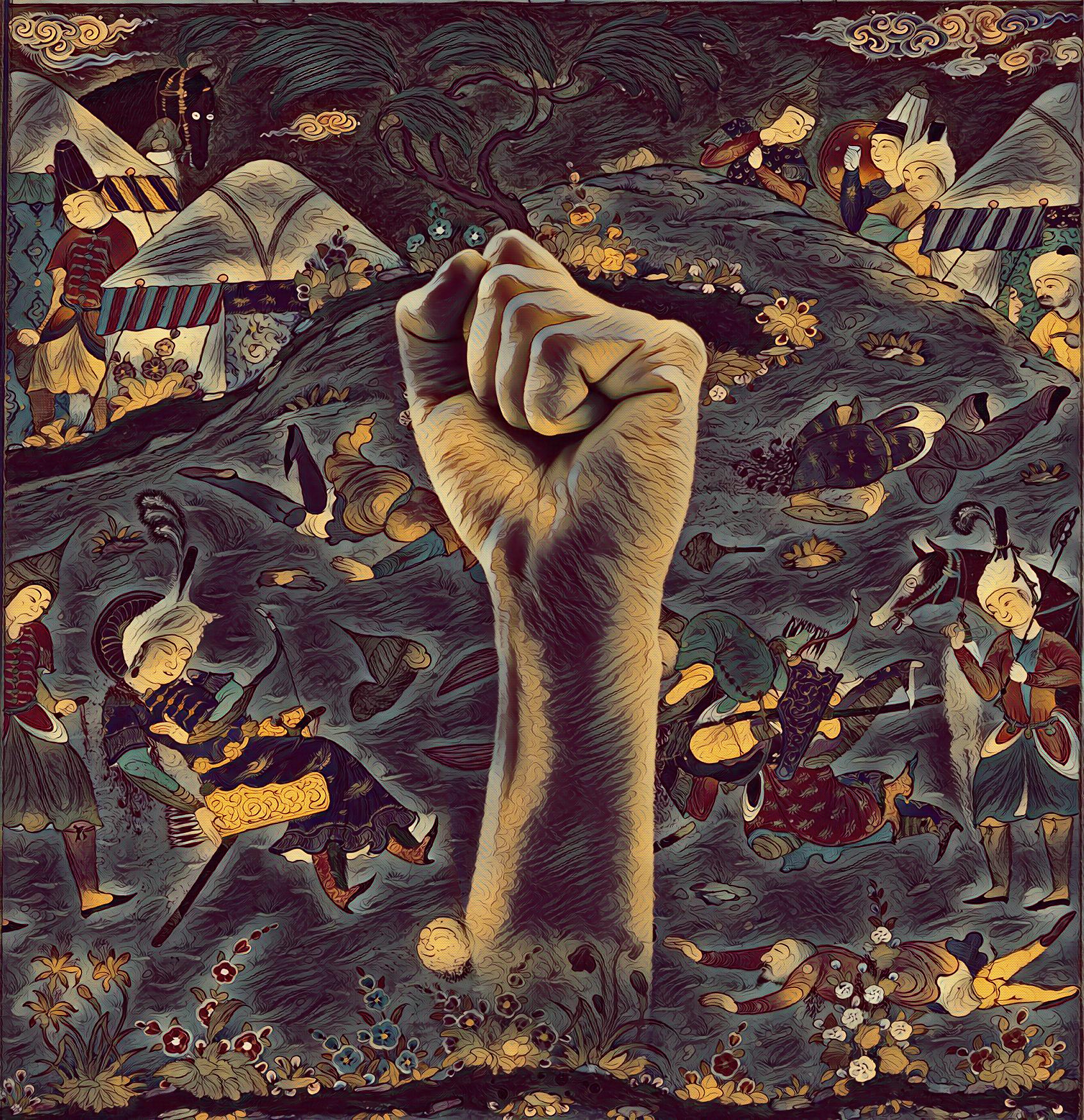 Work by Sara Shoghi.
Onsite Gallery 
199 Richmond Street West
Up Front: Inuit Public Art at Onsite Gallery
Until March 30, 2023

Curated by Ryan Rice, Executive Director and Curator, Indigenous Art, Onsite Gallery. 
In partnership with the Inuit Art Foundation (IAF), Up Front: Inuit Public Art at Onsite Gallery is a new series of commissioned digital murals by Inuit artists, produced in vinyl for the exterior façade of the gallery.

The current mural is by artist Kyle Natkusiak Aleekuk. Aleekuk's works are inspired by the bold colours and style of the printmakers of Ulukhaktok, Northwest Territories, including his grandfather Peter Aliknak Banksland and great aunt Agnes Nanogak Goose. This work will be up until March 2023.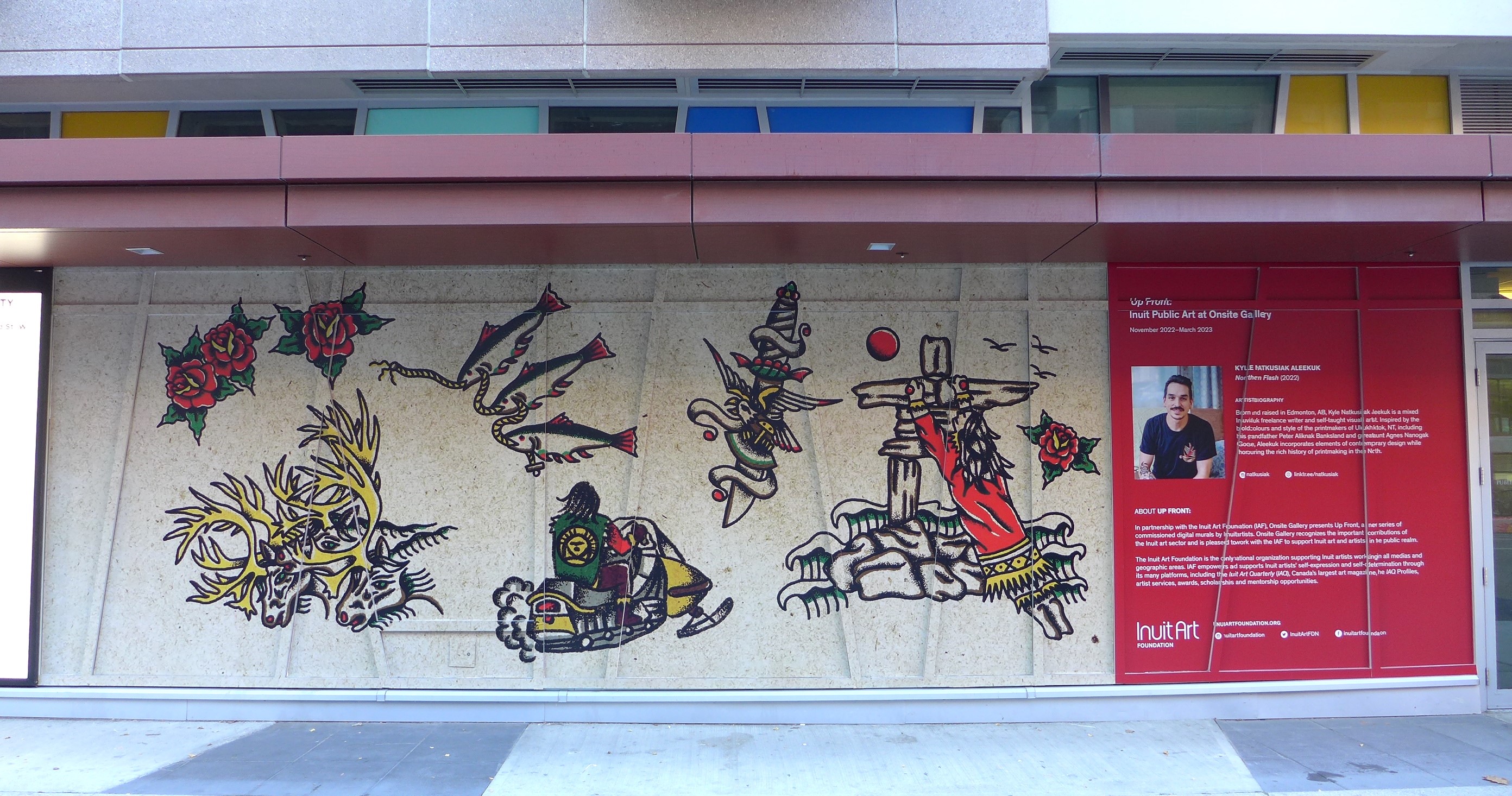 Northern Flash (2022) by Kyle Natkusiak Aleekuk.

Aga Khan Museum
77 Wynford Drive
Afghanistan, My Love
October 8, 2022 to April 10, 2023

With works by alum Shaheer Zazai (BFA 2011).

Conceptualized in Microsoft Word, Shaheer Zazai's mesmerizing patterns and designs explore the many layers of his complex cultural identity. A selection of Zazai's digital works and carpets which are inspired by these designs will showcase the artist's unique processes and his contemplations around what it means to be an Afghan away from their homeland.

Carpet No. 3 (2022) by Sheer Zazai, handwoven wool carpet. Image courtesy of Shaheer Zazai.
Ignite Gallery
100 McCaul St., 2nd floor
Entre el entonces y el ahora | Between the Then and the Now
April 11 to 17, 2023
Works by Nahun Flores, Interdisciplinary Master's in Art, Media and Design.
Artist Nahun Flores states: "I write personal stories of particular instances of my life. I use writing as a primary method of inquiry. I portray childhood, adolescence, migration, family dynamics, local knowledge, and daily struggles in the village where I grew up in Honduras. Inspired by these stories, I create sculptures and mixed media works, and through the making, I generate other narratives."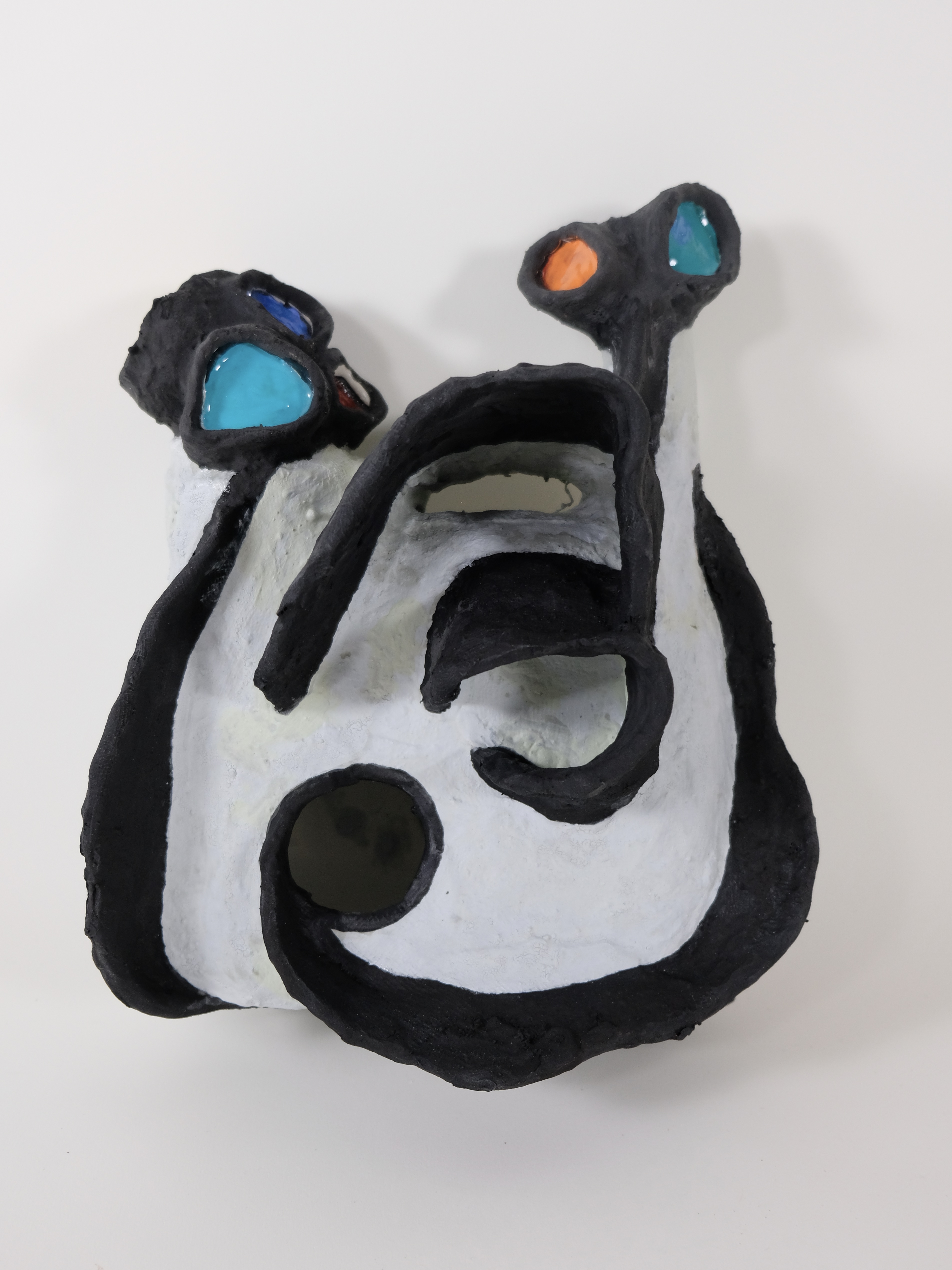 Work by Nahun Flores
Xpace Cultural Centre
2-303 Lansdowne Ave
a series of actions or steps taken in order to achieve a particular end
March 10 to April 22, 2023
Featuring works by Ella Gonzales, Meg Ross and OCAD U staff member Meichen Waxer; a series of actions or steps taken in order to achieve a particular end, curated by Criticism and Curatorial Practice student Avalon Mott, aims to encourage a positioning of exhibitionary affect.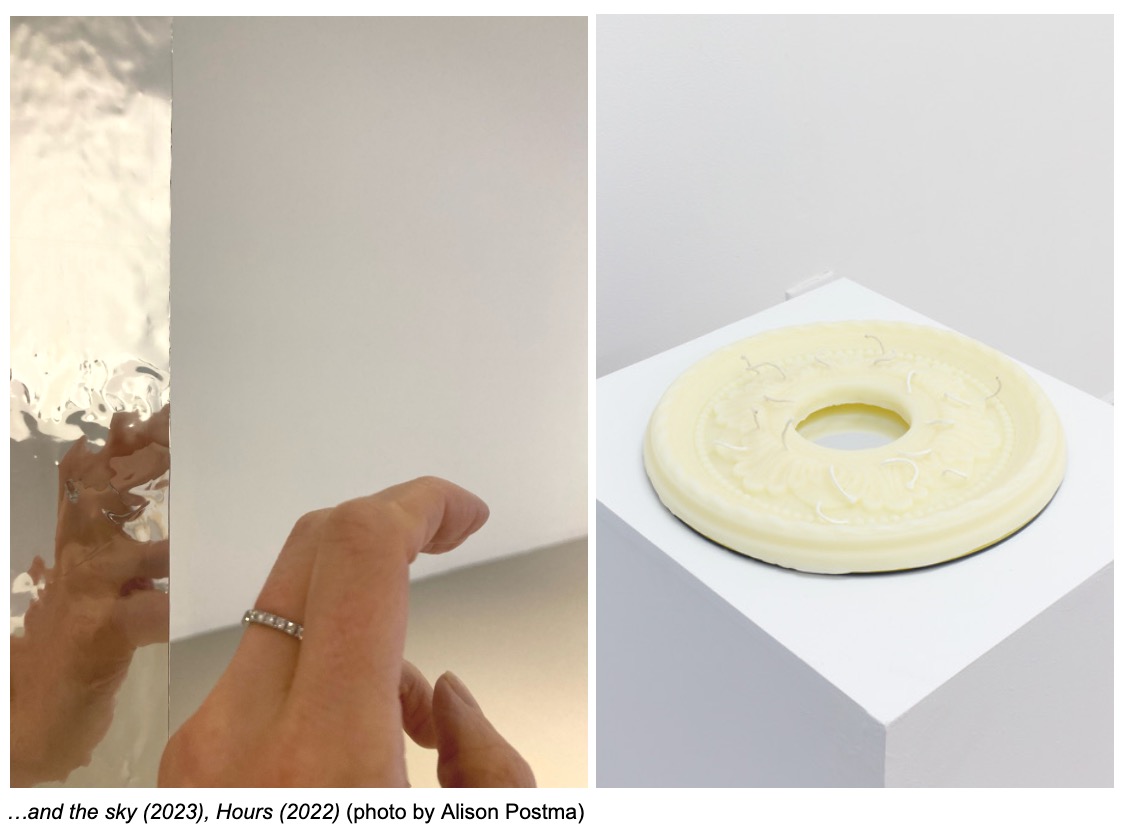 12 Degrees
15 Beverley St.
Order and Unknowing: Paintings by Nicole Collins
February 5 to May 3, 2023
Works by Associate Professor in the Faculty of Art, Nicole Collins.
A solo show of five paintings by Nicole Collins. Featuring two new large-scale "decreations", this exhibition focuses on an ongoing cycle of creation, undoing and renewal with wax as medium.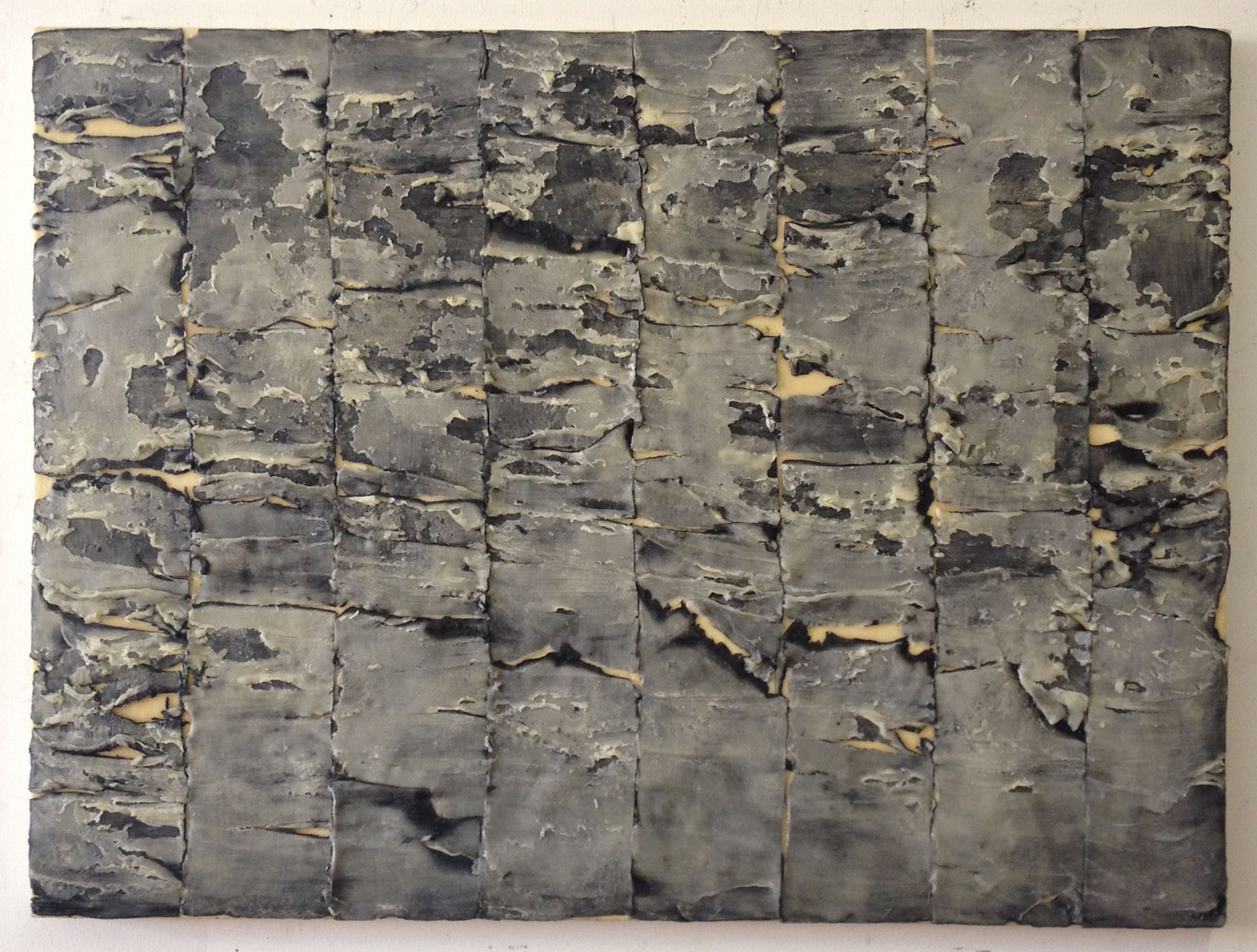 Another work by Collins, not associated with the exhibition: pressing on, 2016, wax, oil and pigment, on canvas and wood, 48" x 36" (commission, private collection).
TIFF Bell Lightbox
350 King St. W.
Milk n Honey
February 1 to May 6, 2023
Mural by BFA Drawing & Painting (2015) alum Curtia Wright.

Alum Curtia Wright's mural Milk n Honey was created for TIFF's movie series Perpetratin' Realism: 1990s Black Film, during Black History Month 2023. The mural has been extended to remain on view until May 6. Wright's piece enters around the allure of the American Dream, inspired by the films from the TIFF series.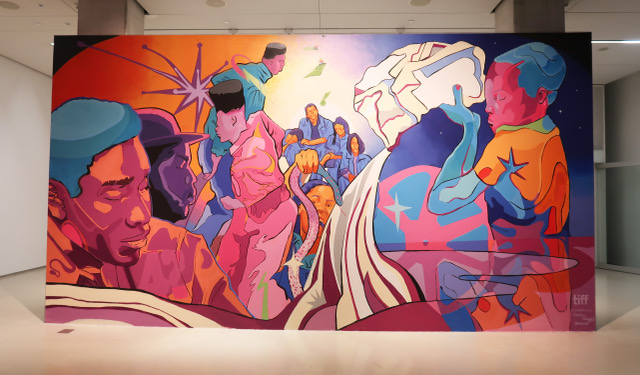 Onsite Gallery
199 Richmond Street West
more-than-human
February 1 to May 13, 2023

Curated by Jane Tingley, Director of the SLOlab: Sympoietic Living Ontologies Lab and Associate Professor at York University, the group show features the works of six Canadian based artists/artist duos, including OCAD U Assistant Professor Suzanne Morrissette, and two international artists/artist duos. 
More-than-human is a core exhibition of the CONTACT Photography Festival, presenting media artworks at the intersection of art, science, Indigenous worldviews, and technology that speculatively and poetically use multimodal storytelling as a vehicle for interpreting, mattering, and embodying more-than-human ecologies. The artworks in this exhibition aim to critically and emotionally engage with the important work of decentering the human and rethinking the perspective that sees nature as a lifeless resource for exploitation.
Onsite Gallery is open Wednesday to Friday from noon to 7 p.m., Saturdays from noon to 5 p.m. and closed Sunday to Tuesday.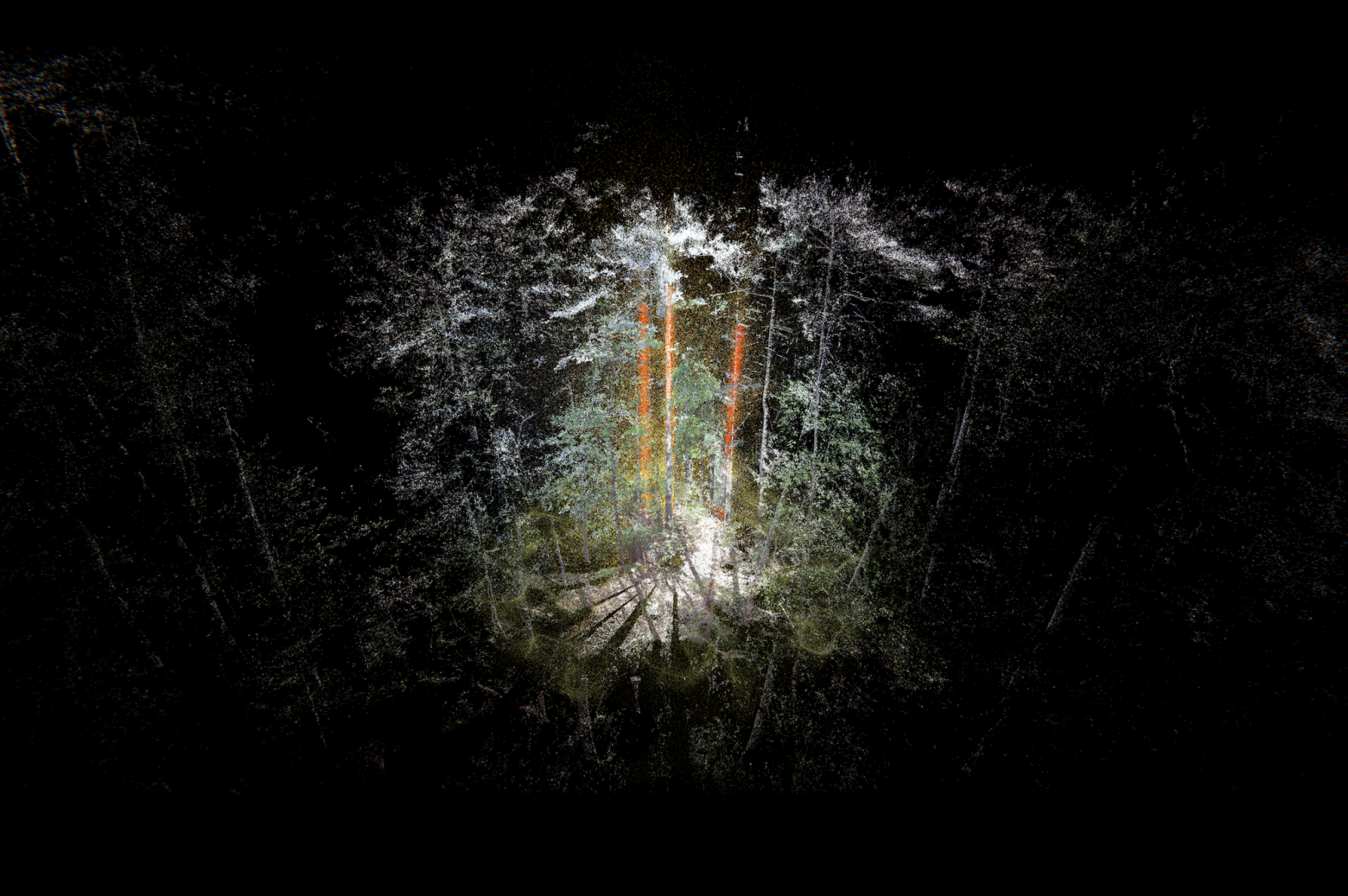 Ursula Biemann, Forest Mind, 2021, sync 2-channel video installation, 31 minutes.  
The Power Plant Contemporary Art Gallery
231 Queens Quay West
in parallel
February 3 to May 14, 2023

With works by Assistant Professor Julia Rose Sutherland. 
in parallel is a group exhibition that brings together six artists from Tkaronto and surrounding areas. Rouzbeh Akhbari, Joi T. Arcand, Aylan Couchie, Simon Fuh, Anique Jordan, and Julia Rose Sutherland explore how visual documentation and cultural practices can reclaim the narratives of their respective communities despite colonialism's persistence. Rose Sutherland engages with Indigenous traditions and knowledge to create sculptures that foster a collective healing.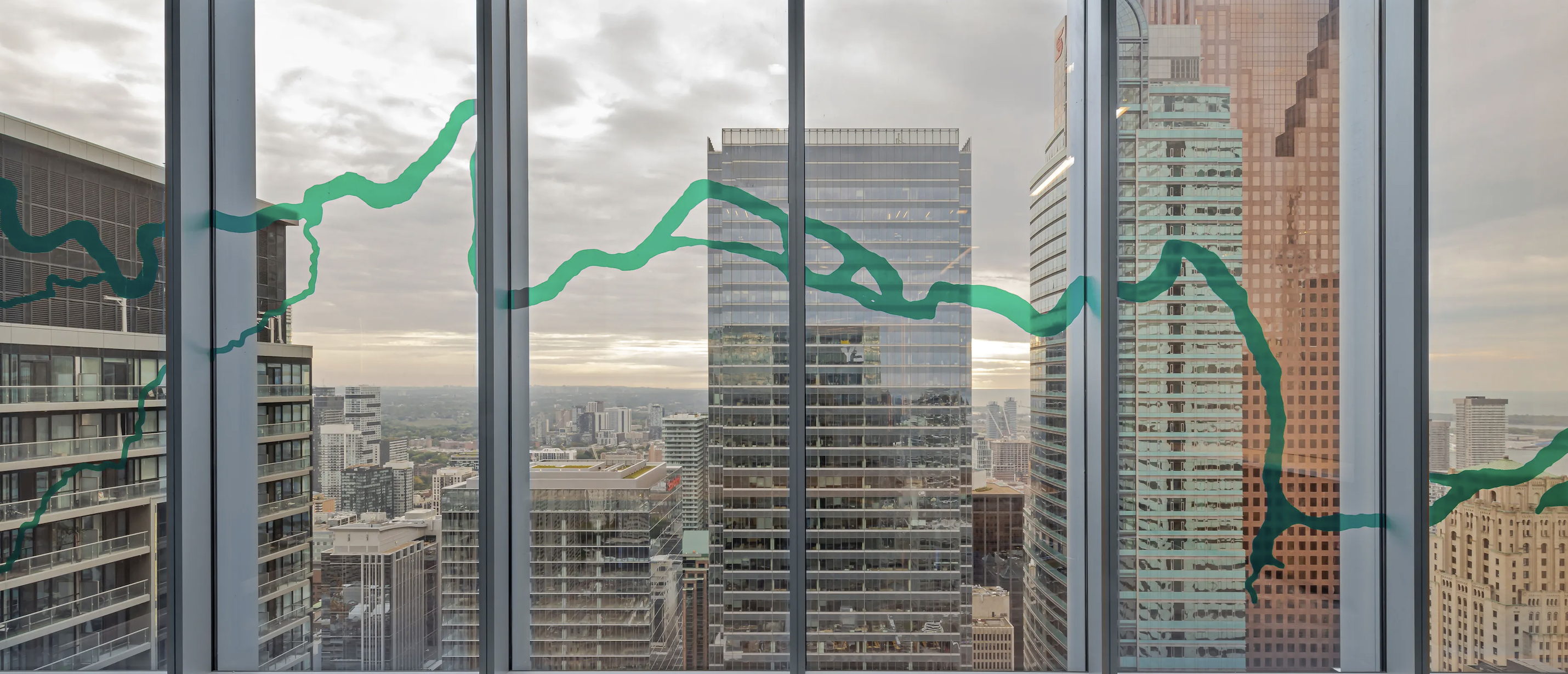 Simon Fuh, The Don at Dawn, The Humber at Dusk, 2022. Vinyl installation, dimensions variable. Courtesy the artist. Photo: Toni Hafkenscheid
12 Degrees
15 Beverley Street
Order and Unknowing
February 5 to May 23, 2023

With works by Faculty of Art Associate Professor Nicole Collins, curated by Faculty of Arts & Science Professor Emeritus David MacIntosh.

Order and Unknowing is a solo show of five paintings by Nicole Collins, on display seven days a week from 11 a.m. to 5 p.m. Featuring two new large-scale "decreations", this exhibition focuses on an ongoing cycle of creation, undoing and renewal with wax as medium.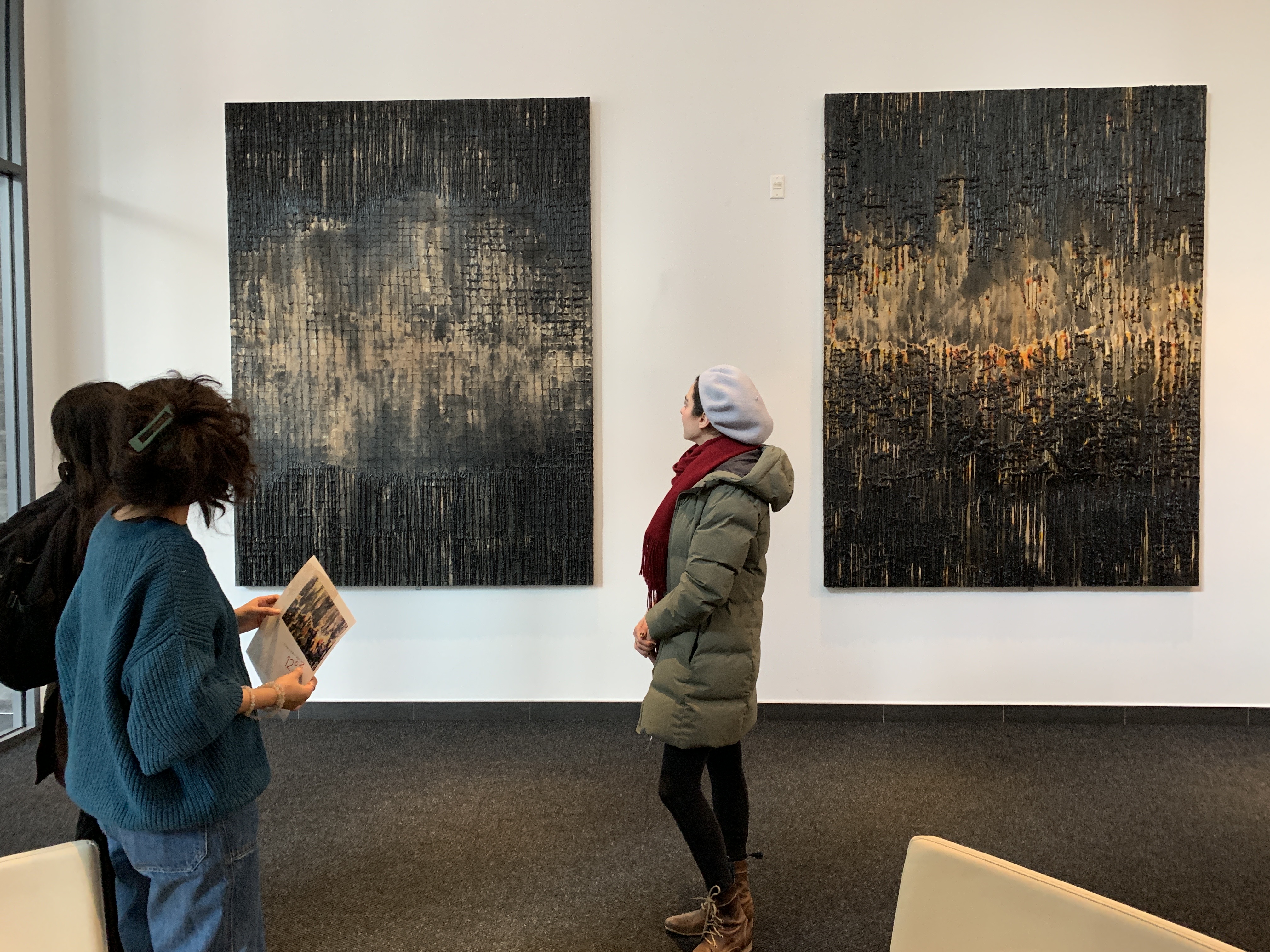 Photo courtesy of Nicole Collins
Spadina Museum
285 Spadina Road
Dis/Mantle
August 2022 to May 28, 2023
With works by alum Gordon Shadrach and alum and current class assistant Moraa Stump.
Spadina Museum has been reimagined for this immersive exhibit. This exhibition is inspired by the efforts of Black abolitionists, reimagining Spadina Museum using an Afrofuturism narrative: where Mrs. Louisa Pipkin, the formerly enslaved freedom seeker who worked as a laundress in the house, is now the homeowner and the house is a safe haven for those seeking freedom through the Underground Railroad. The group show includes soundscapes, ceramics and visual art by Canadian artists from the Afro-Caribbean diaspora.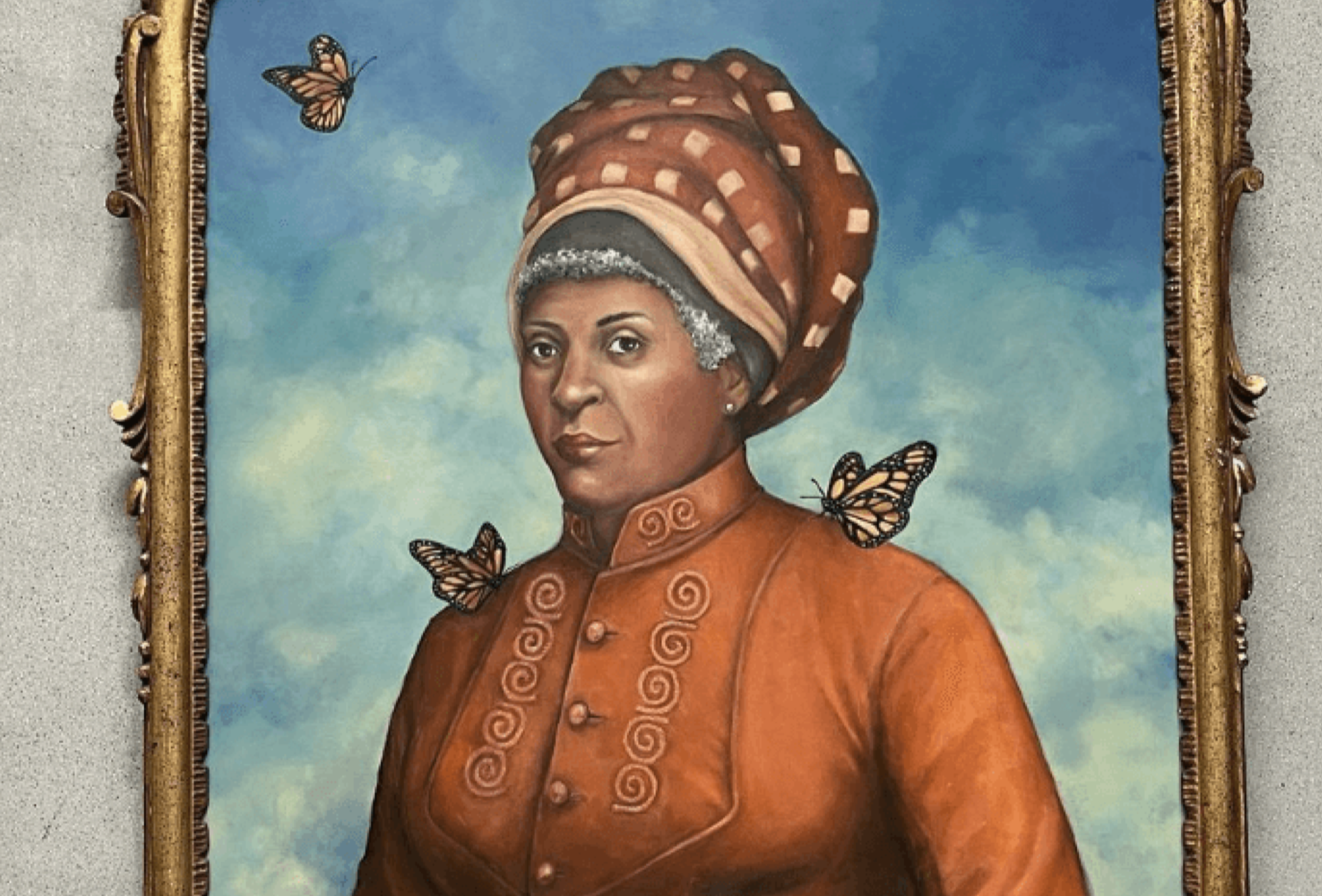 Detail of: Refashion (Mrs. Pipkin), oil on wood panel, 2022 by Gordon Shadrach
RBC Community Gallery
200 Bay Street
Structures to (Re)consider
November 2022 to May 2o23

With works by Faculty of Art and Faculty of Arts & Science Instructor Vanessa Dion Fletcher, and alums Kara Springer (Industrial Design, 2004) and Stacey Tyrell (Photography, 2002).
Structures to (Re)consider opened to the public on November 10, 2022. These works were originally presented together at Art Toronto 2022 of which RBC is principal sponsor. In this exhibition, artworks take on an architectural perspective that investigates structures that influence, protect, and transcend our world. Artists explore the connections between municipal planning, monetary systems, sites of celebration, environment, immigration and globalization. Artists included in the exhibition present deeply personal, as well as collective, pasts to look towards a reconsidered future.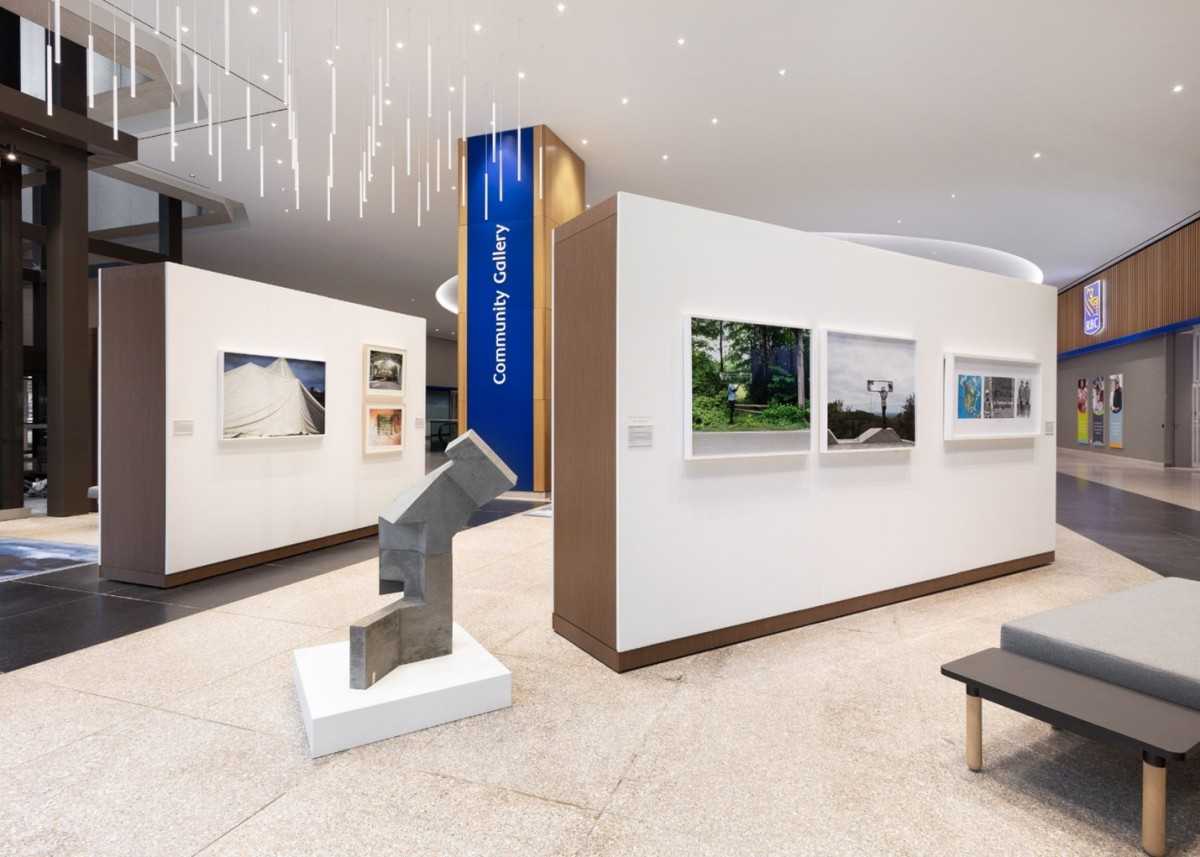 Works by Kara Springer, Stacey Tyrell, Jen Aitken, Dawit L. Petros and Jeff Thomas pictured in the RBC Community Gallery.
Royal Ontario Museum
100 Queens Park
Canadian Modern
December 3, 2022 to July 30, 2023

With works by eight emerging OCAD U artists: Anthia Barboutsis, Elfy Castro, Rachel Leung, Stephanie Singh, Khalalelo Sithole, Dan Chi, Harcharan Jagdev and Peter Huang.

Six works from eight OCAD U designers were selected for display by a jury of distinguished experts, including Dean Dr. Elizabeth (Dori) Tunstall, OCAD U Faculty of Design; Assistant Professor Howard Munroe, OCAD U Faculty of Design; and Dr. Rachel Gotlieb, lead curator of Canadian Modern. 
Canadian Modern explores the legacy of Canadian creativity and ingenuity and its impact on our everyday lives. Through over 100 objects designed and crafted in Canada from the mid-20th century to the present, the ROM original exhibition will reveal that design is everywhere—whether we know it or not.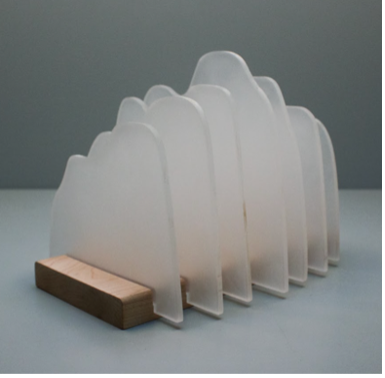 Athabasca by Dan Cui, Harcharan Jagdev and Peter Huang.
Hart House
7 Hart House Circle
Intertribal
October 2022 onwards 
Mural by fourth-year Drawing and Painting student Quinn Hopkins, located in the eastern corridor on the basement level of Hart House.
Hopkins's mural depicts a pow wow in Toronto with a message of love. This is his first major solo project.  It depicts the Na-Me-Res Traditional Pow Wow at Toronto's Fort York as seen against the city skyline. The piece includes a light feature, a light sculpture and an augmented reality component. Hopkins takes inspiration from new, innovative technologies and, through his art, he connects this technology with the land and his roots as an Anishinaabe person.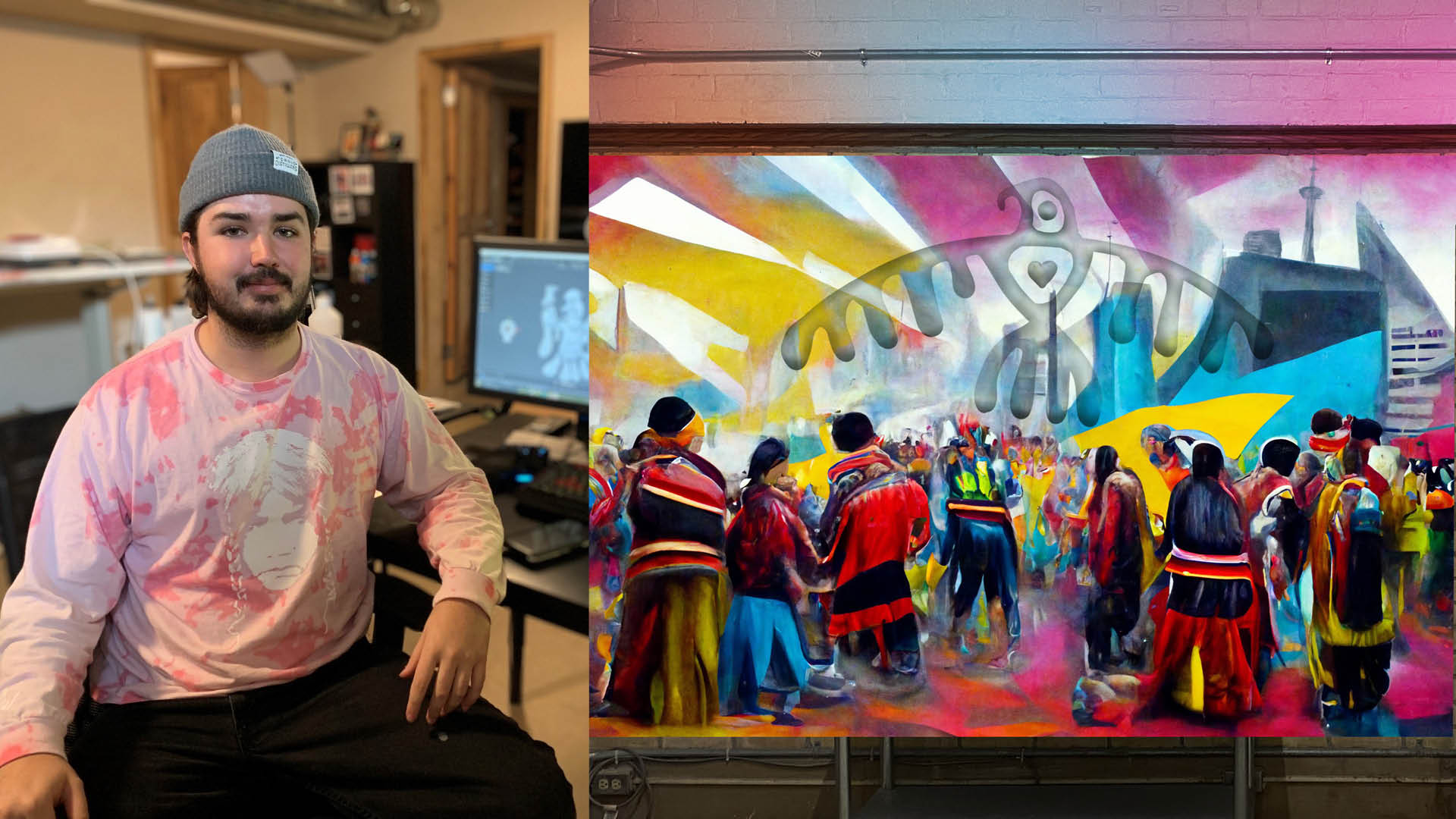 Image courtesy of Hart House
Exhibitions outside Toronto

Museum of Contemporary Art Chicago
220 E Chicago Ave, Chicago, IL
Forecast Form: Art in the Caribbean Diaspora, 1990s–Today
November 19, 2022 to April 23, 2023

With works by OCAD U Associate Professor in the Faculty of Design and Chair, First Year Experience in the Faculty of Art Office, Marton Robinson.

Taking the 1990s as its cultural backdrop, Forecast Form: Art in the Caribbean Diaspora, 1990s–Today is the first major group exhibition in the United States to envision a new approach to contemporary art in the Caribbean diaspora, foregrounding forms that reveal new modes of thinking about identity and place. It uses the concept of weather and its constantly changing forms as a metaphor to analyze artistic practices connected to the Caribbean, understanding the region as a bellwether for our rapidly shifting times. 

Robinson's large-scale piece is a 60-part digital print considers Blackness and racism within the Caribbean, specifically Costa Rica.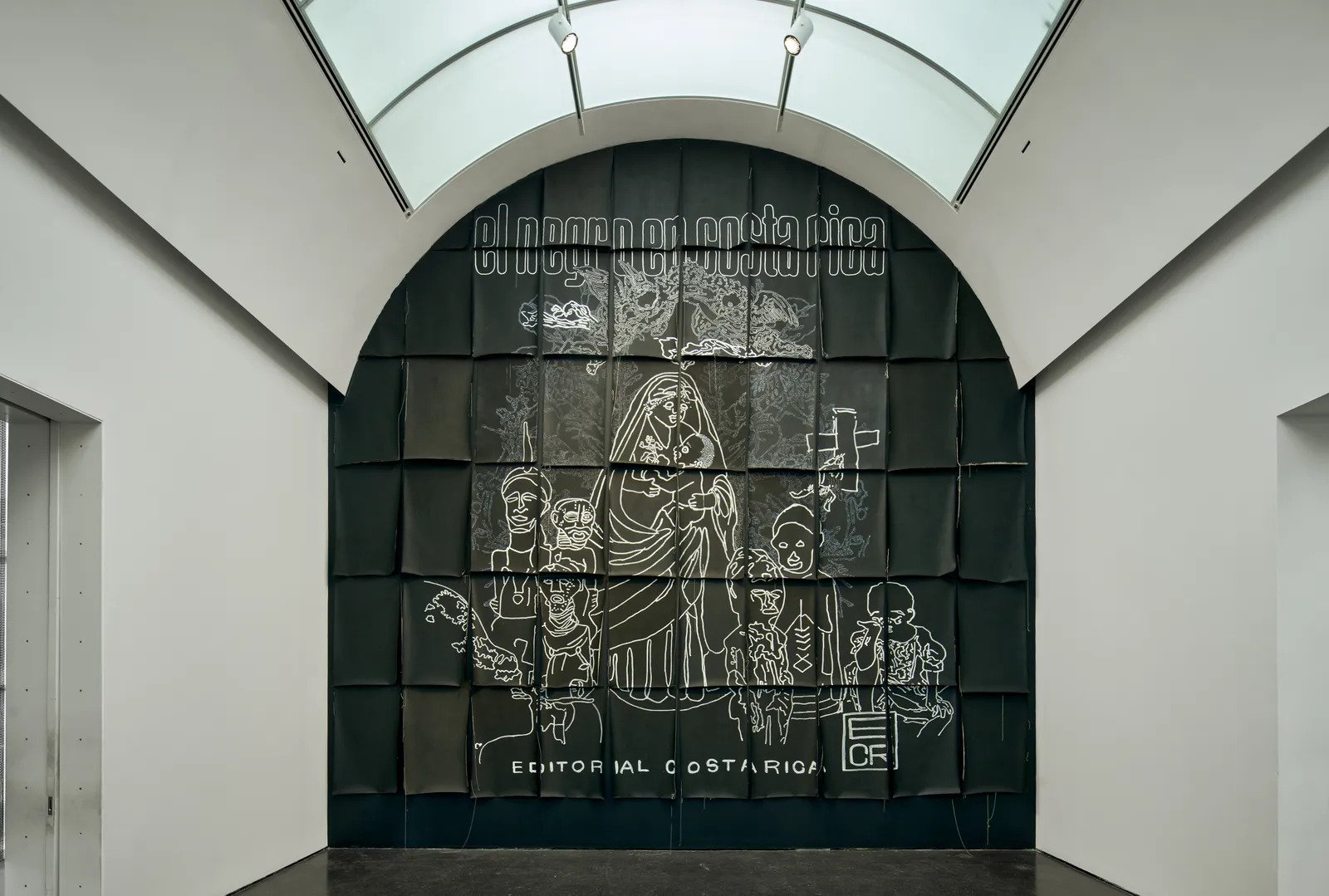 Marton Robinson, La Coronación de La Negrita, 2022. Digital print over backlit paper (variable); 60 parts: 44 × 27 in. (111.76 × 68.58 cm) each. Photo: Michael David Rose. Courtesy of Vogue.
Quest Art
333 King St, 2nd floor, Midland, ON
Coming to my senses / Following the shore
March 24 to May 6, 2023
Works by Claudia McKnight, Interdisciplinary Master's in Art, Media and Design. Opening reception March 25, 2 to 4 p.m. Artist talk April 1, 2 p.m.
Coming to my senses / Following the shore is a practice-led inquiry into the anima of place, specifically the littoral (shoreline) wetlands of Bone Island, Georgian Bay. Georgian Bay is the eastern arm of Lake Huron in Ontario, Canada.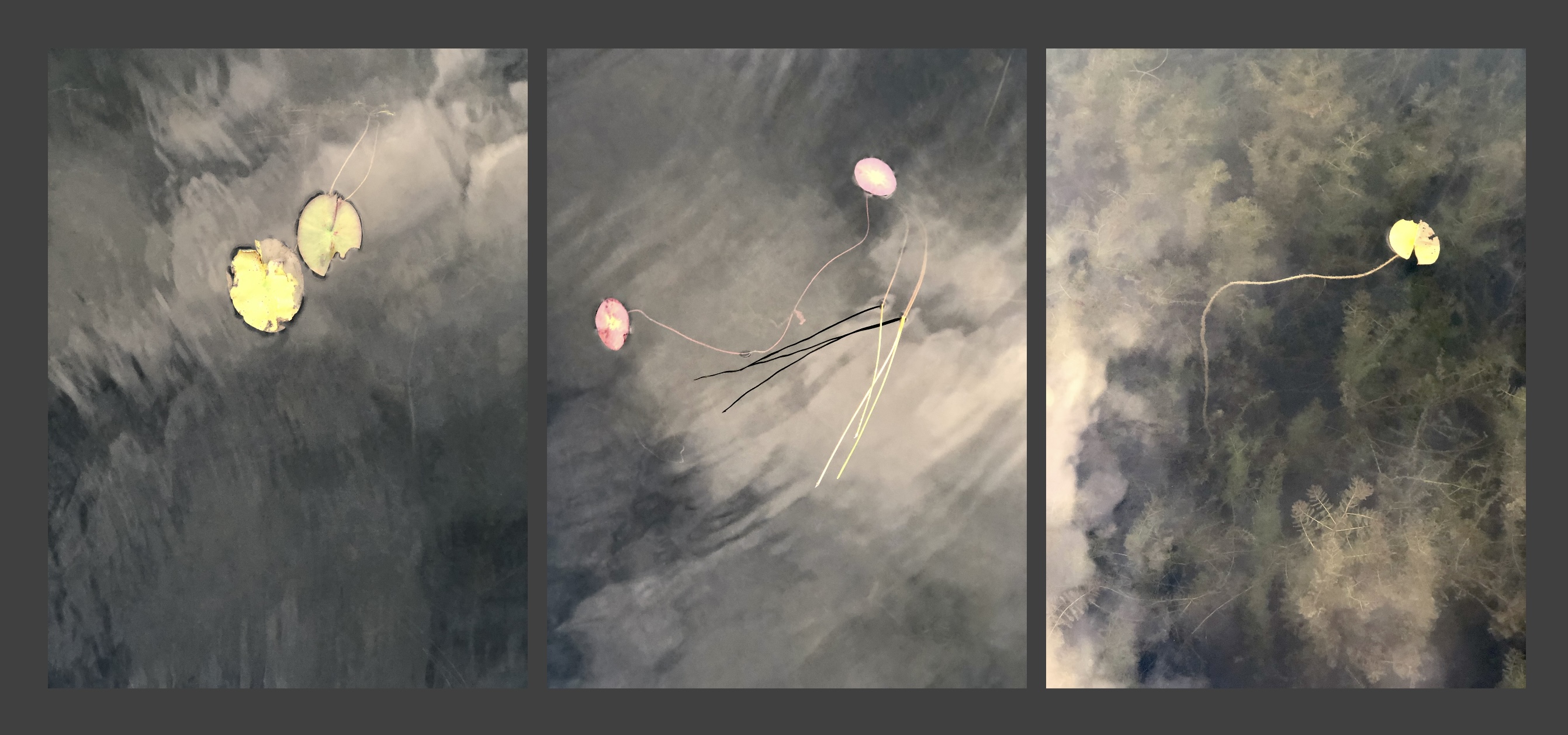 Work by Claudia McKnight.
Online exhibitions 
Online
THERE IS NO CENTRE
February 23 to May 24, 2023
Curated by Katie Micak (MA Digital Futures 2018) and features work by Thoreau Bakker (MA Digital Futures 2018) and Adrienne Matheuszik (MA Media and Design 2019), as well as current Digital Futures faculty Xuan Ye. Part of an ongoing series of programs that demonstrate the MacKenzie Art Gallery's Digital Exhibitions Toolkit and Art Installation Launcher (DETAIL) project, funded by the Canada Council for the Art's Digital Strategy Fund and developed by OCAD U alumni Jonathan Carroll (BFA INTM 2016) and Cat Bluemke (BFA DRPT 2016).
THERE IS NO CENTRE is an art exhibition presented as a playable video game, questioning and expanding the boundaries of both digital art and videogames by positioning audience members as players. THERE IS NO CENTRE investigates how contemporary art can be presented in diverse ways and challenges our expectations of how we engage with artwork, while exploring themes of translation, speculation, and consumption in relation to the properties of digital media.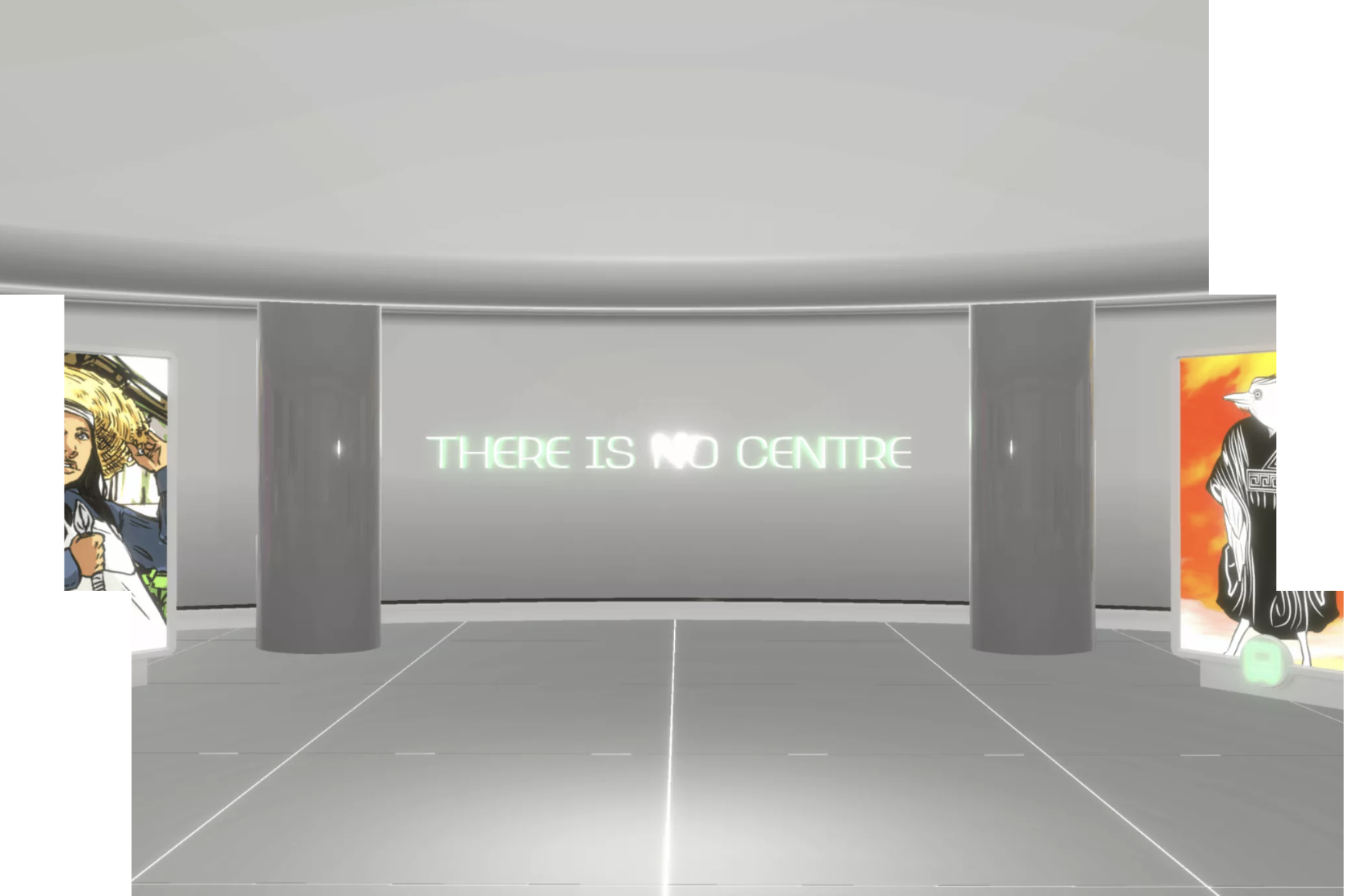 Image courtesy of MacKenzie Art Gallery
Online
QUEERIOUS: The Politics of Gender Identity
January 1, 2023 onwards
With works by 26 artists and creators from the Making Gender: LGBTQ2S+ Course at OCAD University, Fall 2022. Curated by Faculty of Art Assistant Professor Julius Poncelet Manapul (them/they/ze). 
A collection of works by artists, creators, digital media makers and designers tackling the criticality within the LGBTQ2S+ Communities, including issues of gender representations, relationships, beliefs and cultural stands that inform the ongoing conversation in Queer and Gender Theory, coming from different backgrounds, experiences and criticality.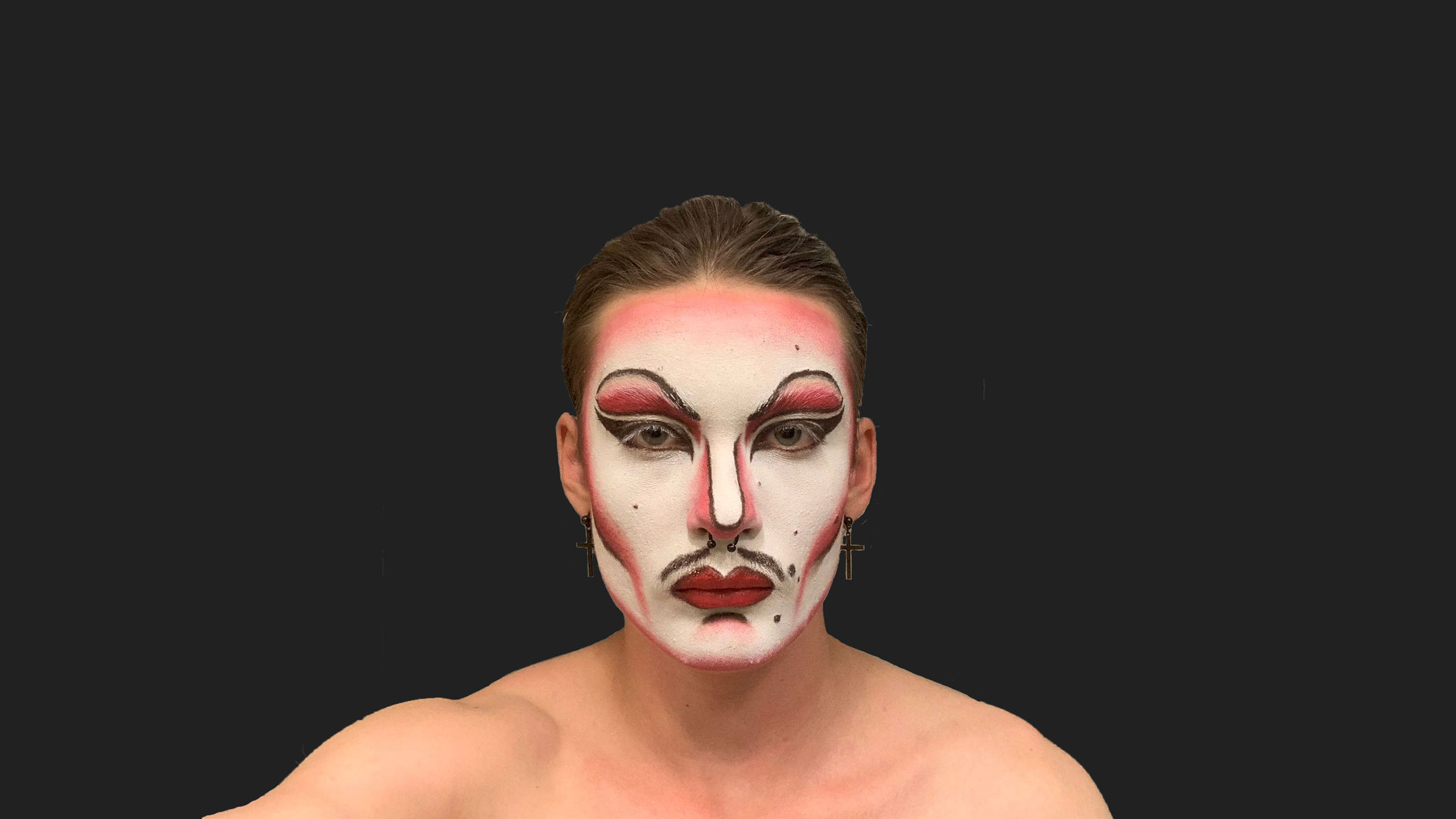 Image by Reymond Shea Lise (he/they).
Online
PROCESS
Ongoing
PROCESS features new works by Reshmi Bisessar, Beverley Freedman, mihyun maria kim, Sara Shoghi, Erin Stripe and Vicky Talwar, that were created as part of an ArtScape residency collaboration with OCAD U in Summer 2022. 
The exhibition was held in person from October 7 to 16, 2022 at the OCAD U Grad Gallery, and is now available online. The works are inspired by the idea of process: the way an artist creates an artwork through conception, experimentation, revision, articulation and finalization.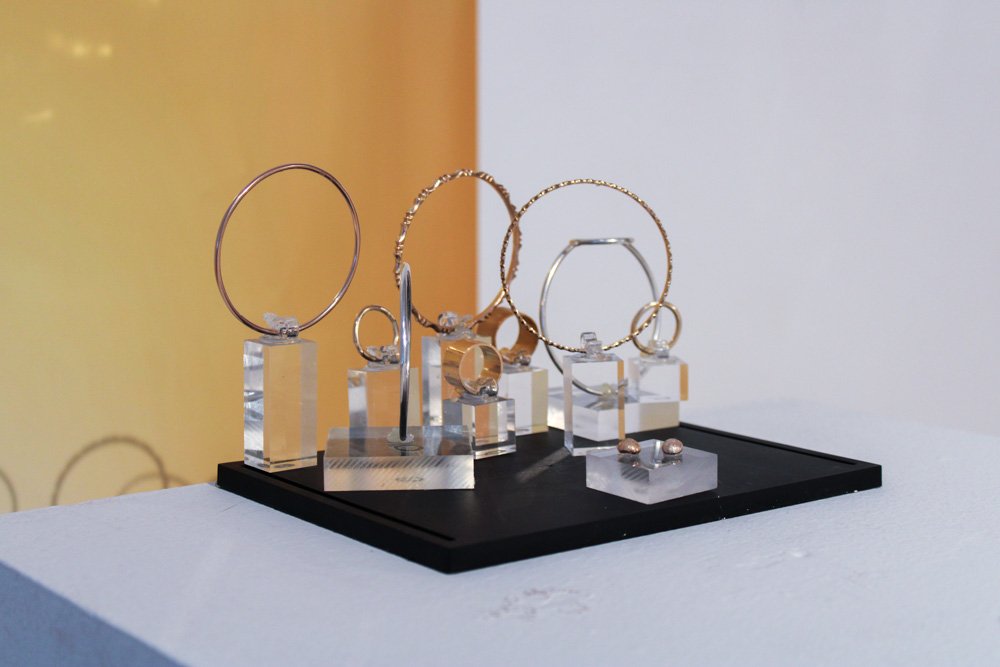 Hues of Gold (2022) by Reshmi Bisessar.
Department
Keywords
News Summary
Check out several exhibitions featuring students, staff, faculty and alums of OCAD U!
Date
Banner Image