Body
One day before the pandemic was declared by the World Health Organization in 2020, OCAD University held its last major in-person student event, the Student Leadership Awards. Last night, the University once again recognized and celebrated those who hold up our student community with our first significant in-person student celebration since the pandemic began. Welcome back!

This year's awards celebrated students who volunteered their time and energy, leading both from afar and right here at home, by supporting their peers' wellness and sense of community by advancing student food security, bringing awareness to the experiences of international students during the pandemic, improving services and supports for BIPOC students and so much more. 
Last night's wonderful ceremony included delicious Ojibway-style food and beverages provided by chef Shawn Adler of the Powwow Café, performances by Tina Giang, Rita Tsetsekas and Emily Black of O Cappella, and a poetry reading by Creative Writing student, Cameron Chiovitti.
OCAD University's multi-year volunteer Peer Mentors were recognized for their ongoing commitment to supporting first-year students as they transition to university life — no small feat during these turbulent times. A huge shout out is due to the following students: Andres Navas for five years as a Peer Mentor; Carmen Yuen for four years; Zeinab Ahmed, Kalore Cao, Wesley Huang, Arpit Nigam, Anvaya Samir Deshpande, Maryam Sadeghpour, Winnie Su, Atika Tariq, Tooba Tariq, Estefani Tito, Bojana Tudorovic, Ying Zhong and Donald Zhu for three years. Thank you to you all!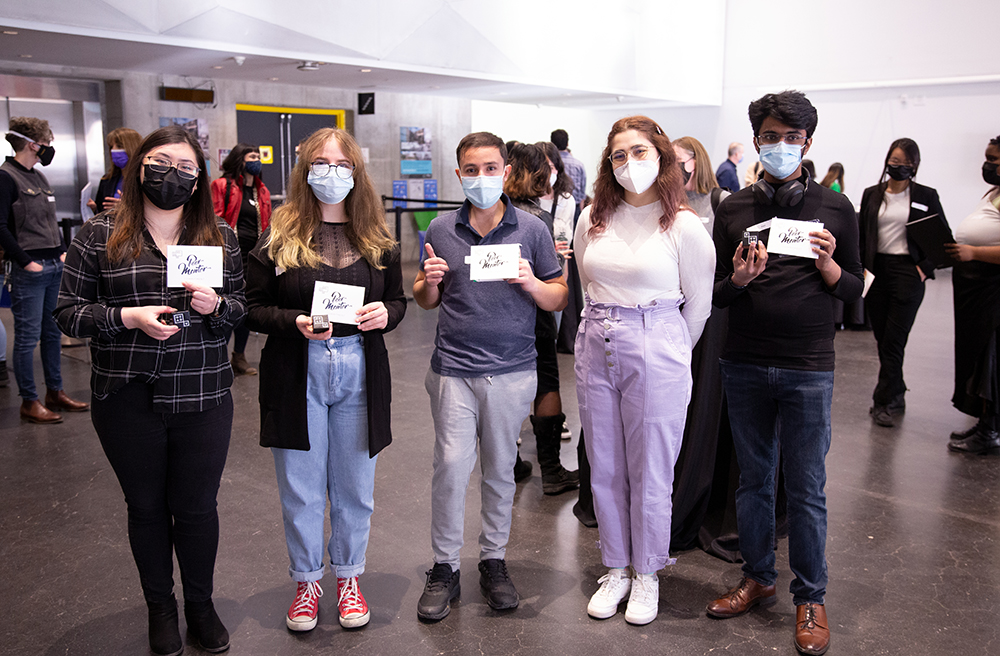 Peer Mentor Excellence Awards
These awards, supported by Alumni Relations, acknowledge those Peer Mentors who have made outstanding contributions, supporting new and first-year students with their transition to OCAD U and helping build community.
Nominees: 
Elif Asal
Dharini Kapoor
Sara Khalil-Bayley
Yara Selman
Congratulations to Sara Khalil-Bayley and Yara Selman, who are this year's recipients. 
Sara Khalil-Bayley, a peer mentor since 2020, was nominated by multiple individuals for her work as a peer mentor, and is noted for her warmth and constant availability, helping new students feel connected during a partially online semester. Through her work on the Welcome Squad, Sara helped to organize campus tours, scavenger hunts and study sessions. Sara is also a collaborator, working with student groups like the OCAD U Muslim Student Association to support an Islamic Geometric Art workshop, and a 'Pitch This!' workshop in collaboration with the OCAD U Story Circle, connecting her work as a mentor with her own experience in the Expanded Animation program. 
Participating remotely from Dubai due to the pandemic, neither distance nor technology have been a barrier to Yara Selman's work as a mentor, or an advocate for international students. A peer mentor since 2021 who is also a member of the Welcome Squad, Yara has supported mentees and other students who may be facing food security issues with baking tutorials and halal pita pizza workshops. She has organized events like 'Let's Get Creative,' where all students were welcomed to talk about creative passions, and organized photo submissions through which students were invited to share images from wherever they were in the world.
Student Group Leadership Award
This award, supported by Alumni Relations, is presented to a student group leader who excels, above and beyond, in their leadership role. Through facilitation and involvement, the leader demonstrates outstanding contributions, commitment and support to their group members and the OCAD University community.
Nominees: 
Tina Giang, O Cappella
Simrah Mahmood, OCAD U Muslim Student Association
Anas Mehta, OCAD U Muslim Student Association
Emerald Repard-Denniston and Lo Tran, Asian Artists Collective
Reihandokht Tabandeh, OCAD Storyboard Circle
Congratulations to Emerald Repard-Denniston and Lo Tran of the AZN Artists Collective! Emerald and Lo were nominated together, and overwhelmingly – many times – as co-leaders of the AZN Artists Collective. Their nominators describe them as passionate, engaging leaders who are great listeners. They use their lived experience to support the members of the artists collective, offering a safe and supportive environment to help their peers achieve balance between life and school, create new opportunities and achieve a sense of community.
Peer Wellness Excellence Award
This award, supported by the Office of the President, celebrates an OCAD U student who demonstrates passion and commitment to promoting student wellness. With a collaborative and inspiring spirit, this student fosters inclusive, brave engagement, empowering BIPOC student voices, to support student wellness, build community, and encourage connection.
Nominees: 
Andres Navas
Rei Pierre
Jessica Zhu
Congratulations to Rei Pierre, who radiated passion and joy while engaging over the last year as a volunteer and a student monitor. Pierre has also been an integral student representative to inter-departmental working groups, all themed around peer wellness. As a Student Wellness Navigator, Rei successfully created original health promotion, harm reduction resources, facilitated countless workshops, implemented new outreach strategies, fostered brave spaces, collaborated with the Learning Zone on student-led sustainability programming, worked with the Student Union Food Pantry to address food insecurity and offered ongoing peer support to colleagues and volunteers. Rei took initiative to envision a Black future in Student Wellness Centre programming by pitching a project for Black students, by Black students to create brave spaces to connect over shared values invested in wellness and health, and hosted the inaugural Juneteenth BBQ held on the Student Wellness Centre Instagram Live.
Student Employee Excellence
The Student Employee Excellence Award, supported by the RBC Centre for Emerging Artists & Designers and OPSEU Local 576, acknowledges the considerable contributions made by OCAD U student employees — also known as monitors — towards the operations of the University, by recognizing their employee excellence, achievement, leadership and skills development.
Nominees:
Harcharan Jagdev 
Vladimir Kanic 
Em Moor 
Jaz Rajput 
Congratulations to Em Moor, who in her role working as a monitor in the Photography Cage, demonstrates a commitment to interpersonal relationships that strengthen the team. Em is always willing to offer support, demonstrates empathy, allyship and compassion to fellow employees and brings a welcoming energy and positive attitude to every shift. She takes the time to learn every piece of equipment offered so that she can demonstrate its use to student borrowers, always growing her knowledge and generously sharing what she's learned with others. 
Indigenous Student Leadership Award
This award, supported by K.M. Hunter Charitable Foundation and the OCAD U Indigenous Student Centre, recognizes an outstanding Indigenous student who has demonstrated exceptional leadership skills. Nominees have actively participated in and contributed to the Indigenous student community at OCAD U, exemplifying a commitment to supporting its growth and development.
Congratulations to Damon Couto-Hill, who is Mohawk and Portuguese, and a fourth-year student in the Drawing and Painting program, minoring in Art & Social Change. As a monitor in the Indigenous Student Centre, Damon developed strong relationships with Indigenous faculty, students and alumni, coordinating interviews that introduced the broader Indigenous community to OCAD U's faculty members through social media takeovers. Damon is a student representative on OCAD U's Indigenous Education Council and is collaborating on several projects with the Indigenous Student Association. Damon has also contributed to the University's Academic & Strategic Plan, and contributed to the success of the Indigenous Student Centre's second Indigenous Wellness Week, where he co-moderated the "What brings you joy" event with Visiting Elders Catherine Tammaro and Liz Osawamick, exploring questions on burnout, self-compassion, isolation and hope. Damon takes every opportunity to engage with Indigenous peers at OCAD U and is committed to the success of the wellbeing of Indigenous students.  
Diversity & Equity Excellence Award
This award, supported by the OCAD Student Union, Office of Diversity, Equity & Sustainability Initiatives and the Office of the Vice-Provost, Students & International, acknowledges an outstanding student whose advocacy and leadership promote and advance human rights, equity and social justice.
Nominees:
Asra Khan
Mehnaz (Mia) Lamia
Paulete Poitras
Japjot Singh 
Congratulations to Asra Khan and Mehnaz (Mia) Lamia who were both selected as this year's winners. 

Asra Khan is dedicated to supporting equity-seeking students at OCAD U through her work as Executive Director of Campaigns and Advocacy at the Student Union, through her involvement with the Canadian Federation of Students, and her contributions to equity-based initiatives such as the International Student Advocacy Committee at OCADSU, the Sexual Violence Working Group, and with the Office of Diversity, Equity and Sustainability Initiatives. Asra also served on the hiring committee for OCAD U's new Sexual Violence Education & Support Coordinator. On OCADSU's Campaigns and Actions Committee, Asra ensured that historically marginalized members, such as the BIPOC and LGBTQ+ community, were part of the committee work. Asra also works with external organizations that promote food security and advocate for healthy eating in post-secondary schools. 
Mehnaz (Mia) Lamia is an exceptional advocate for international students, advancing their OCAD U experience. Mia is committed to challenging the stereotypes associated with being a racialized, multilingual English Language Learner and demonstrates her leadership by promoting wellness for all students and engaging in decolonizing efforts across the institution. Noticing a lack of spaces for international students to come together and connect over shared experiences, Mia took initiative to create Team_International Students, a private virtual community for OCAD U students on Microsoft Teams. Connecting international students safely during the pandemic, the platform also served to strengthen the support between the Student Wellness Centre and the Office of International Students. One example of the platform's success was how it helped connect students with vaccine clinics that would immunize folks without OHIP or Canadian citizenship. Mia's dedication to international students also contributed to the development of new staff roles designed to better support the diverse international student community, such as an International Student Community Worker and BIPOC Counsellor.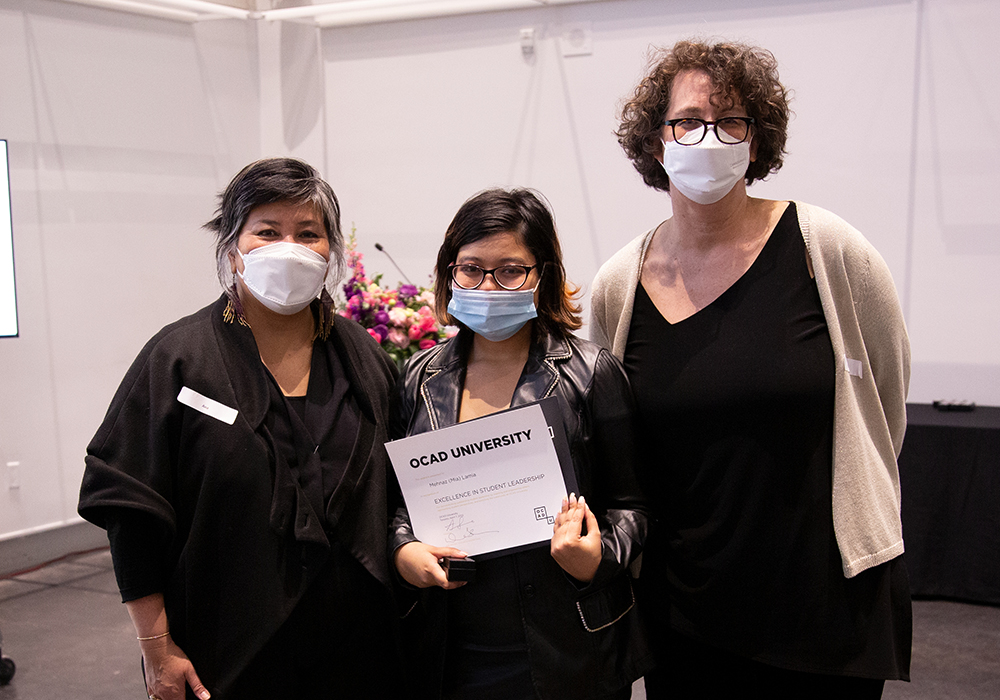 Excellence in Student Leadership Award
This award, supported by Office of the President, aims to recognize the outstanding contributions of student leaders across the University in a variety of contexts, including but not limited to representing student perspectives in positions on OCAD U committees, working groups, task forces, governance bodies (such as the Senate or Board of Governors) or through publications, advocacy groups or the Student Union.
Nominees: 
Pauline Aksay
Shreya Chopra 
Abby Kettner
Moksha Khanna
Mehnaz Lamia
Kalina Nedelcheva
Olive Pitschner
Michelle C. Wong
Congratulations to Mehnaz (Mia) Lamia and Olive Pitschner, who were both named as recipients of the award this year. 

As we have already described, Mehnaz (Mia) Lamia is deeply committed to improving the experiences of international and marginalized students at OCAD U. Mia's leadership excellence is further demonstrated through her passionate and informative presentations at town halls, committees, and meetings of the Senate and Board of Governors. Outside OCAD U, Mia also engages in events and initiatives that elevate and support certain communities, such as her work with the Parkdale-Queen West Community Health Centre's initiative to support nail technicians experiencing anti-Asian racism and toxic exposures in nail salon work in Toronto. Mia also works as a student monitor across various units in the university, contributing her enthusiasm, ideas and energy to bind and drive the OCAD U community towards advancing the university's values, goals and aspirations. 
Olive Pitschner is deeply committed to representing marginalized students at OCAD University, especially in her work on food security issues and support for disabled students, making OCAD U and the SU more accessible overall. Olive works as Food Services Coordinator in the Student Union, a role that typically supports in-person, campus-based services such as the student pantry and grocery gift cards. After the introduction of Wellness Food Boxes as a pandemic response to student food insecurity, Olive was instrumental in advocating for and securing the financial sustainability of the continuation of Wellness Food Boxes because they have been fundamentally more accessible for students with disabilities. Further to this work though, demand for the food boxes was higher than what could be supported. Olive developed a proposal for university administrators to try to secure more funding for food programs. Through her hard work and thorough research, Olive was able to secure $12,000 in additional support to offer more Food Boxes and diversify the food services at OCAD U through the creation of a community fridge and menstrual product cupboard. 

Congratulations to all nominees and 2022 award recipients. Thank you for all your contributions to the OCAD U campus community!
A very special thank you to all our jury members, presenters and supporters, on behalf of the Campus Life office. 
Keywords
News Summary
On April 7, OCAD U recognized student leadership and volunteer excellence, celebrating their contributions to the campus community.
Date
Banner Image