BIO
Michael Madjus has over 10 years of experience in design, marketing, and social media. With a degree in Industrial Design (OCAD University), and having worked with George Brown College, IMM Living, the Children's Own Museum, and the CN Tower, he helps businesses increase their presence online and IRL in creative ways.
Currently, Michael is working to help advance design culture in Canada as Head of Marketing for DesignTO, Canada's largest cultural celebration of design. Through the Festival, Michael and the DesignTO team turn the City of Toronto into a hub for creativity, making a platform for over 600 artists and designers every January.
On campus Winter 2020: Fridays 10am – 5pm (starting January 31, 2020)
ABOUT THE CREATIVE PROFESSIONAL-IN-RESIDENCE PROGRAM
The OCAD U Creative Professionals-In-Residence program is a mentorship initiative created to support the career success of current OCAD U students and recent alumni. The program sees invited professional guests, from a variety of art and design-related disciplines, present on a regularly scheduled basis over the course of the academic semester, in the new Rosalie Sharp Pavilion for Experiential Learning at 115 McCaul Street.
We invite students to set up a casual chat or studio visit with our residents to talk about their projects, goals and questions. Visiting creative professionals are alumni and collaborators of OCAD University, invited to provide mentorship to current OCAD U students and recent alumni. This winter's residents are Liz Ikiriko and Michael Madjus. 
BOOK AN APPOINTMENT
Current students and grads can use the OCAD U Talent Network to book appointments with our Creative Professionals-in-Residence. To book an appointment, please follow these four steps:
Log in at www.ocadu.ca/talentnetwork
Complete your personal and academic profile - you will not be able to book an appointment otherwise
Under the "Events & Advising" tab select "Workshops & Advising" and RSVP for a date/timeslot with your resident of choice that fits your schedule. The timeslot you select will no longer be available to others once you choose it.
Come to 115 McCaul St, 3rd Floor at the time of your appointment
Date
-
Venue & Address
Centre for Emerging Artists & Designers, 3rd Floor, 115 McCaul Street, OCAD University
Type
Department
Image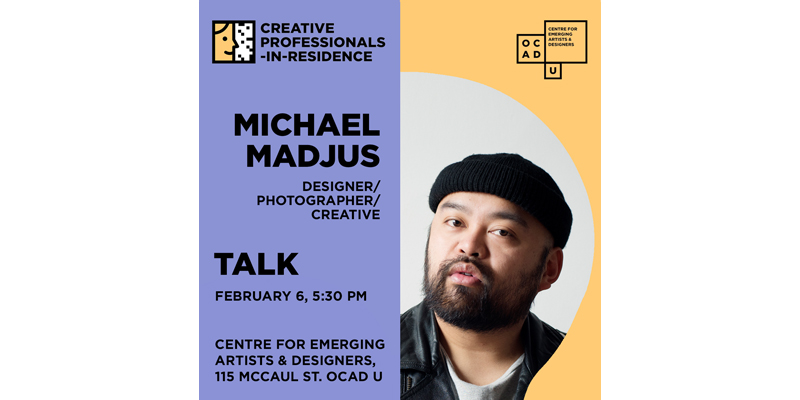 Keywords