Body

Thursday, April 15, 2021 
On the WLC Workshops Team channel
Event Program: here
Reverberation is the sound of your voice echoing and bouncing off surfaces. It is the resonance of your online work and learning journey this year. 
This one-day symposium will showcase the creative and academic work ELL students have been making while working online from home in this year of insulation, increments, quietness, postponement and delay. It is a space to highlight their innovation, ingenuity and resilience as they have gained new skills with online platforms and worked under extremely difficult situations in local and global settings.  
Please join us to hear and view the contributions of ELL students which reverberates in our hushed spaces and to add your voice to the conversation about how work has been scaled in adaptive and accessible ways. 
All members of the OCAD U community are welcome to attend. 
OUR PRESENTERS: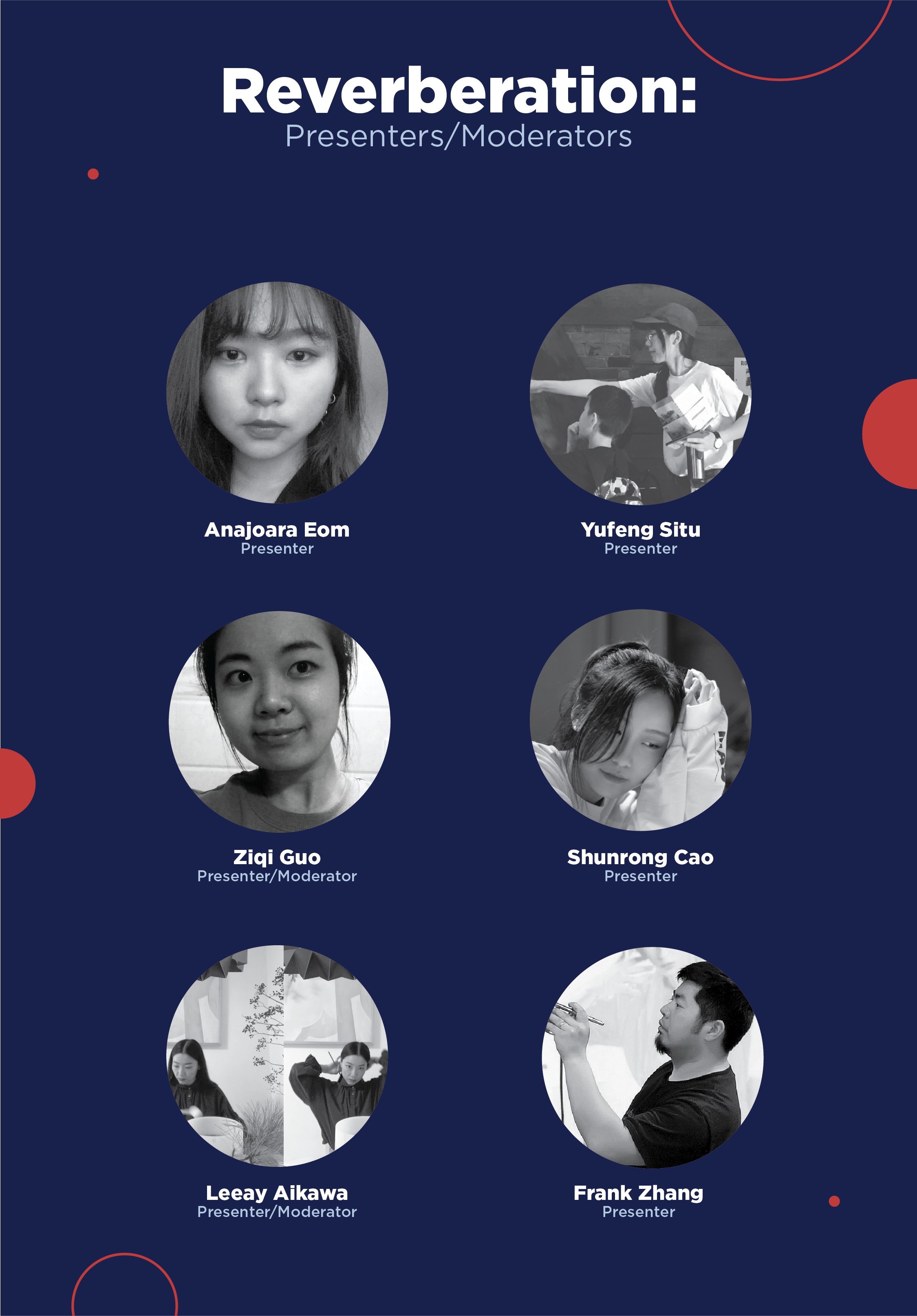 ANAJOARA EOM is an emerging artist from South Korea and currently studying in the Criticism & Curatorial Practice at OCAD University. She explores various media and mainly focuses on mixed media and collage. Her inspiration comes from her surroundings and her feelings. She aims to express feelings that are difficult to describe or speak out. Her work comforts "you are not the only one who feels it." 
YUFENG SITU 
I am a first-year student majoring in Graphic Design at OCAD University. Also, I am taking Integrated Media as my minor. I like to utilize the knowledge and skills learned from these two programs to create motion graphics. In my free time, I like to practice yoga, drawing, and make video calls with my niece. 
ZIQI GUO (she/they) is a second-year student in Digital Futures. Her hobbies are vocal music, piano, reading, movies, and YouTube. Ziqi has been an introducer of a VR exhibition in Toronto Media Art Centre, a film festival volunteer with AGO, has been a peer mentor and a student sponsor in the Student Mental Wellness Centre in OCAD. 
SHUNRONG CAO  
As a multidisciplinary artist and designer specializing in handcraftsmanship and digital visuals, I hold a BFA degree in Jewelry and Metalsmithing at Rhode Island School of Design, and I am currently a candidate for MFA degree in Interdisciplinary Art, Media and Design at OCAD University. 
LEEAY AIKAWA is a Japanese artist based in Toronto and currently pursuing her MFA in Interdisciplinary Art, Media and Design program at OCAD University. Her work is focused on an inquiry into the trinity between 'making,' 'knowing,' and 'being,' while observing the dialogue between spiritual practice and art practice. Employing methodologies such as collage, collecting, non-linear narrative, and improvisation, Aikawa puts a strong emphasis on the process. 
These reflect her ongoing attempt to intensify her here-ness and now-ness in order to be in touch with the moments of the divine. Such an aspiration emerges from her background as a yogi who leads practice, and her profound interest in Earth-based spirituality, yogic/ Eastern philosophy, and mysticism. She observes how 'making' affects her 'knowing' and then her 'being,' as well as the 'becoming' of work. 
FRANK J ZHANG is a commercial artist who specializes in airbrush art and custom design. He graduated from Ontario College of Art and Design University in Illustration and received his MDes from York University. His practice ranges from illustration, graphic design, body painting, custom airbrush art and murals. 
Frank is currently studying at OCADU as a MA student and focusing on his interest in participatory and socially engaged art. His research theorizes the meaning of seamlessness in airbrush painting in connection with contemporary art discourse of Relational Aesthetics and Antagonism. His artwork explores the process of negotiation as a social dynamic that mediates conflicts toward public consensus. Using participatory methodology, Frank is working on creating socially engaging artwork that brings conflict and negotiation to challenge the conventional gallery space. His work explores the possibility of using art to stimulate active social imagination and participation through interactions and activities. 
Date
-
Email
ell@ocadu.ca
Type
Department
Keywords
Event Display
Hide when event is over