Body
Our guest panelists Ian Carr-Harris, Barbara Fischer and Liz Magor, with moderator Caroline Seck Langill, will discuss Wendy Coburn's facility as a maker and her uncanny ability to imbue her works with the principles by which she lived.
Watch the Panel Discussion on Wendy Coburn's Commitments as an Artist, featuring guest panelists Ian Carr-Harris, Barbara Fischer and Liz Magor, moderated by Caroline Seck Langill here: 
About the panelists:
Ian Carr-Harris has exhibited nationally and internationally since 1971, including the Venice Biennale and Documenta, as well as solo exhibitions at the Art Gallery of Ontario and The Power Plant. Professor Emeritus at OCAD University, he was a founding Board member of A Space and of The Power Plant in Toronto. He is represented by the Susan Hobbs Gallery in Toronto, and in 2012 was named a recipient of the Governor-General's Awards in the Visual and Media Arts. He has published reviews and articles on art since the early 1970's, and an anthology of his writings is soon to be published by Concordia University Press.
Barbara Fischer is the Executive Director/Chief Curator of the Art Museum at the University of Toronto as well as an Associate Professor, Teaching Stream and the Director of the Master of Visual Studies program in Curatorial Studies at the John H. Daniels Faculty of Architecture, Landscape, and Design at the University of Toronto.
Fischer has curated award-winning solo and group exhibitions in the area of contemporary art and its histories, including the internationally circulating retrospective exhibition General Idea Editions 1967-1995 (Kunstverein Munich, Kunsthalle Zurich, Kunst-Werke ICA Berlin, CAAC Seville, Henry Art Gallery Seattle, and the Andy Warhol Museum Pittsburgh, among others), and Projections (2007), the first major survey (and touring exhibition) on projection-based works in the history of contemporary art in Canada. Most recently, she partnered with five curators from across Canada to produce the first survey of conceptual art in Canada (Traffic: Conceptual Art in Canada 1965-1980) which premiered at the University of Toronto Galleries in the fall of 2010 and toured across the country through 2013. In a new configuration, Continental Drift: Conceptual art in Canada in the 1960s and 70s was presented at the Badischer Kunstverein (Germany) — the most comprehensive exhibition of its kind to travel to Europe. It moves in revised form to the Canadian Cultural Centre in Paris in 2014.
Barbara Fischer is the recipient of the 2008 Hnatyshyn Award for Curatorial Excellence in Contemporary Art, and was appointed commissioner and curator of Mark Lewis' project of the Canadian Pavilion for the 53rd Venice Biennale (2009).
Liz Magor is a Vancouver-based artist who studied at the University of British Columbia, Vancouver; Parsons School of Design, New York; and the Vancouver School of Art. Since the early 1970s, Magor has produced sculptural and photographic works concerned with the latent, affective range of familiar materials, images and objects.
Her work has been exhibited in major international exhibitions such as Documenta VIII , Kassel; the 41st Venice Biennale, and the 4th Biennale of Sydney. In 2019 Magor presented an exhibition titled BLOWOUT at the Carpenter Center for Visual Art, Cambridge, Mass. The exhibition traveled to the Renaissance Society in Chicago accompanied by a publication.
She has had solo exhibitions at Le Credac, Ivry-sur Seine, France; Peephole, Milan, Italy; the Art Gallery of Ontario, Toronto; The Henry Art Gallery, Seattle; and the Vancouver Art Gallery. In 2016 the Musee d'Art Contemporain de Montreal mounted a 40 year retrospective which travelled to the Migros fur Gegenwartskunst , Zurich; then on to the Kunstverein in Hamburg; and the MAMAC in Nice. The exhibition was accompanied by a publication from JRP/ Ringier, Zurich
Liz Magor received the Governor General's Award in 2001, the Audain Prize in 2009, and the Gershon Iskowitz Prize in 2014. In 2017/18 she was a guest of the DAAD Kunstler in Berlin Program.
About the moderator:
Caroline Seck Langill is a writer and curator whose academic scholarship and curatorial work looks at the intersections between art and science, as well as the related fields of new media art history, criticism and preservation. Her interests in non-canonical art histories, gender studies and Indigenous epistemologies have led her to writing and exhibition-making that could be considered post-disciplinary. With Lizzie Muller, she has been looking at questions of liveliness in art and artifacts. This ongoing research resulted in the exhibition Lively Objects for ISEA: Disruption (2015) in which undisciplined objects were woven through traditional displays and historical tableau at the Museum of Vancouver. She resides in Peterborough and works at OCAD University where she is Vice-President Academic and Provost. With Andrea Fatona, she is the co-curator of Fable for Tomorrow: A Survey of Works by Wendy Coburn.
Fable for Tomorrow: A Survey of Works by Wendy Coburn
February 16 to May 14, 2022 at Onsite Gallery
Curated by Andrea Fatona and Caroline Seck Langill with video programming by b.h. Yael and Rebecca Garrett
Core exhibition of the CONTACT Photography Festival
Wendy Coburn had significant impact on the Canadian art community as an artist, educator and activist who has exhibited internationally. Fable for Tomorrow presents the first survey of Wendy Coburn's artwork. The exhibition provides an opportunity to bring together four decades of sculpture, installation, photography and video that reveals her ability to sense the pulse of a deep present while asking us to pay attention to other futures. Coburn's work explores representations of gender, sexualities, everyday objects, material culture, and human/animal relations. Click here for full exhibition information.
The Estate of Wendy Coburn is represented by Paul Petro Contemporary Art, Toronto.
Wendy Coburn's video works are represented by Vtape; please contact distribution@vtape.org for exhibitions, rentals and purchase.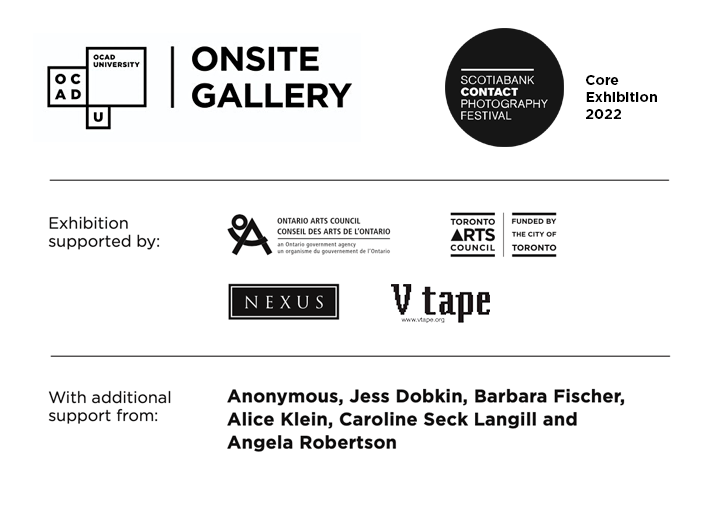 Onsite Gallery is the flagship professional gallery of OCAD U and an experimental curatorial platform for art, design and new media. The gallery is located at 199 Richmond St. W, Toronto, ON, M5V 0H4. Telephone: 416-977-6000, ext. 265. Opening hours are: Wednesdays to Fridays from noon to 7 p.m.; Saturdays from noon to 5 p.m. Free admission. Proof of vaccination is required for entry.
Onsite Gallery acknowledges that the new gallery construction project is funded in part by the Government of Canada's Canada Cultural Spaces Fund at Canadian Heritage, the City of Toronto through a Section 37 agreement and Aspen Ridge Homes; with gallery furniture by Nienkämper. Onsite Gallery logo by Dean Martin Design.
Date
-
Venue & Address
Online
Cost
Free
Email
onsite@ocadu.ca
Phone
4169776000 x 265
Website
Type
Department
Keywords
Guest panelists Ian Carr-Harris, Barbara Fischer, and Liz Magor, with moderator Caroline Seck Langill, will discuss Wendy Coburn's facility as a maker and her uncanny ability to imbue her works with the principles by which she lived.
Banner Image
Fable for Tomorrow web header - works.jpg
Event Display
Show when event is over
Image