A special kind of excitement filled the air on June 24 when OCAD University hosted Project 31: New Futures, a virtual live auction that not only showcased the tremendous talent of artists from the University's Black, Indigenous and People of Colour (BIPOC) community but transported guests into an immersive experience.
"We wanted to have an event that would be unique and push the boundaries of what is typically expected of these kinds of virtual events," explains OCAD U President and Vice-Chancellor Ana Serrano. "By teaming up with ohyay, we created a memorable evening for our guests while celebrating the talent of emerging and established BIPOC artists from our community." 
Upon arriving in the virtual lobby, guests had different options that included mixing and mingling in a cocktail lounge, visiting the VIP lounge, making visual art in the doodle room, or sitting under a tree in the serene meditation lounge. Then, there was the opportunity to browse three 3D art galleries – two for the silent auction for artworks on sale from June 16 to 30, and one for that evening's live auction.  
Longtime OCAD U supporter and experienced auctioneer Stephen Ranger took the reins to auction a selection of pieces from the world-class collection created by the Project 31 Committee, whose members included Jason Baerg, Andrea Fatona, Nithikul Nimkulrat, Ilene Sova, Ryan Rice, and Lisa Deanne Smith along with the project lead, Bobby Hrehoruk. 
"We created a live auction hall that combined the best of an in-person auction experience with a virtual experience that engaged participants," says Aletta Hiemstra, Head of Communications at ohyay, a powerful design platform that uses experimental technology to generate interactive experiences.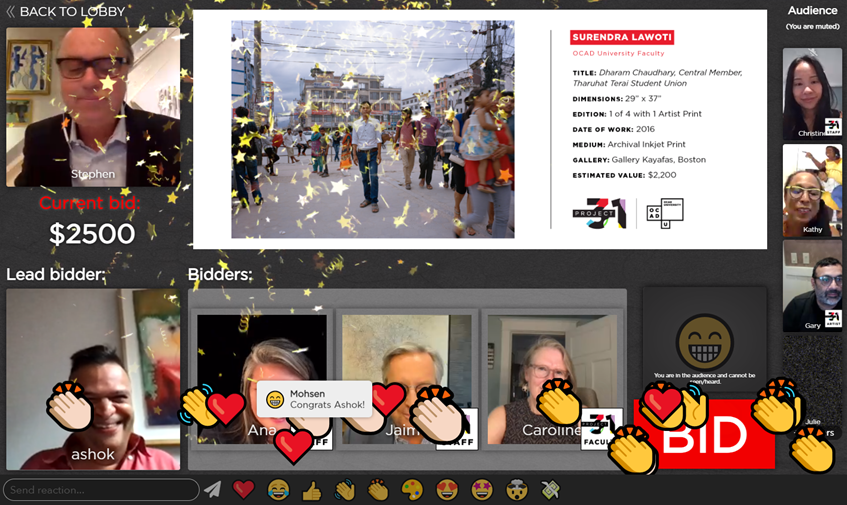 A range of artwork was available for purchase, from paintings to sculptures to photographs. In Sparrow Flying, Faculty of Art Professor JJ Lee incorporated oil, encaustic, charcoal and collage on canvas in her interpretation of the Chinese genre of "Bird and Flower" painting. Strong Black Woman #1, a mixed-media creation by Faculty of Design Assistant Professor Kathy Moscou, was a commentary to motivate social change through critical thinking about anti-Black racism, equity and gender identity.  
One of the showstoppers was Water is Blood, a cooper and steel sculpture by Anishinaabe artist Michael Belmore that sold for $9,000 at the live auction. Belmore completed the piece while participating in OCAD U's inaugural Nigig Visiting Artist Residency in 2015. 
A total of 51 artworks were available for sale through the silent and live auctions, raising a total of $56,265 to support BIPOC students and Faculty programming. 
Project 31: New Futures was supported by community partners Beaux Art Gallery Brampton, the Nicholas Metivier Gallery, the Art Gallery of Alberta, the Angell Gallery, the Stephen Bulger Gallery, Open Studio, the Cultural Pluralism in the Arts Movement, Art Canada Institute and ArtTO. 
ARTISTS FEATURED IN THIS YEAR'S COLLECTION 
OCAD U has been running Project 31 since 2010, and since then, has raised more than $1 million. However, this year's event was the first virtual edition—necessitated by the pandemic —as well as the first to focus on the University community's BIPOC talent. 
In addition the artists mentioned above, the collection featured works by Kevin Bae; Jason Baerg; Anthia Barboutsis; Nathan Eugene Carson; Shea Chang; Kestin Cornwall; Vanessa Dion Fletcher; Yining Fu; Sugandha Gaur; Astrid Ho; Andre  Kan; Natalie King; Kotoba Jewellery; Surendra Lawoti; Julius Poncelet Manapul; Ashok Mathur and Soleil Launière; Michael Lee Poy; Shevon J. Lewis; Aaron Li-Hill; Charmaine Lurch; Sanaz Mazinani; Anna Jane McIntyre; Peter Morin and Ayumi Goto; Nithikul Nimkulrat; Emma Nishimura; Eugene Paunil; Abigail Permell; Lilian Sim; Dionne Simpson; Moraa Elizabeth Stump; Gary Taxali; Yaw Tony; Annie Tung; Natalie Majaba Waldburger; Alia Weston Jewellery; Amy Wong; X Height Media; and Shaheer Zazai.