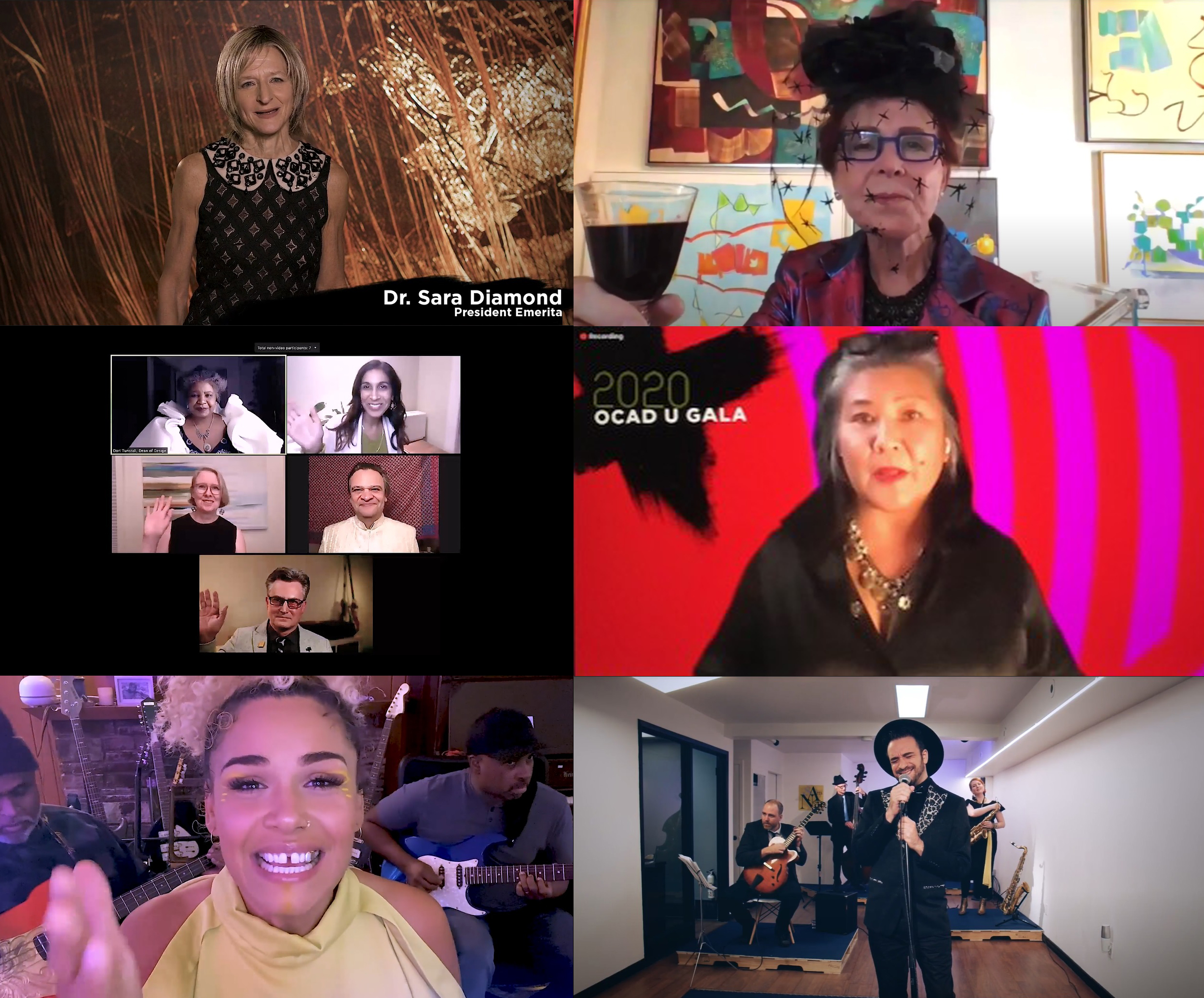 It may have been virtual, but OCAD U's Gala was an exciting event for more than 300 guests, complete with fabulous musical performances, a tribute to President Emerita Dr. Sara Diamond, an online auction, and a lot of fun!
Most importantly, the event raised more than $460,000 to support Canada's next generation of art, design, and media leaders.
Co-hosted by Ana Serrano, OCAD U's President and Vice-Chancellor, and renowned author, Misha Glouberman, the event began with a traditional land acknowledgement and performance by Kim Wheatley, an Ojibwe Anishinaabe Grandmother from Shawanaga First Nation Reserve who carries the spirit name Head or Leader of the Fireflower and who is Turtle Clan.
Guests were entertained by retro-Afrofuturist electronic artist Zaki Ibrahim, award-winning jazz singer-songwriter Ori Dagan and multidisciplinary artist Fly Lady Di.
President Ana Serrano welcomed supporters, noting it was important to come together as a community during the COVID-19 pandemic. "It was exciting and inspiring to see supporters all the way from the west coast to Montreal," said President Serrano. "Celebrating OCAD U, raising funds for our students and having some fun was an uplifting experience for all."
The event featured a tribute to Dr. Sara Diamond, who led OCAD University as President & Vice-Chancellor for 15 years and the announcement of the new Sara Diamond Scholarship Fund. A significant portion of the event's proceeds, including a silent auction, were allocated to this new fund to support our students.
During the evening, President Serrano announced three major gifts to the new Fund, generously donated by: Marcee Ruby and Paul Rowan ($25,000), Les Mandelbaum ($25,000) and Jim Kofman ($10,000).
Gala co-chairs, former OCAD U Chancellor Kiki Delaney and Leslie Gales, Chair Campaign Cabinet, paid tribute to Dr. Diamond, commending her for retaining the institution's traditional strengths in art and design to becoming a leader in graduate education, research and digital media.
"We have moved mountains together – more aptly, cranes, legislation, research dollars, curriculum, etc." said President Emerita, Dr. Sara Diamond. "Thank you OCAD U 2020 for the meticulous and substantive investment and remote learning, for attracting and supporting students from and around the world… for sustaining world-changing research."
Jaime Watt, Chair, Board of Governors, OCAD U, commended OCAD U for its resilience during these pandemic times, including faculty finding innovative ways to engage students in a new virtual reality. Watt went on to commend Dr. Diamond for her "astonishing number of accomplishments… thoughtfully, presciently, woven a legacy of resiliency into OCAD U's DNA… It's a resilience on which our new President & Vice-Chancellor Ana Serrano, will now build."
The event also featured a riveting performance by Lillian Allen, Professor, Faculty of Liberal Arts and Sciences, Graduate Studies. The Juno-Award winning dub poet, reggae musician and writer, recited her poem, Pandemic – a sobering reminder of these unprecedented times.
The Gala also showcased an incredible art and design-based online Silent Auction featuring works by Alex McLeod, Erin Loree, John Holland, Charlie Pachter, Douglas Coupland, Kent Monkman, Steve Driscoll, Rosalie Sharp, T.M. Glass, Mitchell Fenton, Keita Morimoto, Margaret Priest, Gary Taxali, Andrea Bolley, Claire Browne, Rita Tesolin, and special lots from The Art Gallery of Ontario, Tealeaves, Director X (Julian Lutz), Weavers Art, HOAX COUTURE and Lilliput Hats.
The interactive audience session came alive with Choir! Choir! Choir! with participants singing along to the Bob Marley hit, Three Little Birds.
All in all, the event was a huge hit. Throughout the evening OCAD University thanked all supporters, sponsors, and organizers for its success.

Platinum
•    Mr. & Mrs. David Mirvish
•    RPIA
•    Silent Auction Sponsor Scotiabank
•    Exclusive Media Sponsor - The Globe and Mail
•    Official Airline Partner - Air Canada
 
Gold
•    TAXI
•    Sharp Family Foundation
•    DH Gales Family Charitable Foundation
•    Navigator
•    Delaney Family
•    Salah Bachir & Jacob Yerex
 
Silver
•    Elizabeth Wolfe
•    Harris, Sheaffer LLP
•    Myrna Francis
•    TD Insurance
•    Whitecap Venture Partners
•    Galibier
•    Bell Kearns & Associates Ltd
•    Nancy Jain
•    Bloombergsen
•    TD Insurance
•    AGO Board of Trustees
 
Bronze
•    Harlo Capital
•    Hullmark
•    TBM Service Group