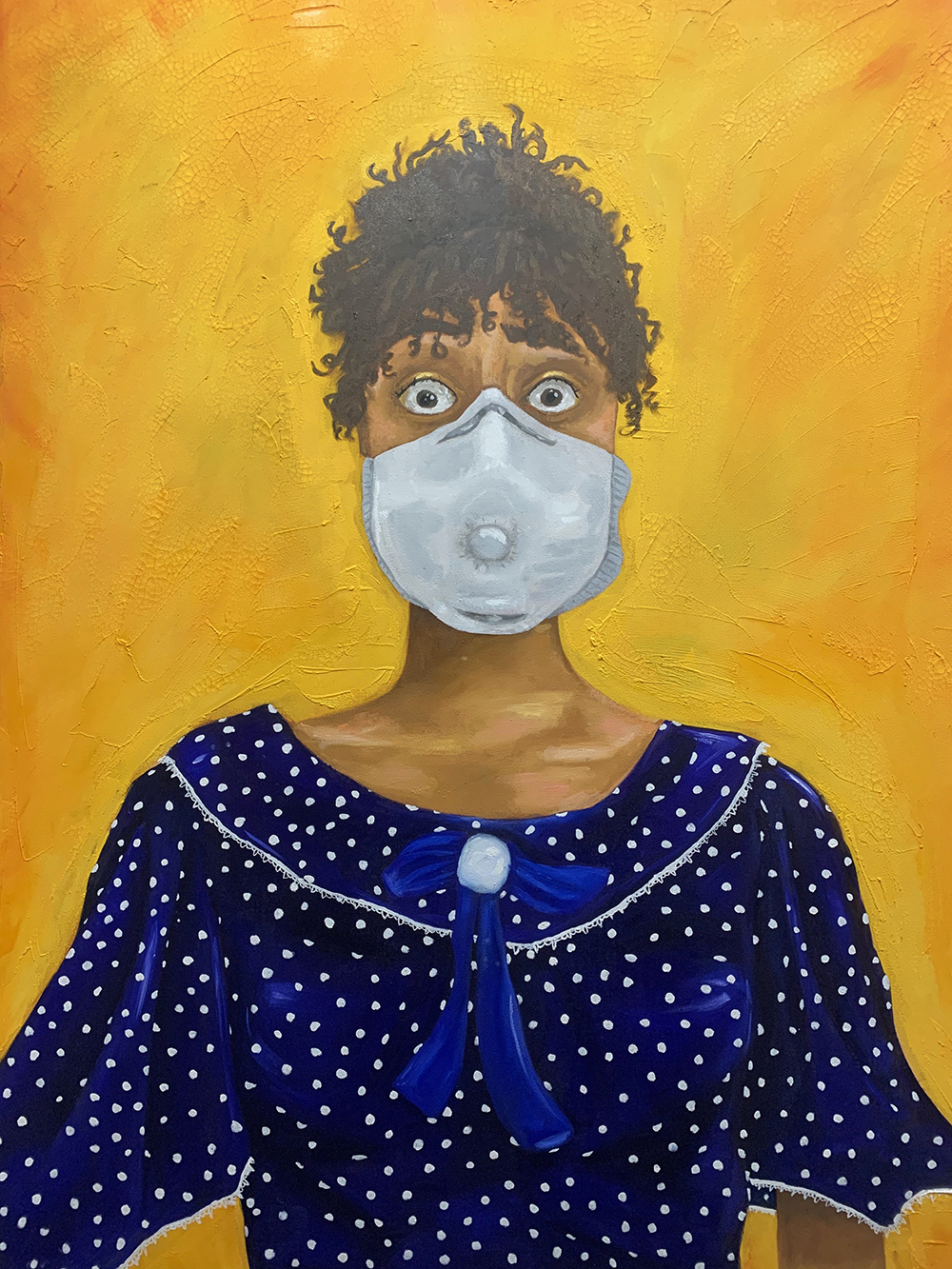 Calling 2020 a year like no other is an understatement.
The unparalleled challenges posed by COVID-19 forced us to completely reorganize how we operate. But our response to the pandemic showed our incredible courage, resilience, generosity and imagination.
Thanks to the creativity, skill, dedication and professionalism of our faculty and staff, OCAD University effectively transitioned to the remote delivery of curriculum and services, while developing a gradual opening strategy to guide efforts to keep people healthy and safe.
Our ongoing commitment to supporting our students' success and well-being was demonstrated through our collective efforts to expand technological supports and resources for remote learning, implement initiatives to create a sense of community among our students, and enhance financial aid, and health and wellness services.
We also celebrated the official opening of the revitalized Fabrication Centre, developed more community partnerships, and continued our efforts to transform our curriculum through Flow. Plus, changes to the OCAD University Act were approved so now we are a full degree-granting institution.
Our students demonstrated their great potential as the next generation of artists and designers by making incredible art, mentoring each other, and making remarkable contributions to on- and off-campus volunteerism, activism, leadership, and diversity and equity.
We bid farewell to Dr. Sara Diamond, our visionary and passionate leader over the last 15 years, and welcomed digital media innovator Ana Serrano to steer us into the future.
We contributed our expertise in design and fabrication to meet the needs of overwhelmed health care centres by printing and distributing personal protective equipment and developing COVID-19 literature for the public.
Here, we present some of the key projects and people, moments and milestones that marked 2020 at OCAD U.
Going remote—apart but together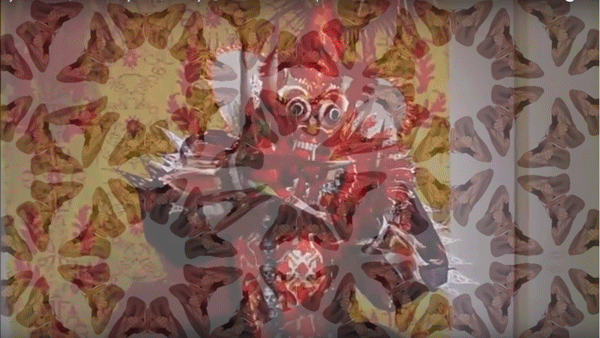 Delivering education during the pandemic involved a coordinated and accelerated strategy by OCAD U to enable faculty members and students to shift to fully remote education to complete the 2019-20 winter term.
We closed the campus on March 18, and as part of an overall University plan, the IT Services (ITS) team shifted student email, calendaring and file storage onto Microsoft Office 365 to provide access to its cloud-based collaboration tools. While this was planned well before the pandemic hit, it was a vital initiative that facilitated remote learning and supported our students.
At the same time, we pivoted quickly to develop a set of teaching continuity web resources, and began offering these professional learning opportunities the day campus closed.
Recognizing that the pandemic created barriers for student learning and participation, OCAD U quickly created Guidelines for Remote Delivery with an accompanying checklist to support the development and delivery of inclusive and accessible online courses. We committed very early in the pandemic to creating accessible online learning environments for all students, regardless of the conditions in which they were studying, or where in the world they were located. This emphasis on accessibility and flexibility has characterized our overall approach to online learning.
In June and July, we introduced Engaged, a faculty conversation series where we showcased the exemplary pedagogical approaches in online education by faculty leaders Dr. Peter Coppin, Dr. Maria Belén Ordóñez, Dr. Gayle Nicoll, Dr. David Griffin and Julius Manapul. It also provided a space for other faculty members to share and demonstrate their pedagogical methods.
A wide range of workshops, supports and resources were offered by the Faculty & Curriculum Development Centre (FCDC) and ITS, in collaboration with Student Accessibility Services, the Dorothy H. Hoover Library and the Writing & Learning Centre.
This work continued throughout the summer leading into the fall term, shifting from emergency response resources to more in-depth and discipline-specific sessions developed in response to the interests of the community. The sessions were well-attended by faculty from across all three Faculties and Graduate Studies, creating a space for collaborative learning, dialogue and community.
The Academic Emergency Response Committee (AERC) of Senate worked in close collaboration with academic leaders and support teams on plans for the fall term to provide students with an exceptional experience and high-quality education while ensuring the safety and health of all the members of the community. The AERC also approved the Hybrid and Online Learning Framework, which has since been developed into a formal project called the Digital Learning Hub.
The FCDC introduced online course templates (which were downloaded 500 times) as well as the 78-page Toolkit for Teaching Art and Design Online, which includes strategies and resources for teaching courses online. This was followed by the Teaching Art and Design Online course, which has so far been completed by 331 faculty. The University administered two Online Learning Experience Student Surveys and held focus groups to gain insights on students' experiences with remote education in the spring, summer and fall terms.
The Office of Research & Innovation implemented virtual one-on-one consultations for researchers to get answers to their questions or discuss any concerns about their research, including developing research partnerships, building a research team, finding and spending research funds, grant writing, research ethics and research technology.
OCAD U faculty members used their considerable ingenuity to reimagine their courses for remote delivery, adapting formats and assignments to suit students now learning from home. For example, Faculty of Liberal Arts and Sciences instructor Dr. Jessica Mace transformed her first-year course Global Visual and Material Culture: Beginnings to 1800 by using a video editing tool to add annotations, pop-up notes and virtual museum tours to her video lectures. In Pixel Pusher, a six-week course on how digital technology influences contemporary art, assistant professor and associate chair of Contemporary Drawing & Painting Julius Manapul invited students to make art using the vegetables in their fridge, or the clothes in their closet.
Understanding the unique educational challenges and opportunities created by COVID-19, OCAD U also introduced two new pandemic-proof artmaking courses. The third-year Cross-Disciplinary Art course COVID-19 Responsive Art invited students to process their experiences related to "the changes, upheavals, emotions and injustices related to COVID-19," said course creator Ilene Sova who is the Ada Slaight Chair of Contemporary Drawing and Painting.
Equally of the moment was Working from Home, a second-year course in the Drawing and Painting program led by associate professor and textile artist Michelle Forsyth. Drawing on her own home artmaking experiences due to Parkinson's disease-related mobility issues, Forsyth prompted a rethink about the domestic environment as a creative workspace.
Rising to the challenge of COVID-19
When news of COVID-19 first emerged, OCAD U began to monitor the situation and maintained close communication with local public health authorities. On March 11, the World Health Organization declared COVID-19 a global health crisis. Then on March 13, the University announced it was suspending all face-to-face academic and research activities, as well as physical access to studios, laboratories and libraries—a decision made to protect the health and safety of all students, faculty and staff.
As 2020 unfolded, the University put mechanisms in place to monitor, and respond to, the evolving situation, and as a result, and extended the closure of its physical facilities and the work-from-home program until March 31, 2021. A Reopening Working Group, an advisory group to our Management of COVID-19 Response Team, developed the Gradual Opening Strategy, which was released in the summer. This strategy, managed by a small implementation team, outlines health and safety protocols currently in place, as well as a process to respond to one-time/special requests to access campus facilities.
With the facilities closed, faculty and staff adapted to working from home. Throughout 2020, OCAD U implemented initiatives to support faculty and staff, including providing continuity of pay for employees, and in April introduced Wellness Wednesdays – a no-meeting and no-email afternoon to allow people to focus on work-related activities or personal matters.
HR undertook a survey to gather information on the work-from-home program, which provided insights to better support employees. A focus on supporting the health and well-being of faculty and staff has continued to be a priority with initiatives that include online yoga sessions, a repository of wellness resources on mental health and online learning, and a series of mindfulness sessions introduced in the fall. To help combat isolation and support social engagement, OCAD U started a virtual social drop-in in the fall. Plus, there has been ongoing assistance to help faculty and staff set up their home workstations.
Bolstering the community's pandemic response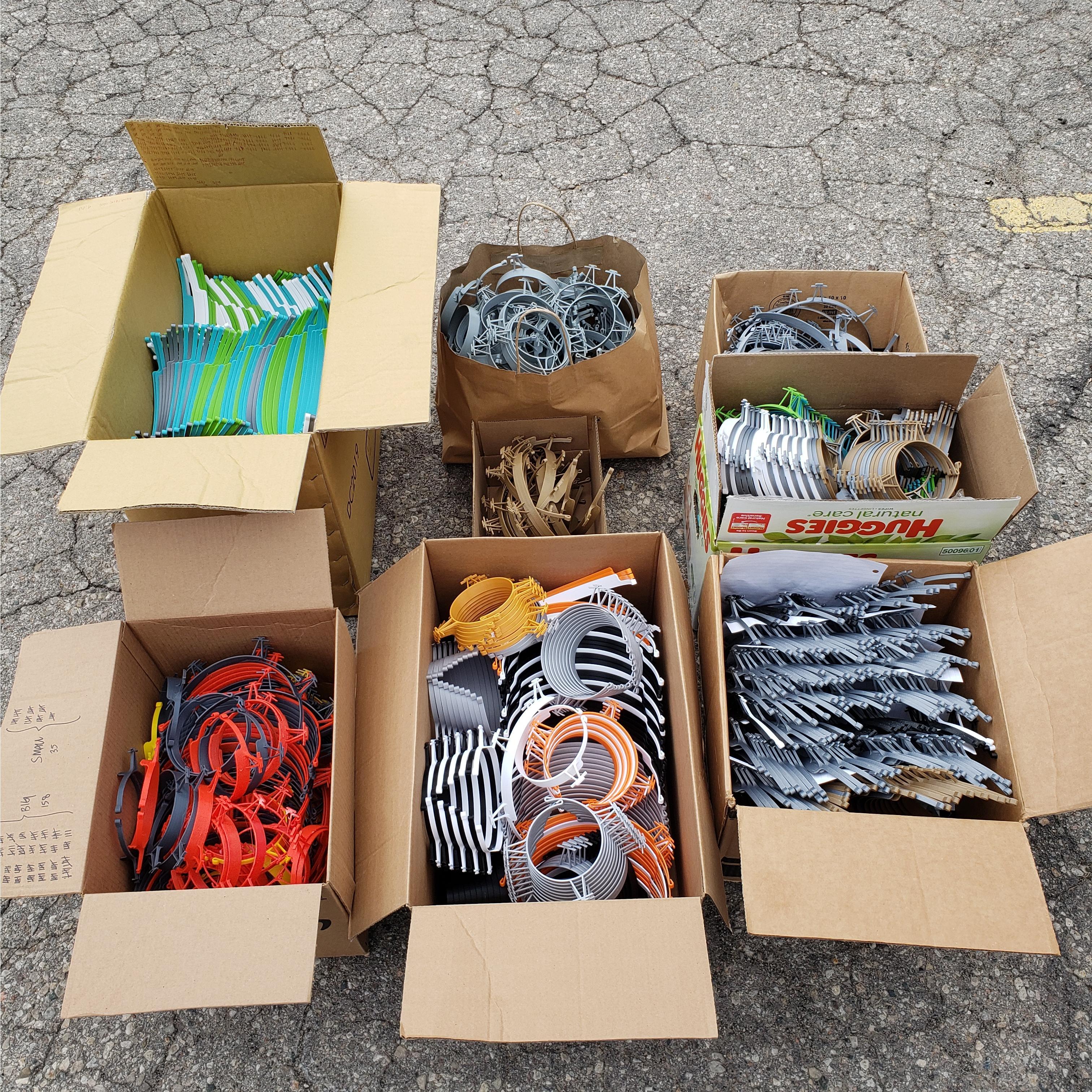 To help strengthen the local response to COVID-19, OCAD U contributed its expertise to a number of important initiatives. 
When GTA hospitals indicated they were running short on vital medical supplies, OCAD U stepped up to help boost the local supply of protective face shields. University faculty and technicians consulted with Ryerson University's FCAD Creative Technology Lab, University Health Network Emergency administrators, and colleagues at UC Davis in California to design and print protective face shields through its Rapid Prototyping Centre. We also distributed our 3D printers to staff and faculty who could print from home, and together, we printed and distributed more than 1,500 face shields to Michael Garron Hospital.
At the same time, OCAD U responded to the need among medical centres for clear, concise and accurate public information about COVID-19. Dr. Kate Sellen, a Tier 2 Canada Research Chair in Health Design, led the Covid-19 Printable Project, an effort through the University's Health Design Studio to develop three coronavirus-focused one-page patient handouts in more than 40 languages. The resources were made downloadable for use by emergency departments, community health centres and refugee services agencies. In July, the initiative was recognized with an award from the International Institute for Information Design.
Meanwhile, professor Dr. Jutta Treviranus turned her attention to the disproportionate impact of the pandemic on our most vulnerable community members. Dr. Treviranus leads OCAD U's Inclusive Design Research Centre, and the pandemic has catalyzed her work for We Count, a project that aims to create a more inclusive and accessible society by addressing the inherent bias against minorities in AI and data analytics. She was also invited by the Privy Council Office to serve on an external advisory committee that is guiding the federal government's COVID-19 public communication and outreach efforts.
Dr. Elizabeth (Dori) Tunstall, dean of OCAD U's Faculty of Design, was appointed in July to Toronto's Economic and Culture Recovery Advisory Group. Drawing on her extensive experience as a design anthropologist, educator and advocate, Dr. Tunstall is advising on how design principles and practices can help cultural institutions safely and effectively adapt their operations. In that role, she invited youth to participate in Its My Future, the city's new program for BIPOC youth, aged 8-12, to problem-solve COVID-19 and social injustice.
The disproportionate impact of COVID-19 on creative entrepreneurs, especially women, Indigenous, racialized and other diverse entrepreneurs, was the one of the findings in a report by OCAD University researchers Dr. Alia Weston, Alexandra Hong, Karli Ferriolo, and Jacquie Shaw. Critical Perspectives on Creative Women Entrepreneurs, provides new insights on creative entrepreneurship through the lived experiences of women and individuals of marginalized genders in the OCAD U and surrounding community.
Engaging and supporting our students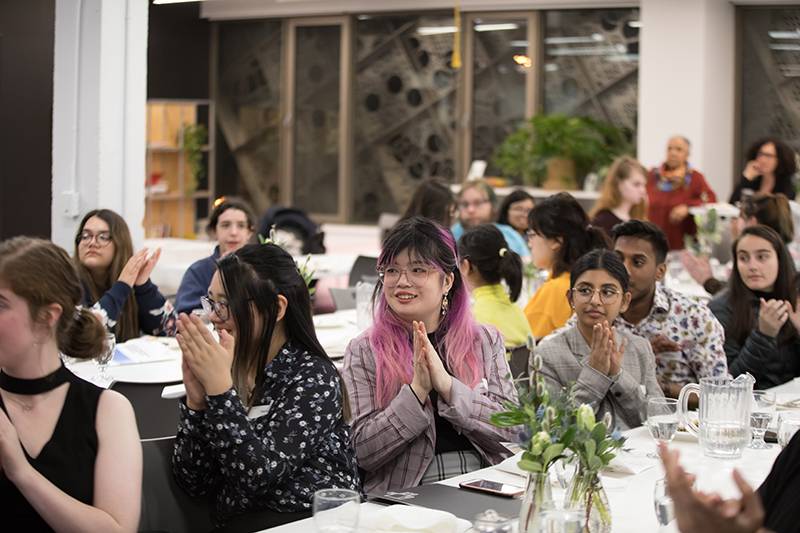 IT Services also played a critical role in in helping our students pivot to remote learning with the creation of a hub for technological support and offering virtual workshops. A technology hub was also created for faculty and staff. From March to December, IT Services responded to 6,688 support requests. And to make it easier for students to find important information, access services or ask for tech help, a one-stop online hub was created.
In early 2020, OCAD U marked an important milestone in the revitalization of its campus: the opening of the newly renovated Fabrication Centre. Located at 100 McCaul St., this transformed 20,000-sq.-ft. facility enhances studio-based learning through healthier, more flexible workspaces and state-of-the-art technologies. The four main studios—for, respectively, wood, metal, plastics and prototyping—feature advanced tools and equipment, improved ventilation and building systems, enhanced workflow, upgraded storage and beautiful natural light.
In March, we were thrilled to celebrate our most outstanding student leaders from the 2019-20 academic year at our annual Student Leadership Awards dinner. In total, $3,400 was awarded to 15 students to recognize their excellence in areas such as volunteerism, activism, leadership, and diversity and equity.
In the lead up to the start of the fall 2020 term, OCAD U focused on welcoming students with an innovative virtual orientation. New students were introduced to the academic year with an online welcome event and services fair, a celebration for Indigenous students, a series of workshops and seminars, and a special virtual welcome and orientation for international students.
International students participated in the virtual English for Art & Design (EAD), a non-credit, pre-entry summer program. This program culminated with an online exhibition called Iterations: Bridge to First Year, which showcased the participants' creative and linguistic repertoires. Starting in September, OCAD U offered these students access to the new EAD: Expanded program, which provides additional language support through weekly discussions and assignments.
In 2020, 250 students participated in our Experiential Learning Placements program, where they worked remotely and on-site at placements in order to test-drive a creative field, gain professional experience and earn academic credit. Design4, meanwhile, created opportunities for more than 20 students to engage in paid client work across several industries. The Centre for Emerging Artists & Designers also advanced creative entrepreneurship for students through its first pitch competition, a suite of resources, guidance and research. As well, Admissions & Recruitment created virtual workshops, conducted presentations and offered one-on-one appointments to aid prospective students in charting their path to OCAD U.
To help students experiencing financial hardships during COVID-19, we launched a fundraising drive for the COVID-19 Emergency Bursary Fund to help students who need short-term financial assistance for expenses such as rent and groceries. More than $150,000 has been raised, including donations of $10,000 from the OCAD U Student Union, $4,000 from the OCAD U Faculty Association and $1,500 from the OCAD U Alumni Association.
Some of the most heartening efforts to support our learners emerged from our student body. In the fall, 34 upper-year students participating in our Student Community Ambassadors initiative began supporting 37 new students on a range of experiences and activities. The ambassadors program is part of the new Learning Communities initiative, which resulted in more than 5,000 hours of remote outreach and support for first-year students in 2020. As well, our Campus Life Peer Mentor program enjoyed more momentum — 36% more upper-year undergraduate students than last year signed up to be peer mentors to first-year students.
In keeping with our commitment to creating engaging experiences for students, while building a sense of community, we launched OCAD U LiVE. This 24/7 video channel is a platform for our students to develop and share a wide range of creative content, including artworks, music and interviews. More broadly, OCAD U LiVE is a way to create a sense of belonging among students during this period of remote learning.
On the mental health front, the Student Wellness Centre adapted and enhanced its services in 2020 in a variety of ways, including establishing a Mental Health Working Group to create a virtual campus community presence, promote education about wellness and develop an inventory of services and supports available on campus.
The centre's peer support educators offered virtual one-on-one support, and introduced group peer support programming aimed at promoting wellness during COVID-19. This included weekly virtual art therapy sessions, a cooking club, journaling club, the Peer Wellness Show, the Peer Wellness Baking Show, the BIPOC healing group and a self-compassion workshop.
The centre also offered same day/urgent "walk-in" and ongoing short-term counselling for students and revised training on how to identify students in distress in remote learning environments, to roll-out in January 2021. Sexual violence response and support services shifted to virtual appointments with in-person meetings as requested.
We also heard from Black students about their distress and pain as a result of anti-Black racism incidents and their own personal experiences with racism. This prompted us to prioritize hiring a Black student counsellor in our Student Wellness Centre to support the specific needs of Black students. Hiring an Indigenous student counsellor was also identified as a priority.
Leveraging the virtual world for learning, celebration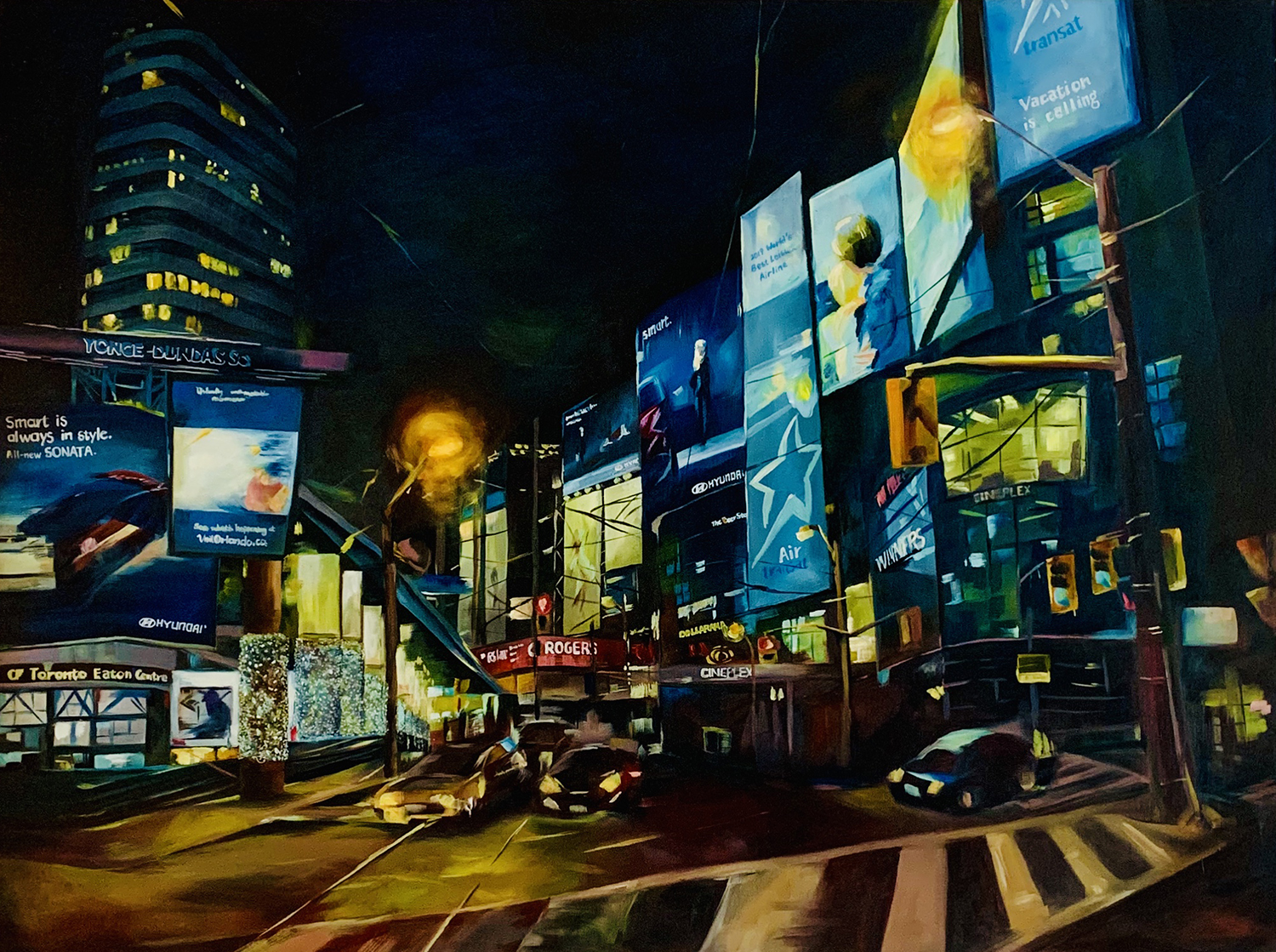 The pandemic influenced the artistic expression of OCAD U community members, and we were delighted to virtually showcase their talent. In April, after closing the physical facilities, we highlighted the creative output of several Drawing and Painting students—figurative and abstract drawings, paintings and textile works they created from home. Their beautiful pieces directly responded to the new and surreal world created by COVID-19, and demonstrated their incredible creativity and resiliency.
As a way to help people come to terms with how the COVID-19 pandemic was reshaping our way of life, the Office of Continuing Studies launched the Inside Art and Design: Summer Seminar Series, which offered a range of complimentary online learning seminars—open to students, staff, faculty and the public—that explored the key role of art and design in our society, and how they impact various aspects of our lives.
We also turned to the web to provide a platform for our students' creative expression by launching in July the Arts & Science Review. The online publication celebrates the writing of students in courses offered by the Faculty of Liberal Arts and Sciences and the School of Interdisciplinary Studies. "Writing in Extraordinary Times" was the theme of the inaugural issue, which featured 12 essays dealing with topics such as contagion, pleasure, consumption, queerness, equity, social justice and Indigeneity.
We were able to share our pride in our 700 graduates at our first-ever virtual convocation on June 12. We fêted winners of our program medals and student awards, honoured faculty members with teaching awards, and granted honorary degrees to Lieutenant Governor of Ontario Elizabeth Dowdeswell, Métis visual artist and curator Jim Logan, award-winning video director Julien Christian Lutz and internationally recognized surgeon and OCAD U alumnus Dr. John Semple.
It may have been virtual, but OCAD U's gala in November was an exciting event for more than 300 guests. Co-chaired by former University Chancellor Kiki Delaney and chair of the OCAD U Ignite Imagination campaign cabinet Leslie Gales, and co-hosted by OCAD U President and Vice-Chancellor Ana Serrano and renowned author Misha Glouberman, the e-affair featured fabulous musical performances, a tribute to President Emerita Dr. Sara Diamond, the announcement of the Dr. Sara Diamond Scholarship Fund, and an online auction. The event raised more than $460,000 to support students.
In November, our new partnership with Partial Gallery resulted in the OCAD University Artist Showcase. The gallery had invited OCAD U students and recent graduates to display and sell their work on its new online platform, which led to valuable exposure for the 40 participating students and grads, including 1.7 million impressions and 28 sales. Meanwhile, the online exhibition PathoGEN Error: Compiling 2020 featured the artworks of 24 cross-disciplinary students in the third-year course COVID-19: Responsive Art. The main themes included mental health, environmental impacts, the passage of time and the lack of touch. 
The pandemic led to a change in one of our favourite traditions at OCAD U: GradEx, our annual public art and design exhibition of our graduating students' work. As we reimagine GradEx 105, we are able to collectively celebrate the creative accomplishments of the graduating class of 2020 through three platforms: a virtual exhibition that went live on December 15; videos on OCAD U LiVE, the University's 24/7 student-run video channel; and outdoor public activations/projections scheduled for February (these were moved to 2021 because of the current lockdown in Toronto).
OCAD U goes virtual: fast facts
Moving to remote delivery of curriculum and services, and working from home, have increased everyone's use of various e-tools. Here's a quick look at what we've done during the University's closure from mid-March to early December:
12,238 assignments completed on Canvas with 64,679 files uploaded
209,353 hours of video calls on Teams
Almost one million chat messages on Teams
36,541 meetings on Teams
155,708 users who participated in Teams meetings
19,245 Knowmia media resulting in 400,019 media views
66 Zoom webinars held with 1,870 participants
Partnering for success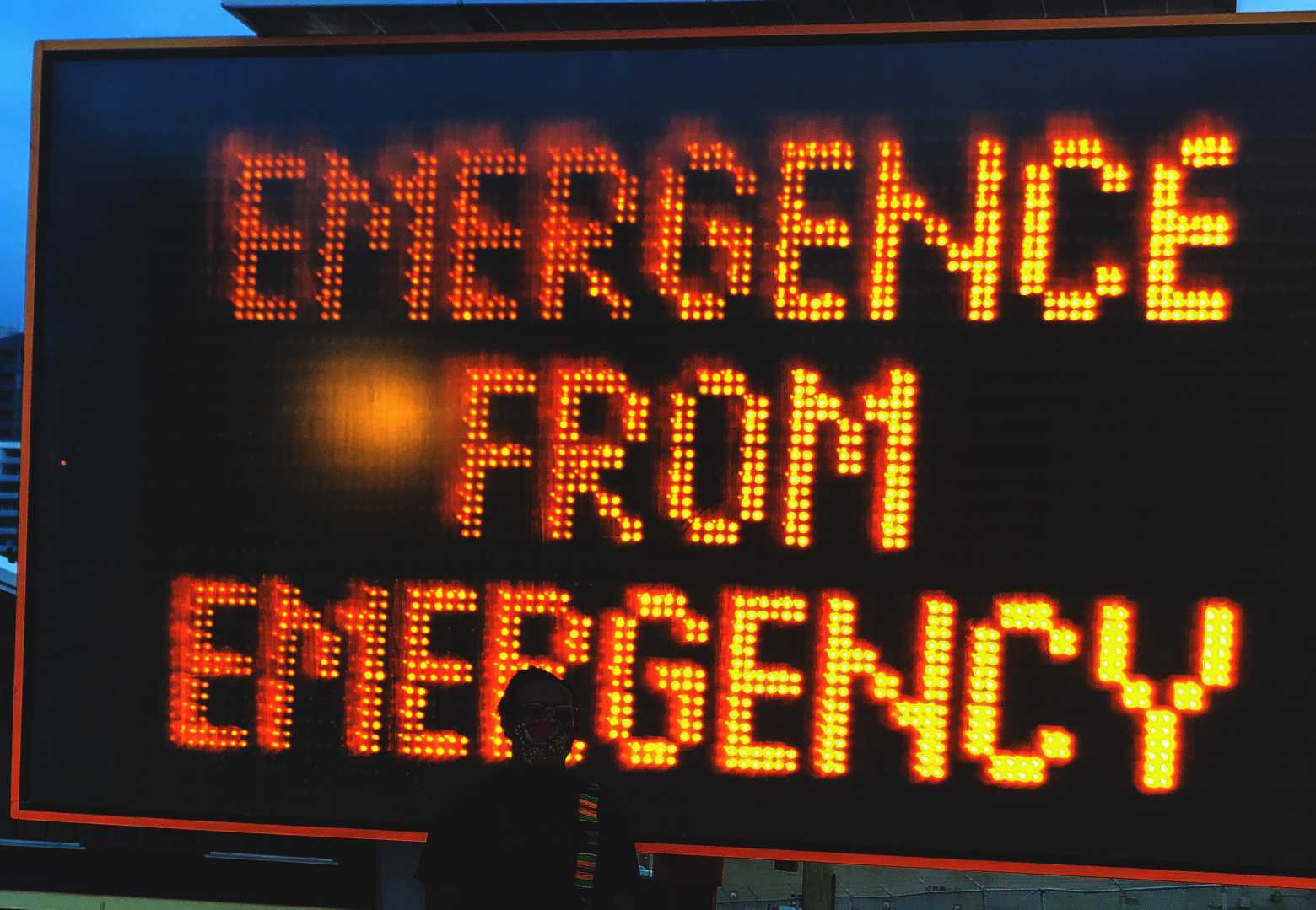 Understanding that the strength of our education and the success of our students requires engagement with industry, OCAD U continued to focus on sustaining and developing strategic partnerships in 2020.
Sixteen Career Launcher opportunities for upper-year students and recent graduates were developed in partnership with industry, helping 89 recipients launch their professional practice after school. This included features such as the annual Career Launcher Fund, exclusive talent partnerships with Ubisoft, NEO Exchange and Bruce Mau Studio, and added support from Scotiabank to create new roles at several arts organizations.
In April, we forged a productive relationship with Auxly Cannabis Group and its Kolab Project, a Toronto-based platform for our emerging artists to show their work and participate in design-focused work placements. The partnership kicked off with The Next Fourteen Days, an initiative that provided OCAD U students, recent graduates and alumni with $1,000 grants to realize 14 new works about physical distancing and self-isolation.
In July, when public concern about anti-Black racism was top of mind, the time was ripe for Emergence from Emergency — Black Realities. A cooperative effort involving the OCAD U Creative Writing Program, creative place-making studio So Good City, traffic safety company Stinson Owl-Lite and venue Stackt outdoor market, the art installation featured a seven-foot traffic message board presenting statements such as "Black lives matter, not a trend" and "His last breath is also mine."
In September, we joined ShowLoveTO, an initiative to encourage local residents to show their love for the city by safely exploring and supporting neighbourhood businesses and artists. Together with the City of Toronto and AVA Animation & Visual, OCAD U participated in the launch event, BigArtTO, a city-wide public art celebration featuring free access to more than 200 hours of public art projected onto local buildings and landmarks.
Later that month, OCAD U's Centre for Emerging Artists & Designers joined with NEO Exchange, a Toronto-based Canadian stock exchange, to create the NEO Commissioning Program to provide opportunities for five OCAD U-trained artists (current or former students) working in a variety of mediums to create original artworks for clients on the NEO stock exchange. NEO also donated $25,000 to the University to establish an endowment fund for the NEO Award for Disruptive Design. The award, which will be given annually to a fourth-year student enrolled in the Industrial Design program, is about challenging the status quo, driving profound change, and making a positive social impact.
Another unique collaboration emerged in October when OCAD U was a presenting partner in Canada's second annual democracy summit, DemocracyXChange. The three-day online event provided an opportunity for artists and designers to join with civic leaders, policymakers, activists and thinkers in sharing ideas for a stronger and more inclusive democracy.
OCAD U became a partner in the Toronto Art Foundation's ArtWorksTO, which provides career-building opportunities to media artists ages 18-29 who identify as Indigenous, Black, People of Colour and/or 2SLGBTQ+. Supported by the City of Toronto and youth-focused creative education charity The Remix Project, ArtWorksTO offers participants the chance to gain professional experience, develop skills and network in the media arts industry.
OCAD U on the move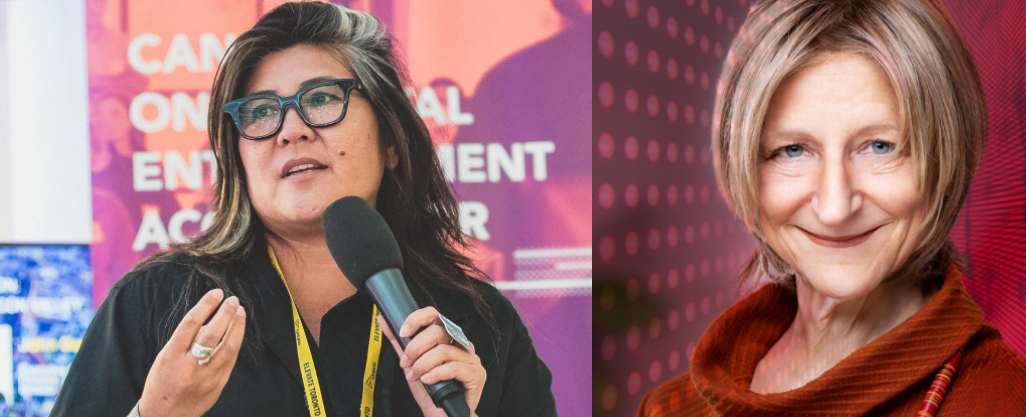 This year, the OCAD U community bid farewell to outgoing President Dr. Sara Diamond (pictured above at right) who led the institution through remarkable transformation during her 15-year tenure. She worked tirelessly to bolster OCAD U's traditional strengths in art and design, while also building graduate studies offerings, research and digital media. She also formed many new productive partnerships with industry organizations; attracted new financial investment in the University; revitalized the campus; increased experiential learning and career development supports for students; strengthened equity and diversity; and supported Indigenous cultures, research and decolonization.
On July 1, Ana Serrano succeeded Dr. Diamond as OCAD U's new President and Vice-Chancellor (pictured above at left). Formerly the chief digital officer of the Canadian Film Centre, Serrano comes with more than 20 years of experience building award-winning digital products, securing public and private sector investment, creating strategic alliances and starting new ventures. Upon assuming the role, Serrano commented, "OCAD University will be a leader in rebuilding the economy because we are educating the next generation of creative leaders who are best suited to solve the challenges we face today."
We also welcomed new members to the senior leadership team: Stephen Foster, former professor and head of the Creative Services Department at the University of British Columbia Okanagan Campus and former director of Center of Indigenous Media Arts, joined us in January as the new dean of the Faculty of Arts, and in September, Sarita Srivastava, formerly a sociology, gender studies and cultural studies professor at Queen's University, became the new dean of the Faculty of Liberal Arts & Sciences, and the School of Interdisciplinary Studies.
Ashok Mathur, our dean of graduate studies, moved into the additional role of interim vice-president of research and innovation. Finally, we were thrilled to welcome our University librarian Tony White, whose most recent position was chief librarian of the Metropolitan Museum of Art in New York City.
OCAD U also continued to evolve as an institution through the renewal of program curriculum with Flow, a curricular transformation initiative that begain in the summer of 2019. To take effect in all programs by 2023-24, the initiative will ensure a high-quality educational experience for students defined by more choice, flexibility and equity. Fall 2020 represented the first phase of rolling out new program curriculum since completing the Flow process, with Advertising, Graphic Design, Indigenous Visual Culture, Digital Futures, Creative Writing, Integrated Media, and Printmaking and Publication all launching their new curricula.
Finally, one of OCAD U's most important milestones in 2020 occurred in June, when we officially gained full degree-granting authority. This landmark achievement allows the University to confer degrees, including honorary degrees (in addition to certificates and diplomas) in any and all branches of learning in the fields of art and design. Now a university in the full sense of the term, we can better support Ontario students for the jobs of tomorrow, and compete as an academic institution on the world stage.
Advancing diversity, equity and decolonization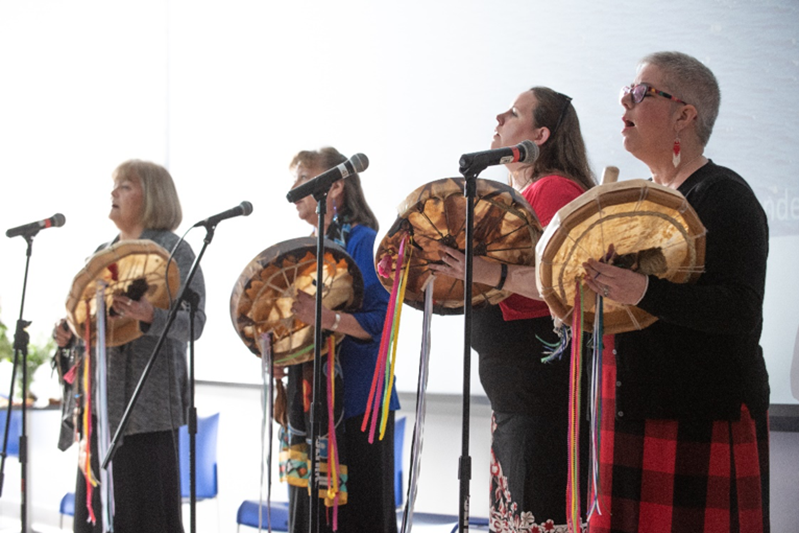 OCAD U hosted the Indigenous Students Pathways Symposium that brought together faculty, students, community members, Elders and others for a day-long celebration and ceremony marking the commitment to decolonize the University. The symposium featured the presentation of research, relationships and knowledge gained from a two-year project funded by the Ontario Council on Articulation and Transfer (ONCAT), the goals of which are to enhance the mobility of Indigenous learners in art and design post-secondary education.
In June, Wapatah: Centre for Indigenous Visual Knowledge hosted its first virtual roundtable as part of the Virtual Platform for Indigenous Art (VPIA) project and its latest Indigenizing the Museum event series, developed to increase Indigenous community and institutional awareness of, and involvement in, the VPIA as a resource and a knowledge-building tool. The virtual roundtable addressed questions around language, lexicon, ownership, repatriation, land, and research as ceremony, and the discussion focused and expanded upon the shift in language used to talk about Indigenous artworks.
Continuing OCAD U's commitment to diversity and inclusion, the Faculty of Design hired five new tenure-track faculty members who self-identify as Black: Angela Bains, Kestin Cornwall, Kathy Moscou, Michael Lee Poy and Marton Robinson (who joins the University in July 2021). The hiring of these five new faculty members was part of OCAD U's dedication to implementing its Academic Plan, which articulates a commitment to decolonization, diversity, and equity.
This announcement's impact was felt across the higher education and industry sectors, with other institutions such as the Rhode Island School of Design announcing the intent of its 10-person Black cluster hire. In the fall, the University launched an OCAD U Continuing Education course, Hiring for Decolonization, Diversity, and Inclusion, which attracted 45 learners across creative sectors. 
The University also issued a statement regarding anti-Black racism as the Black Lives Matter movement gathered momentum and people across Canada, the United States and around the world participated in protests over the death of African-American George Floyd while being arrested.
Independent art curator, scholar and Faculty of Art Associate Professor Dr. Andrea Fatona has been working for years to rectify the absence of Black visual art from "official records"— art critics' reviews, art archives and other avenues of representation. She has documented much of her efforts online and in June launched a re-imagined version of the site: The state of blackness: from production to presentation.
In celebration of our Black cluster hire, the theme of the academic year welcome keynote address in September was Black Futures, featuring new faculty members Angela Bains, Kestin Cornwall, Kathy Moscou and Michael Lee Poy. They spoke about Black Futures at OCAD U and beyond, each sharing what it meant to orient oneself to Place, bringing their perspectives to the University community and our work as educators. The keynote presentation was complemented with an I-BPOC panel discussion Future Ancestors and Future Learning the following day.
In the fall, OCAD University announced that students, faculty and staff would have access to three Indigenous Database research collections for the next three years, thanks to funding from the Wapatah: Centre for Indigenous Visual Knowledge.
Peter Morin, associate professor in the Faculty of Art, was appointed advisor to the Provost, Indigenous Knowledge, Practices and Production, for the remainder of the 2019-20 academic year. And in the fall, Nadia McLaren was appointed to the new role of Indigenous Community Relations Advocate tosupport decolonization of OCAD U's practices, policies and structures through a wholistic approach to advocacy and community-building for Indigenous students, faculty and staff.
On December 14, a day before the fifth anniversary of the Truth and Reconciliation Commission of Canada's final report, the Council of Ontario Universities released Lighting The Fire: Experiences of Indigenous Faculty in Ontario Universities. This report provides an overview of the findings from a survey of Indigenous faculty members undertaken by the council's Joint Working Group of the Ontario Council of Academic Vice-Presidents and the Reference Group on Aboriginal Education (OCAV/RGAE).
OCAD U's Vice-President, Academic and Provost Dr. Caroline Langill, one of the co-chairs of the OCAV/RGAE, responsed to the report, saying in part, "OCAD U recognizes the significance and the transformational scope of Indigenous knowledge and we are committed to continuing the work being done at the institution. We are dedicated to working with Indigenous faculty, staff and students in taking steps to ensure that Indigenous ways of knowing, and practices, are represented in the creative and academic life at the University."
Advancing research excellence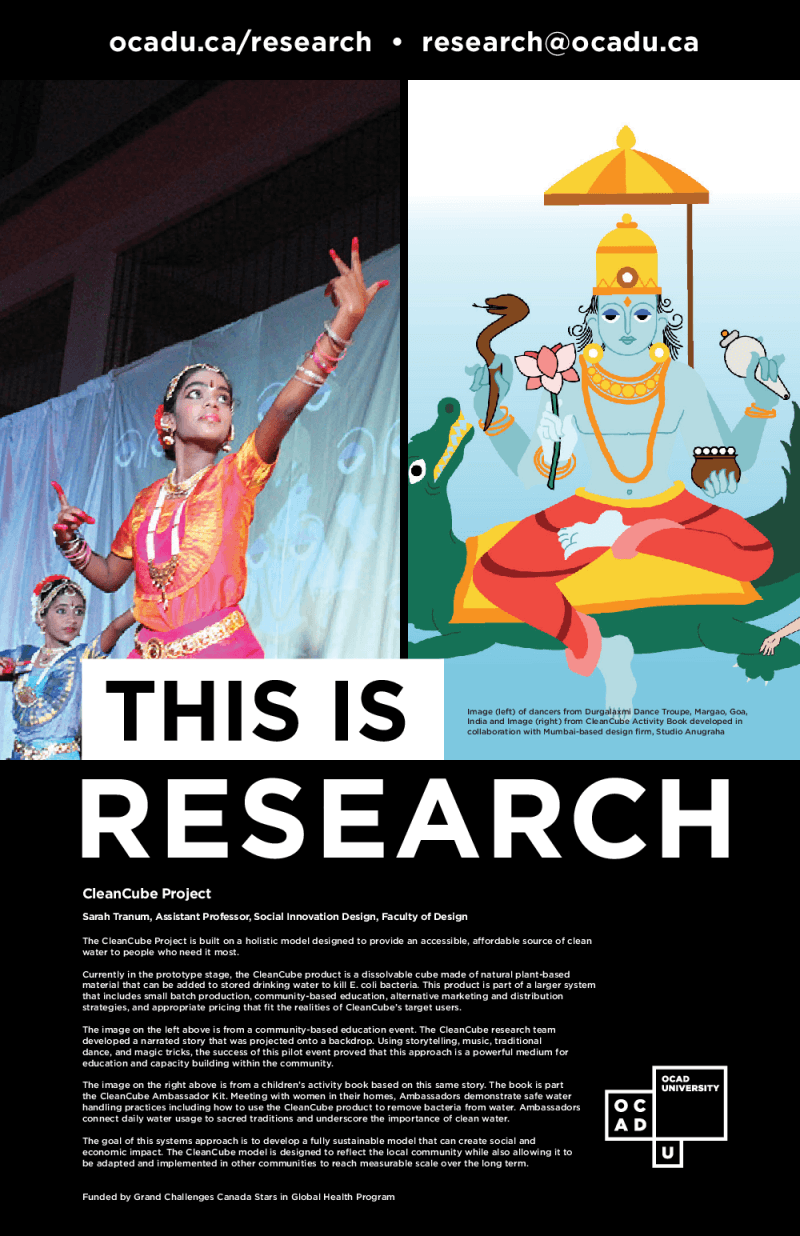 On December 16, Dr. Andrea Fatona, associate professor in the Faculty of Art, became OCAD U's fourth Canada Research Chair (CRC): the Tier 2 CRC in Canadian Black Diasporic Cultural Production. Dr. Fatona has been working for years to rectify the absence of Black visual art from official records. Funding from the Canada Foundation for Innovation will support the creation of the Centre for the Study of Black Canadian Diaspora at OCAD U – a first-in-the-world centre for studying contemporary Black Canadian cultural production and dissemination that will be led by Dr. Fatona.
In 2020, we recognized four researchers (over the course of two academic years)—two for distinguished research excellence, and two for excellence in early-stage research:
Dr. Martha Ladly, professor in the Faculty of Liberal Arts and Sciences, received the 2019-20 OCAD University Award for Distinguished Research, Scholarship & Creative Activity.
Dr. Alia Weston, associate professor of Creative and Business Enterprise, received the 2019-20 OCAD University Award for Excellence in Early Research, Scholarship and Creataive Activity.
Simone Jones, associate professor in the Faculty of Art, received the 2020-21 OCAD University Award for Distinguished Research, Scholarship and Creative Activity. 
Immony Mèn, assistant professor in the Faculty of Design received the 2020-21 OCAD University Award for Excellence in Early Stage Research, Scholarship and Creative Activity.
In 2020, OCAD U faculty continued to receive awards from various funding agencies, demonstrating the growth of the University's research program. Congratulations are in order to these faculty members:*
Dr. Sara Diamond and Dr. Peter Coppin were each awarded a Natural Sciences and Engineering Research Council of Canada (NSERC) Collaborative Research and Training Experience Program Grant to support the training of highly qualified personnel.
Dr. Sara Diamond was awarded a MITACS Accelerate Graduate Research Grant to support her project Digital Marketing and Sales Decision Optimization. She also received a grant from the Department of Canadian Heritage for the project Development of a data portal prototype for the cultural sector.
Dr. Suzanne Stein was awarded a subgrant from the Canadian Film Centre for the project 5th Wave Pilot Year.
Immony Mèn (OCAD University) and co-applicant Dr. Patricio Davila (York University) were awarded a Social Sciences and Humanities Research Council (SSHRC) Engagement Grant titled Vice-Versa.
Dr. Robert Luke was awarded an SSHRC Engagement Grant titled Open Transit: Leveraging technology and digital teams to build sustainable, resilient public transit for growing communities.
Dr. Ashok Mathur was awarded an SSHRC Partnership Engage Grant titled Collaborating with the Land: a social laboratory on performance, art, and learning.
Dr. Peter Jones was awarded an SSHRC Connection Grant titled Orchestrating Knowledges: CANSEE Student Symposium.
Dr. Alia Weston and Sarah Tranum were awarded an SSHRC Partnership Engage Grant for their project Co-Designing a sustainable system for delivering menstrual hygiene management in a low-resource community in Zimbabwe.
Dr. Dot Tuer and Peter Morin are co-investigators and OCAD University an institutional partner on a seven-year, $2.5 million SSHRC Partnership Grant, Developing Transborder Research-Creation Practices.
Dr. Jutta Treviranus was awarded a grant from the National Research Council of Canada's Collaborative Science, Technology and Innovation Program for her project Intelligent User Interfaces and Guidelines for Vulnerable Populations.
Dr. Michelle Miller was awarded a SSHRC Insight Grant for her project Triggering Education: Relational Readings of Trigger Warnings in the Canadian Post-Secondary Classroom.
Dr. Lynne Milgram was awarded a SSHRC Insight Grant for her project Thirsty for Alternative Sources of Agri-Beverages? New Commodity Provisioning from the Rural Philippines and Vietnam. Sarah E. J. Turner (McGill University) is a co-applicant on this grant.
Maya Mahgoub-Desai, Environmental Design (principal investigator) and Nancy Snow, Graphic Design (co-investigator) along with collaborators Antonella Nicaso (Business Improvement Areas Office, City of Toronto) and Dr. Ana Blanchard (Pediatric Infectious Diseases, Université de Montréal) were awarded a Partnership Engage Grant – COVID-19 for their project Planning for Post COVID-19 Futures of Public Space: Grounding Decision-Making in Community Perceptions and Insights.
Dr. Peter Jones was awarded an SSHRC Partnership Engage Grant – COVID-19 for the project Developing decision making in municipal planning to enable recovery, future adaptability and long-term resiliency. This research is undertaken with the Flourishing Enterprise Institute and Wilfrid Laurier University's Viessmann Centre for Research and Engagement in Sustainability in partnership with the City of Kitchener and social enterprise REFOCUS, and engages a growing group of planning innovators and social equity participants.
Dr. Suzanne Morrissette was awarded an SSHRC Insight Development Grant for her project Social Histories/Indigenous Art: Curating Social Work's Influence on Winnipeg's Indigenous Art of the 80s and 90s.
Dr. Doreen Balabanoff and co-applicant Nicoletta Setola (University of Florence School of Architecture) have been awarded an SSHRC Insight Development Grant for their project, TRANSFORMATIONAL CHANGE FOR BIRTH ENVIRONMENT: Knowledge mobilization for a new architectural paradigm.
B.h. Yael was awarded a Canada Council for the Arts Concept to Realization grant through its Explore and Create Program for her project, BDS, a letter to my tribe.
David Pereyra, project and outreach coordinator at the Inclusive Design Research Centre, was awarded one of 17 grants to teacher-scholars for 2021-2022 as part of The Calvin Institute of Christian Worship's Vital Worship Grants Program.
*The list above was provided by the Office of Research & Innovation.
Celebrating excellence among faculty and staff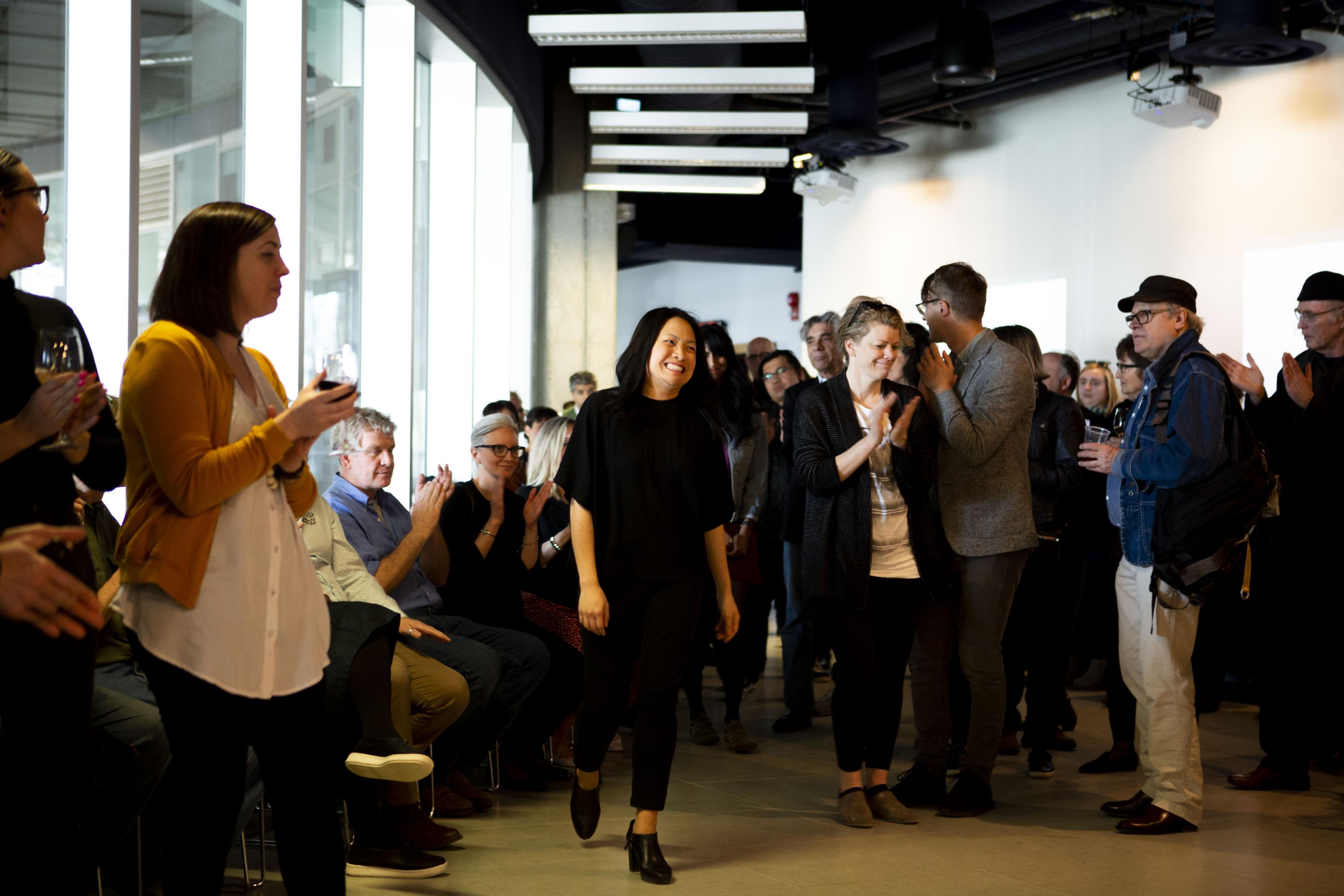 Celebrating the recipients of OCAD University's 2020 Faculty and Staff Awards may have been different this year given the global pandemic, but this didn't diminish the accolades and gratitude. Instead of an in-person appreciation event, this year the University created a special section on the OCAD U website to honour this year's list of impressive award recipients.
VP Academic and Provost Dr. Caroline Langill thanked faculty for adapting quickly under the challenging circumstances of the last few months. "With a generosity of spirit, faculty moved quickly so that students could finish their year," she said. "It is my honour to recognize faculty and to thank all of you for the meaningful work you do with students, to change their lives, to foster their growth and give them the confidence to be successful as artists, design practitioners, scholars and curators."
"I'd like to take this opportunity to recognize the important contributions of our administrative and academic staff over the past year," said Vice-President, Finance and Administration Alan Simms in his message to staff. "COVID-19 and the related closures have presented challenges during 2020, and we as a community have demonstrated our resilience, which should be celebrated."