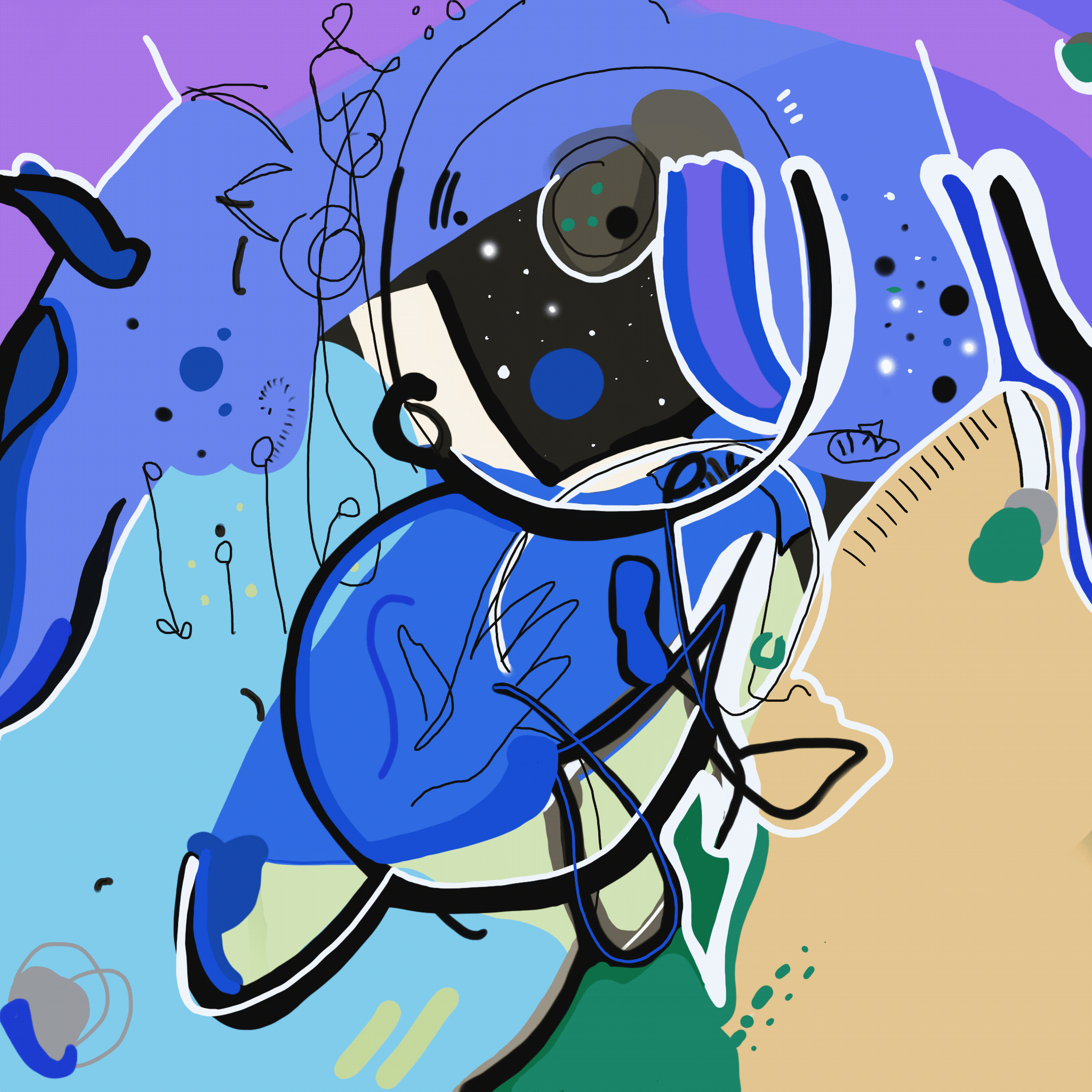 Periwinkle Moon I, Digital Painting 2020 (Dreamscape Series) by Courtney Dookwah.
This fall, Toronto residents will once again be able to safely explore their city neighbourhoods to view large-scale projections of artists' works on local buildings as part of BigArtTO.
The public outdoor art celebration was an initiative launched last fall as part of ShowLoveTO to connect with neighbours, support local businesses and artists, and allow people to explore their city neighbourhoods to help rebuild the social and economic fabric of Toronto.
Along with the BigArtTO collaborators, the City of Toronto and AVA Animation & Visual Arts Inc., OCAD University is proud to play a role in offering residents an opportunity to explore artwork outdoors, while respecting public health guidelines, with more than 350 hours of illuminated artworks.
Programming begins with three evening activations around the city (September 15 to 18, from 7:45 to 10:45 p.m.), including the work of OCAD U student and visual artist Courtney Dookwah and Enna Kim.
Dookwah's artwork combines an exploration of the non-material world and expressions of her consciousness. Her body of work channels energies that empower and enlighten the viewer through colour and motion; materializing in the form of oil paintings, illustrations, and digital media work.
Dreamscapes

by Courtney Dookwah at Lawrence Heights Community Centre,
5 Replin Rd. (Eglinton-Lawrence). Presented in partnership with OCAD University, with special thanks to Lawrence Heights Community Centre and Toronto Community Housing.
Red Crowned Crane

by Enna Kim
This work was originally presented as part of Movement/Nature: Guided Exercises by Artists, an online project for the Art Gallery of Ontario curated by OCAD University's Criticism and Curatorial Practice MFA program students.
Location: Toronto Public Library – Parkdale Branch, 1291 Queen St. W. (Parkdale-High Park)
Additional activations presented with OCAD University include:
September 22 to 25, 2021, from 7:45 to 10:45 p.m.
Angular Translucence by Idalina Leandro and "Encuentros/Encounters" by Luis Cisneros.
Location: Projected onto Shepherd Manor Apartment, 125 Bonis Ave. Watch from the North Parking lot of Agincourt Mall. (Scarborough-Agincourt)
September 29 to October 2, from 7:15 to 10:30 p.m.
Navigating the Latent by Arshia Sobhan Sarbandi, Presented with OCAD University
Navigating the Latent is an endeavour to rethink the role of modern technology in the development of Islamic calligraphy in digital media. It explores the latent potentials of this rich art form using machine learning by training state-of-the-art neural networks with thousands of calligraphy data samples, each reduced to its most fundamental visual elements covering all possible alternative forms and elongations within the limitations of the currently available digital tools. 
Location: Building T – Pumping Station/Pumphouse Park, 1091 Eastern Ave. View from Coxwell Ave. at Eastern Ave. (Toronto-Danforth)
Scarborough Made by Alex Narvaez and Sid Naidu, Presented with OCAD University.
Scarborough Made is a social impact art project created by Alex Narvaez and Sid Naidu to document stories of humanity in Toronto's East. Through BigArtTO, "Scarborough Made" will share a highlight reel of stories that help amplify the powerful voices and narratives found in Scarborough. Originally launched in 2019, the photo and docu-series aims to share stories from the everyday heroes of our communities.
Location: Scarborough Civic Centre, 150 Borough Dr. (Scarborough Centre)
October 6 to 9, 2021 from 7:15 to 10:15 p.m.
Magi System by Tobias Williams, presented with OCAD University and supported by Equinix and Downtown AutoGroup.
Magi System is a three-channel video piece which visually explores the triangular relationship between users' platforms and algorithms that define the current aesthetic ecosystem of the web.
Location: Equinix Data Centre, 45 Parliament St. (Toronto Centre)
October 13 to 16, 2021, from 7 to 10 p.m.
OCAD University Student Animators
Returning to our best-attended BigArtTO location in 2020, OCAD University students will once again animate the façade of the R.C. Harris Water Treatment Plant. A popular site for the City of Toronto's Doors Open program, the structure is still an active water treatment plant. This custom and site-specific artwork will take into consideration the building's history, purpose, and art deco designs.
Location: R.C. Harris Water Treatment Plant, 2701 Queen St. E. (Scarborough Southwest)
October 20 to 23, 2021, from 6:45 to 9:45 p.m.
OCAD University Student Animators
Presented with OCAD University and the Aga Khan Museum.
The west-facing façade of the Aga Khan Museum will be fully illuminated by OCAD University student artists. Watch the activations from the beautiful adjacent park and serene landscaped garden. The aim of the Aga Khan Museum is to foster a greater appreciation of the contributions that Muslim arts and culture has made to world heritage.
Location: Aga Khan Museum, 77 Wynford Dr. (Don Valley East)
November 3 to 6, 2020 from 6:15 p.m. to 9:15 p.m.
OCAD University Student Animators
OCAD University student animators will design site-specific artwork for the Princess Park Clock Tower beside the Empress Walk. The structure was originally built as part of North York's Ivan M. Nelson Fire Station. The structure was torn down in 1989, but the hose tower was preserved.
Location: Princess Park Clock Tower, 214 Doris Ave. (Willowdale – Ward 18)
OCAD University Student Animators
Guild Park is well-known for the being the home of architectural fragments taken from dozens of demolished buildings. OCAD University student animators will illuminate the grand pillared structure, therefore shining light on some of Toronto's urban history.
Location: Guild Park, 201 Guildwood Parkway (Scarborough-Guildwood)
November 9 to 13, 2021 from 5:15 to 8:15 p.m.
"it was always more than just the desire to be known" by OCAD U grad Sophia Oppel
"it was always more than just the desire to be known" takes the form of a meditation on the process of rendering a transparent texture in order to consider the larger politics of transparency and legibility in a datafied surround. Centred around a text piece, the work features a series of 3D scans and 3D models with transparent textures applied to them.
Location: University of Toronto Scarborough Student Centre, 1265 Military Trail (Scarborough-Rouge Park)
November 23 to 27 from 7:45 to 10:45 p.m.
OCAD University Student Animators (presented with OCAD University and supported by Oxford Properties).
Each of the BigArtTO program's 29 sites will digitally project neighbourhood-specific customized artwork created by Toronto artists onto local buildings or landmarks. The program runs for 11 weeks, with two to three locations per week. Each projection will play on a loop for three hours, Wednesday through Saturday, providing free, temporary public art until November 27.
Location: Richmond-Adelaide Centre, 120 Adelaide St. W. (Spadina-Fort York)
Originally launched in September 2020, BigArtTO, the programming was temporarily postponed in November 2020, in response to the Provincial Government announcement of lockdown.
The BigArtTO event schedule is available on the City of Toronto website