Over the next few months, OCAD U graduate students will be showcasing their thesis work at various galleries at OCAD U and throughout the city. These exhibitions showcase the outstanding work of OCAD U arts and design students who are imagining and exploring new ways of thinking through their research projects.
Check out these ongoing and upcoming graduate student exhibitions, initiatives and events!
APRÈS QUOI Festival
OCAD U Exhibition Locations:
113Research, 113 McCaul Street, 5th Floor Hallway 
Medicine + Cabinet 
March 30 - Sept. 15
ODESI Gallery, 100 McCaul Street, 3rd Floor, Room 316 
"AS IS" 
March 30 - July 28 

APRÈS QUOI as festival concept, emerged out of the shock wave that hit us with the COVID-19 Pandemic! What could possibly come after that? Two considerations from this global event focused the work of the curators and artists.
One was their need to investigate and understand the new ways of "being together", of accessing spaces and each other through the use of technology, masking and social distancing.
The other was the pressing desire they felt to listen deeply to those who are socially, financially, politically, and physically marginalized. How could we act as allies with people from the BIPOC and LGBTQ2S+ communities, individuals living in poverty and isolation, others without housing or water and those who deal daily with assaults on their very identities. 
Longing, compassion and care energized this work in innovative directions birthing three exhibitions at three OCADU sites. Each site explores this festival concept using differing lenses: as To Be With, Medicine+ Cabinet, and "AS IS".
APRÈS QUOI would like to thank the Office of Diversity, Equity, and Sustainability Initiatives (Cathy Cappon & Victoria Ho), Office of Research and Innovation, Writing and Learning Centre (Laura Thrasher, Lex Burgoyne, and Emil Doersam), The Disability Community and Culture Group, and the Faculty of Art for their support for this project.
Images: Work by Lobby artists - Deidre McIntosh and Jake Santos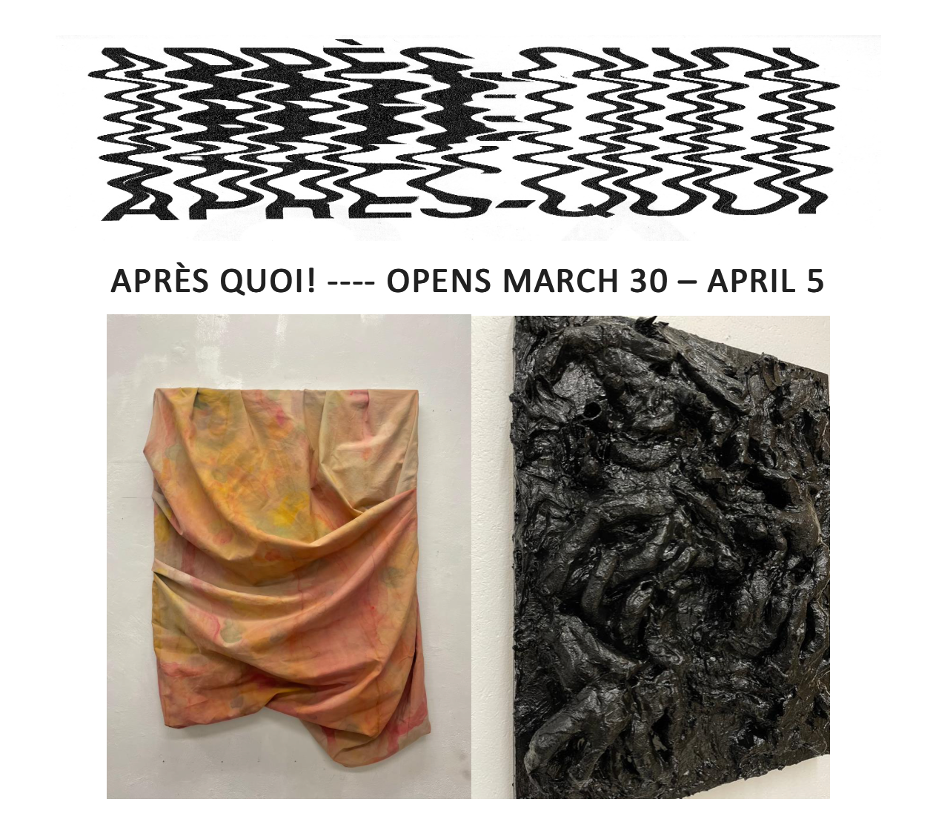 Xpace Cultural Centre 
2-303 Lansdowne Ave, Toronto 
a series of actions or steps taken in order to achieve a particular end 
March 10 - April 22
This ongoing exhibition curated by Avalon Mott, a student of Criticism and Curatorial Practice at OCAD U, aims to encourage a positioning of exhibitionary affect, and features works by an OCAD U alum, Meichen Waxer, among other artists. This curatorial methodology places the viewer at the center of the exhibition and fosters the space of potential for contemplation and curiosity between the artwork on display and the viewer.
Through a heightened relationship to site specificity, the works exhibited encourage the viewer to approach them intuitively. This fosters an emotional relationship to the pieces that is highly individual, while providing a bridge of understanding to the larger concepts explored by each artist.
Themes of nostalgia, reflection and desire are omni-present throughout the works.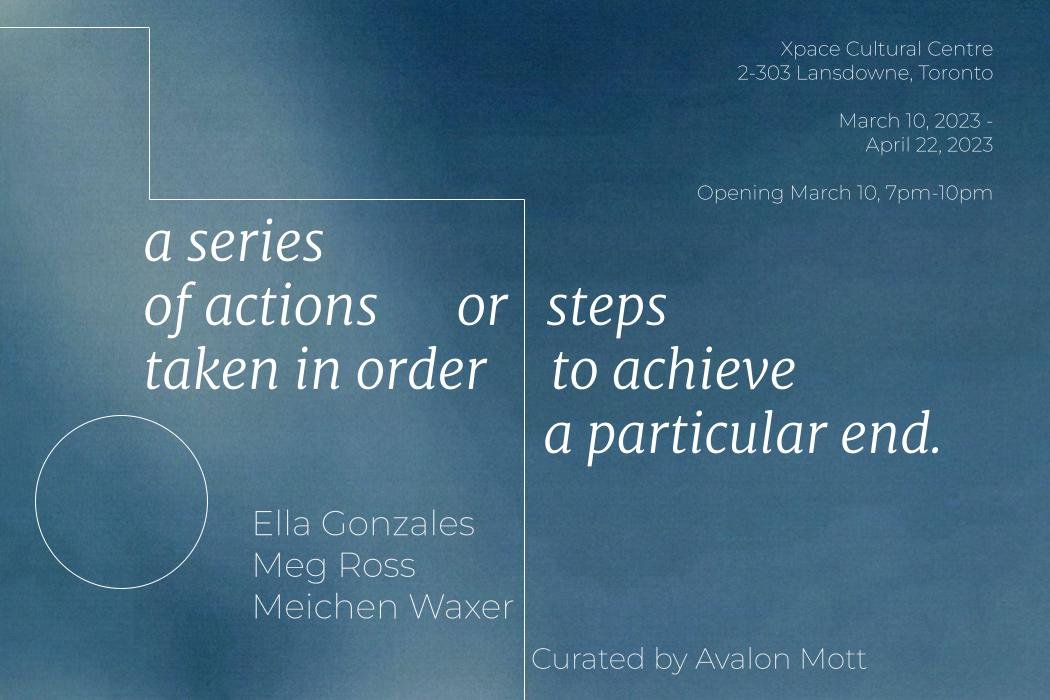 Quest Art School + Gallery 
333 King St, 2nd floor, Midland, Ontario 
Coming to my senses / Following the shore 
March 24 - May 6
Claudia Mandler McKnight, a student of Interdisciplinary Master's in Art, Media and Design will be displaying this exhibition through which she will be presenting her research findings in the form of a mixed media exhibition of paintings, photographs, poetry, audio and video recordings, as well as an installation of material gathered from nature.
Coming to my senses / Following the shore is a practice-led inquiry into the anima of place, specifically the littoral (shoreline) wetlands of Bone Island, Georgian Bay. Georgian Bay is the eastern arm of Lake Huron in Ontario, Canada.
Using evocative autoethnography as a methodology, the thesis and accompanying exhibition examine McKnight's life-long associations with the Cognashene area, and chart her deepening understanding of its location, flora and fauna. First-hand experiences of nature, engaging with the physical energies of the forces which shape a site, are essential to her research. A braided theoretical framework of biophilia, phenomenology, biopoesie, art therapy, ecotherapy, Deep Listening, mindfulness, and Indigenous knowledge informs McKnight's work.
By exploring the natural world's restorative effects, she charts how her art process has been her medicine and hope in the face of life-threatening illness, COVID, personal loss and grief. This journey might demonstrate an alternate path for others experiencing similar challenges.
Opening reception will be held on Saturday, March 25, 2-4 p.m., and an Artist Talk will be hosted on Saturday, April at 2 p.m.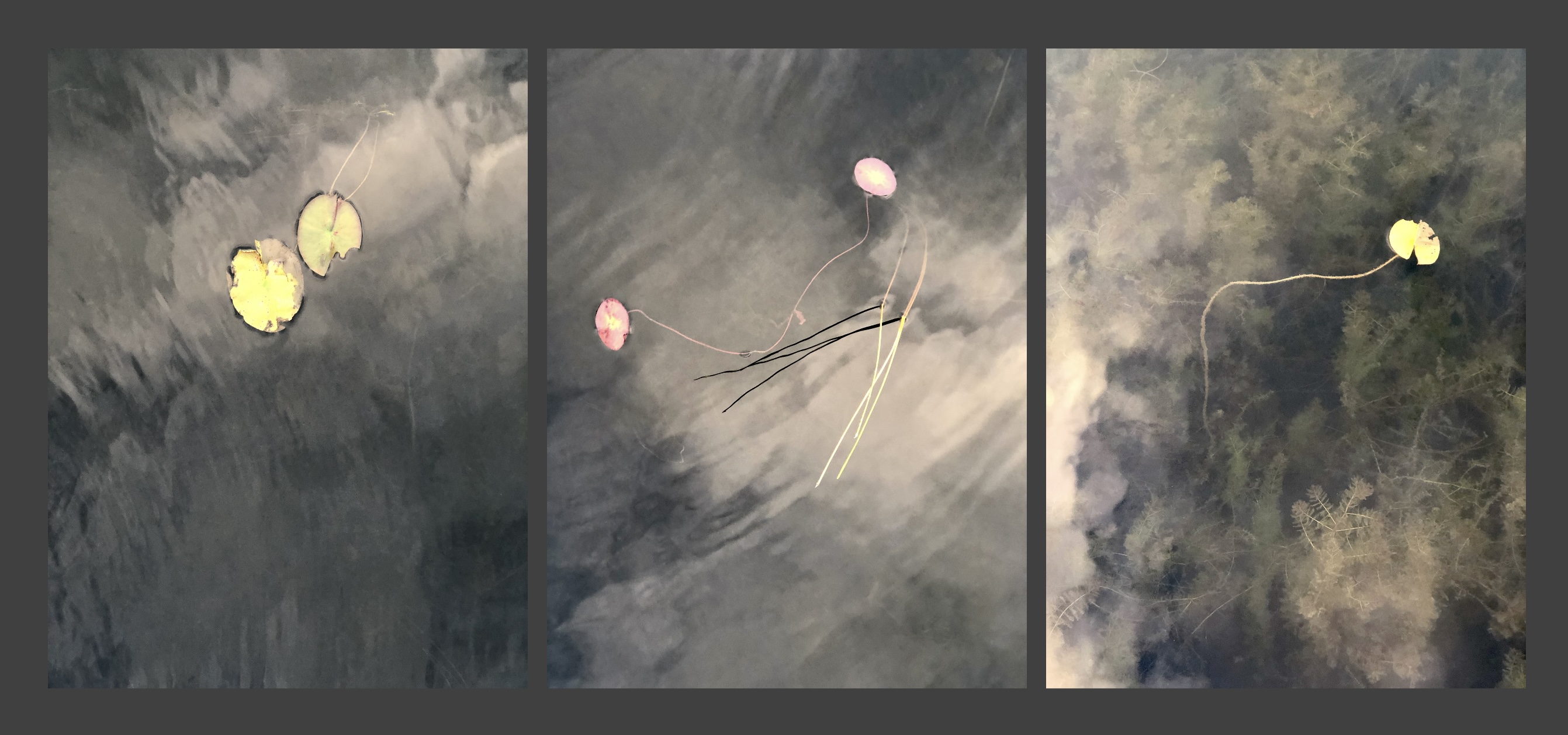 Ignite Gallery
100 McCaul St. 2nd Floor.
The Measure of Han
April 12-19
mihyun maria kim, a student of Interdisciplinary Master's in Art, Media and Design will he showcasing her work, The Measure of Han. The artist states that Han is an untranslatable Korean affect associated with historical unresolved grief, separated families, and loss of collective identity. Han is an accumulation of intergenerational trauma, which in the North American context has been sustained by suspended assimilation and dislocation/migration.
Through relational methodology, the in/visible limits of its translatability are revealed/concealed. The Measure of Han brings inherited and copied objects, ritual in repetition, sound/video, and daily artist activations together in a temporal installation as the outcomes of the MFA research creation.
The opening reception for this exhibition will be held on Thursday, April 13 from 5-8 p.m.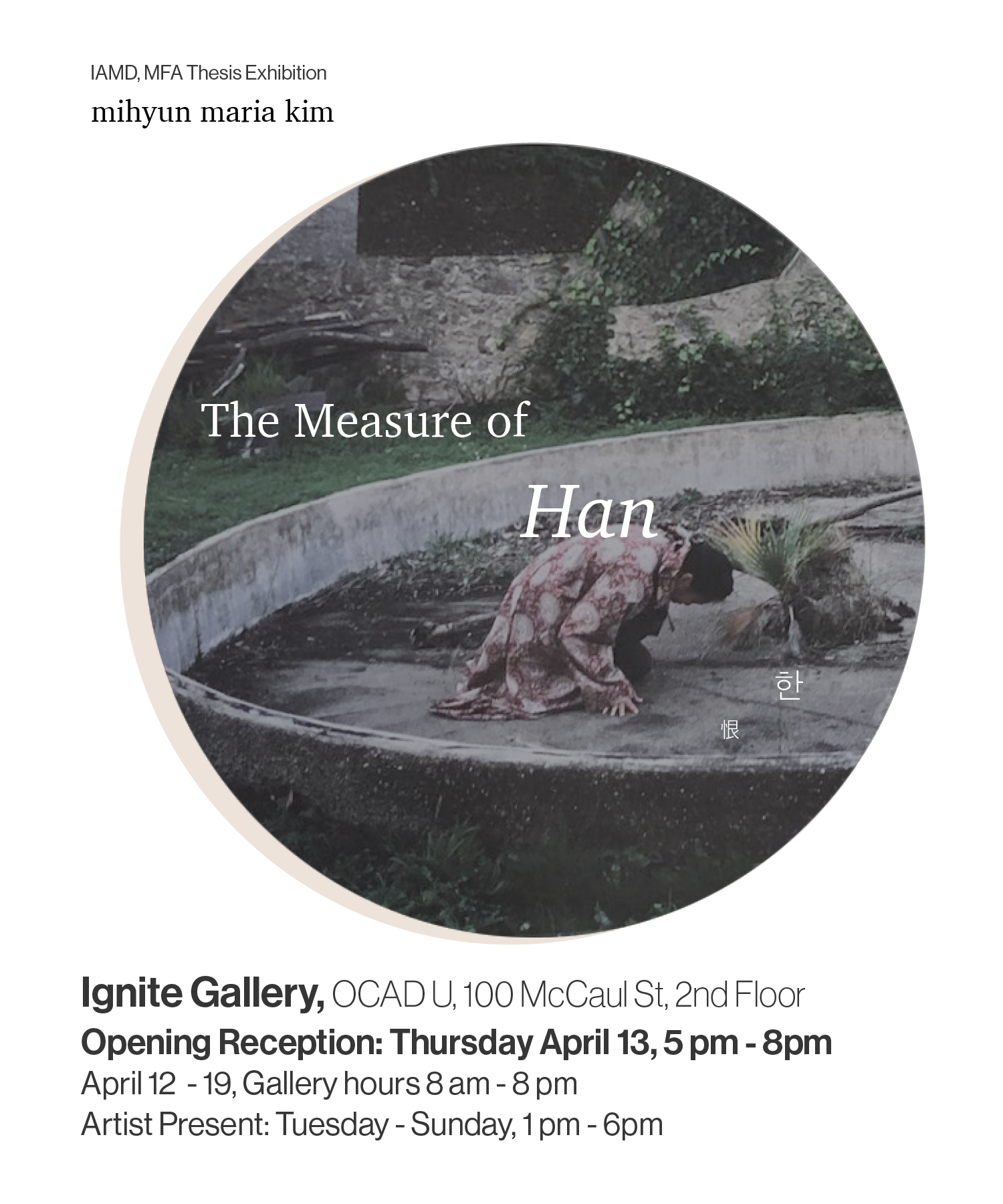 Ignite Gallery
100 McCaul St. 2nd Floor.
NEMA
April 24-29
Asabe Mamza, a student of Interdisciplinary Master's in Art, Media and Design will be showcasing her work 'NEMA' which explores how various digital techniques and ways of thinking can intersect with traditional methods of making culturally inspired art and design while preserving the cultural elements they embody. 
This is an exhibition of clay sculptures, paintings, digital techniques (3D scanning, 3D modelling and 3D printing), and mixed reality installations of the Northern Nigerian culture. These works preserve the Marghi/Bura cultural heritage and show its resilience across these mediums. It generates new perspectives, addresses certain colonized notions about the Nigerian culture, interprets cultural heritage and promotes its richness and diversity through these archival sets of culturally inspired works. 
The elements hold significant of ancestral knowledge, beliefs and power that bridge a cross-dialogue of cultural preservation and generation. The exhibition created an immersive experience that Africans in the diaspora can identify with while encouraging a wider audience engagement.