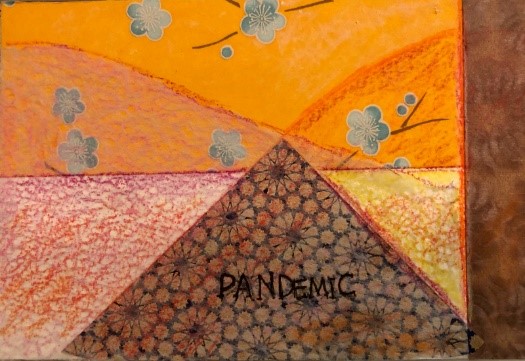 In January, Buffy Childerhose and three classmates in their first year of OCAD U's Master of Design in Strategic Foresight and Innovation were studying the news and views emerging about a new virus that had besieged Wuhan, China. Working on a course assignment, they examined the wild spread of information and misinformation and how it was affecting the virus's management by public health authorities.
With each passing week, it became increasingly clear the phenomenon they were studying was about to go global. They pivoted to monitoring the "infodemic" in Toronto, interviewing medical professionals and hospital media relations executives, conducting a public survey on the impact of COVID-19 messaging, scanning popular media, reviewing external sources—all while the situation was changing daily, even hourly.
Among their key research findings: a clear need to boost media literacy.
"If you give a person information, they have it for the day," Childerhose says. "If you teach them how to verify the accuracy of information, they'll be a more informed citizen who makes better choices."
"Thinking outside the Zoom box"
While COVID-19 pandemic has amplified online life for most of us, some OCAD U community members are pushing back with an 'in-real-life initiative' to spread art—and joy—through the mail.
Four new graduates of OCAD U's Master of Design in Strategic Foresight and Innovation are collaborating on a mail-art project called Pandemic Post: Retrofuturist Mail Art. Based in the U.S., India and Mexico, the team members are creating and mailing small works of art to family members, friends and others who may be vulnerable during their self-isolation. The idea is that receiving analog gifts will be uplifting at a time when we are so immersed in online life.
"This is partly a pushback against the relentless online life we suddenly find our lives in. We are thinking outside the Zoom box," says New York-based Kathryn Cramer, who initiated the project. "Receiving a physical object reopens the world to us in a tangible way."
The team is starting by creating designed 4" x 6" postcards, and plan to expand to making masks and other 3D objects. So far, they've made and mailed about 50 postcards. To support their efforts, they have applied for a grant from The Next Fourteen Days, which will provide $1,000 grants to 14 OCAD U community members whose work offers a creative reprieve from our collective isolation.
Participatory design in contact tracing apps
We are hearing a lot lately about contact tracing, referring to how public health agencies track the spread of the coronavirus in communities in order to flatten the curve. While nations worldwide are considering and developing different technologies for this purpose, OCAD U graduate Tania De Gasperis wants to make sure all stakeholders have a say in the process.
A researcher and entrepreneur who recently completed the Master of Design in Strategic Foresight and Innovation program, De Gasperis says contact-tracing platforms and tools should be developed using participatory design (PD), which includes all stakeholders of an issue, not just end-users - are involved in the design process. It's an approach that builds trust and cooperation, which will be critical to effectively monitoring the virus and sustaining use of the contact tracing apps.
De Gasperis partnered with Abhishek Gupta, founder of the Montreal AI Ethics Institute—of which she is also a core team member—to advocate for PD in contact-tracing solutions for COVID-19 by producing a well-researched position paper that they are currently circulating to relevant journals.
Says De Gasperis: "PD offers a great way to build trust—involving stakeholders from the very beginning, being highly iterative to keep improving, and building something that is inclusive."