National Day For Truth and Reconciliation at OCAD University

On September 30, members of the OCAD University community will gather together from 9:30 a.m. to 1:30 p.m., to read the Truth and Reconciliation Commission's 94 Calls to Action, as part of the University's planned events to commemorate the first National Day For Truth and Reconciliation. The public reading will take place outdoors at Butterfield Park.

Staff, students, and faculty are encouraged to take part in this important collective effort. To participate, please sign-up here. Note that the booking link only allows one sign-up option per individual; please click the scrollbar for the full range of available time.

Classes will be cancelled and the community is encouraged to refrain from booking meetings, where possible. The university is open and active with related programming, and faculty are asked to refrain from any required synchronous sessions.

The uncovering of hidden graves of Indigenous children buried at former Indian Residential Schools urges us to activate the 94 Truth and Reconciliation Calls to Action. This uncovering further highlights a need for us to acknowledge the grim and ongoing legacy of the Indian Residential School system in Canada. 

Following the Federal Government's recent passing of legislation to designate September 30 as National Day for Truth and Reconciliation, OCAD University will come together as a community to read out loud, to listen, to hear each other's voices and be witness to one another's commitments to Indigenous Knowledge(s). Accountability requires action, and action deepens our collective commitments to Indigenous peoples and Indigenous Learning, as is outlined in our Academic Plan.
Informed by the ongoing work of building community and aiming to amplify the significance of previous events such as Prof. Ryan Rice's Well Read,  the OCAD U community will come together in this gesture of acknowledgement and as a demonstration of our shared commitment to do more. 

To magnify the impact of our efforts, the community is encouraged to donate to the Toronto Council Fire Native Cultural Centre. 

To further commemorate, the public reading event will be followed by a virtual panel from 2 to 3 p.m. hosted by Dr. Ashok Mathur, Dean of Graduate Studies and Interim Vice-President of Research and Innovation.

He will be joined by Dr. Jonathan Dewar and Dr. Mike DeGagné to discuss their experiences in producing Cultivating Canada, ten years after its 2011 publication.

Cultivating Canada: Reconciliation through the Lens of Cultural Diversity was the third and final volume in a series published by the Aboriginal Healing Foundation (AHF).

The series was dedicated to a journey of reconciliation and this final volume did so by looking through the lens of cultural diversity. The publications in this volume were from perspectives outside the norms of the French and British and focused primarily on the perspectives of new and racialized Canadians. Indigenous people have had a traumatic history in Canada and it is important that newcomers and racialized Canadians understand the history and relationship that Indigenous peoples have had with the Crown as it is different than other Canadians.

Dr. Dewar is Chief Executive Officer, First Nations Information Governance Centre and was also the Director of Research of the AHF. Dr. DeGagné is President and CEO of Indspire and was the Executive Director of the AHF. Calendar invite and meeting details to follow.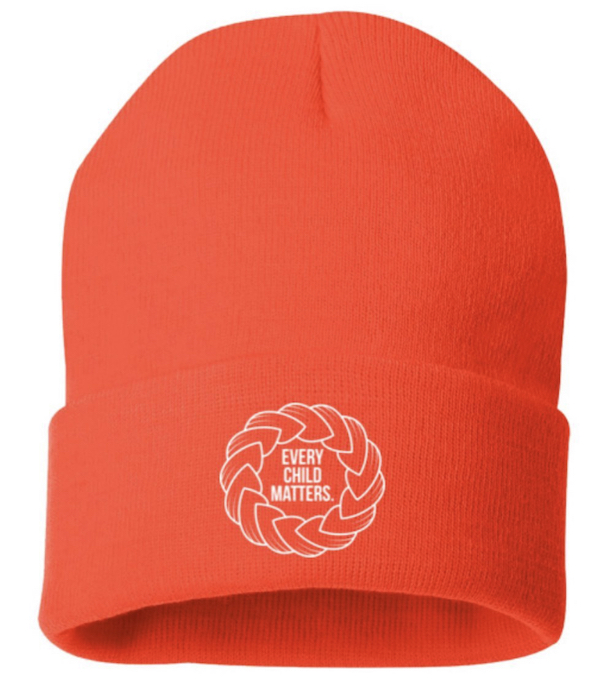 September 30 is also Orange Shirt Day. Wear orange as a symbol of remembrance. Take some time to learn more about the impacts of Canada's Residential School System and the experiences of its survivors. More information and links to resources are available on our website.
Every Child Matters Fundraiser
The Indigenous Student Centre is selling orange toques ($20 cash only) to raise funds for Save the Evidence and We Matter. Toques will be available for Indigenous OCAD U students at no cost, for a limited time. Please contact Reagan Kennedy, Student Success Coordinator by September 29, 2021. Indigenous community members are invited to pay-what-you-can.

Purchase a toque at:

Indigenous Student Centre
OCAD U students, faculty and staff can purchase toques at the Indigenous Student Centre (113 McCaul Street, Level 4) from Monday, September 27 to Wednesday, September 29, 9 a.m. to 5 p.m. (closed from 12 to 1 p.m. for lunch).  
Butterfield Park
The general public along with the OCAD U community, can purchase toques on Tuesday, September 28, 11:30 a.m. to 2:30 p.m.  
Image: The artwork in the design above, featuring interlocking hands made to resemble a sweetgrass braid, was created by OCAD U alumni Mariah Meawasige (Serpent River First Nation)

OCAD University acknowledges the ancestral and traditional territories of the Mississaugas of the Credit, the Haudenosaunee, the Anishinaabe and the Huron-Wendat, who are the original owners and custodians of the land on which we live, work and create.

Image credit: Flower at Sunset (2021) by Ravi Sharma.