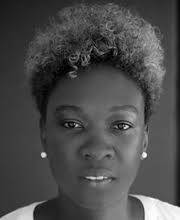 Former OCAD U creative writing instructor and poet, Canisia Lubrin, is among four Canadian women poets to be featured in Fiery Sparks of Light, an innovative augmented reality (AR) poetry experience debuting at the internationally acclaimed Frankfurt Book Fair (Frankfurter Buchmesse), October 20 to 24, 2021. Lubrin is currently Assistant Professor of Creative Writing at the University of Guelph in the School of English & Theatre Studies. 
"We are excited to collaborate on a project that shines a light on four renowned Canadian women poets," says Ana Serrano, President & Vice Chancellor, OCAD University. "This partnership is an excellent example of how we collaborate with experts across institutions to showcase Canada's leadership in shaping arts and culture sectors internationally."
The production reimagines a collection of poems by four renowned Canadian women poets – Margaret Atwood, Nicole Brossard, Canisia Lubrin and Sarah Tolmie – as an augmented reality experience featuring holographic performances.
Earlier this year, Lubrin won the 2021 Griffin Poetry Prize for her collection of poems, The Dyzgraphxst  published by McClelland & Stewart. This collection has received numerous accolades, including the OCM Bocas Prize for Caribbean Literature, OCM Bocas Prize for Caribbean Literature Poetry, and was a finalist for the Governor General's Literary Award for Poetry. The collection was also a finalist for the Trillium Book Award for Poetry, winner of the Derek Walcott Prize for Poetry a finalist for the Rebel Women Lit Caribbean Reader's Awards and longlisted for the Raymond Souster Award and the Pat Lowther Memorial Award.
Fiery Sparks of Light will be part of an exclusive hybrid (onsite/digital) program that celebrates Canada as the Frankfurt Book Fair Guest of Honour 2021.
It will be featured prominently among other exciting Canadian literary and cultural experiences that celebrate innovation in creative industries, the promotion of women and youth, and reconciliation with Indigenous Peoples, at the Guest of Honour pavilion on the fairgrounds.
Using volumetric cinema technology as the foundation, including spatial-sensing capture equipment, Fiery Sparks of Light includes an accompanying printed book, designed by OCAD U Associate Professor Richard Hunt, that contains QR codes that bring Tolmie, Lubrin, Brossard and Atwood to life as holograms on a mobile device.
This will enable guests to experience these four poets reading their own original poems, which explore feminist perspectives of patriarchy, gendered objectification, stereotyping and oppression, while further augmented audiovisual after-effects augment the viewer's experience. This sensory exploration is designed to elicit an emotional response as users set the stage for these fiery written words to spark to life.
"We are delighted to contribute our expertise to this multi-faceted collaboration, a project that propels us to new forms of poetic expression and showcases OCAD U's depth of innovation in augmented reality," says Glen Lowry, Executive Director & Advisor to Provost/Partnerships, Outreach & Research. 
Produced with the participation of Telefilm Canada, 'Fiery Sparks of Light' is a CFC Media Lab and York University Immersive Storytelling Lab Co-Production in Partnership with Griffin Trust For Excellence In Poetry, supported by OCAD University.