OCAD University's RBC Centre for Emerging Artists & Designers (CEAD) and Royal Ontario Museum (ROM) have partnered to co-create a Career Launcher program as part of ROM's Canadian Modern exhibition.
The Career Launcher program is providing eight emerging designers, representing different practices, and a diverse range of voices and approaches, the opportunity to participate in the ROM's winter 2022 exhibition, Canadian Modern, from December 3, 2022 to July 30, 2023.
"OCAD U is so proud of the talented designers who are participating in this incredible opportunity to be a part of the Canadian Modern exhibition at ROM," says OCAD U President and Vice-Chancellor Ana Serrano. "Thoughtful, playful and decidedly unafraid to confront the complexities of today, these designers and their designs exemplify what we have come to expect out of OCAD U."
Six works from eight OCAD U designers were selected for display by a jury of distinguished experts, including Dean Dr. Elizabeth (Dori) Tunstall, OCAD U Faculty of Design; Assistant Professor Howard Munroe, OCAD U Faculty of Design; and Dr. Rachel Gotlieb, lead curator of Canadian Modern.
"Drawing from ROM's rich collection, Canadian Modern charts the emergence of a uniquely Canadian craft and design sensibility shaped by the country's diverse peoples and its vast, awe-inspiring geography," says Josh Basseches, ROM Director & CEO.
About Canadian Modern
Canadian Modern explores the legacy of Canadian creativity and ingenuity and its impact on our everyday lives. Through over 100 objects designed and crafted in Canada from the mid-20th century to the present, the ROM original exhibition will reveal that design is everywhere—whether we know it or not.
Delving into the inspiration behind Canada's innovative contributions to modern design and craft, Canadian Modern will feature work from more than 70 designers and 40 manufacturers, celebrating makers from across the decades.
The exhibition is curated by Dr. Rachel Gotlieb with assistance from Dr. Arlene Gehmacher.
Click here to learn more about Canadian Modern.
Meet the OCAD U designers
Anthia Barboutsis (BDes Material Art & Design 2021)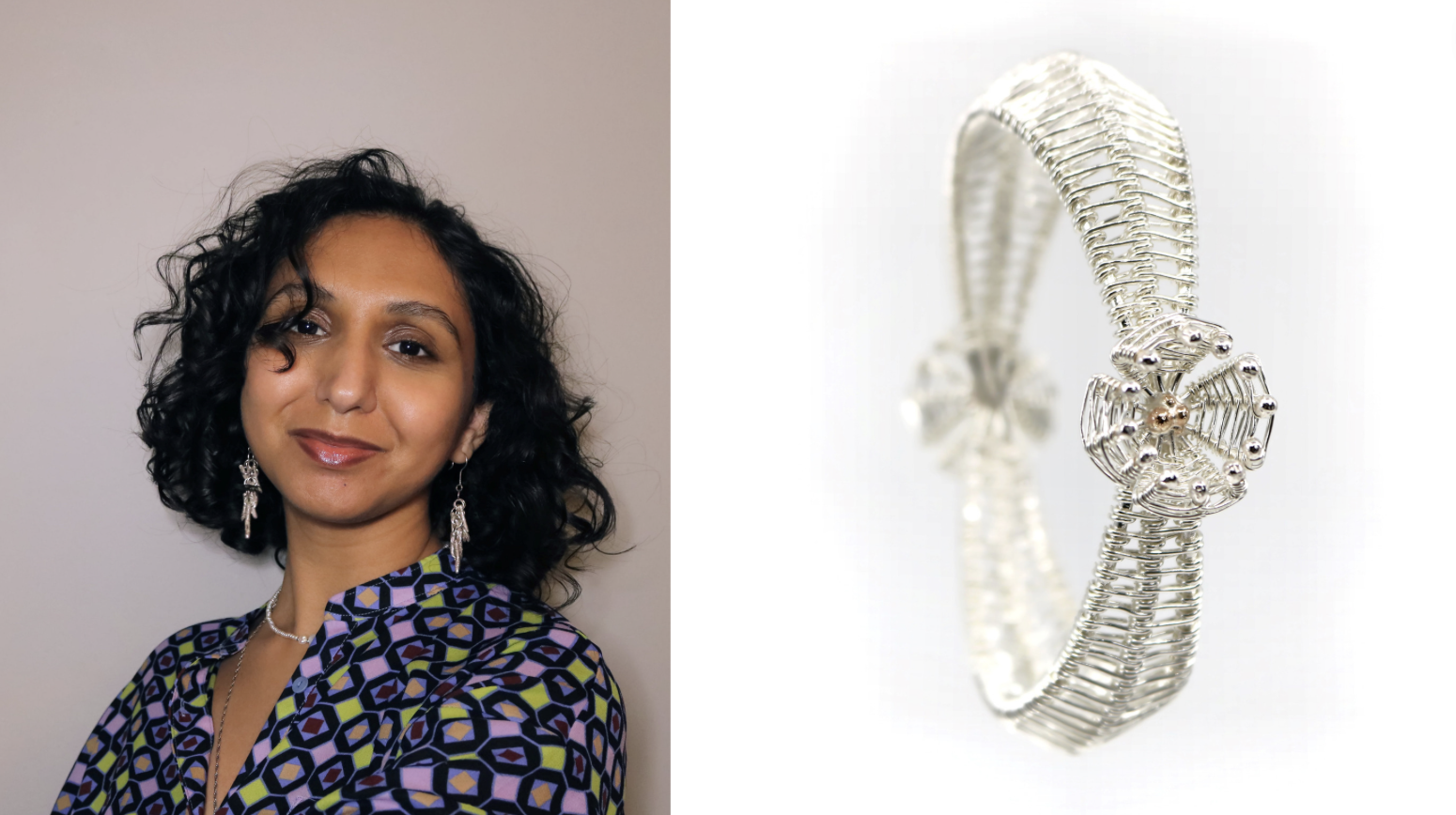 Works on exhibition:
Coherence earrings and Continuity bangle, 2022
Sterling silver, 14k yellow gold, hard and medium silver solder
"Through my art, I bring various stories and forms, past and present, together to convey a new understanding. My work merges basket weaving and loom weaving techniques with traditional jewellery fabrication to embody flowers in bloom. Like many other first-generation Canadians, I reflect on designs from my heritage to create something new, something beautiful, and something worth celebrating." 
Anthia Barboutsis is an art jeweller from Toronto. Her work is rooted in traditional craft and draws inspiration from her Greek and Indian heritage. Barboutsis blends ideas from disciplines including history, philosophy, and contemporary art and design.
Elfy Castro (Interdisciplinary Master's in Art, Media and Design, 2024)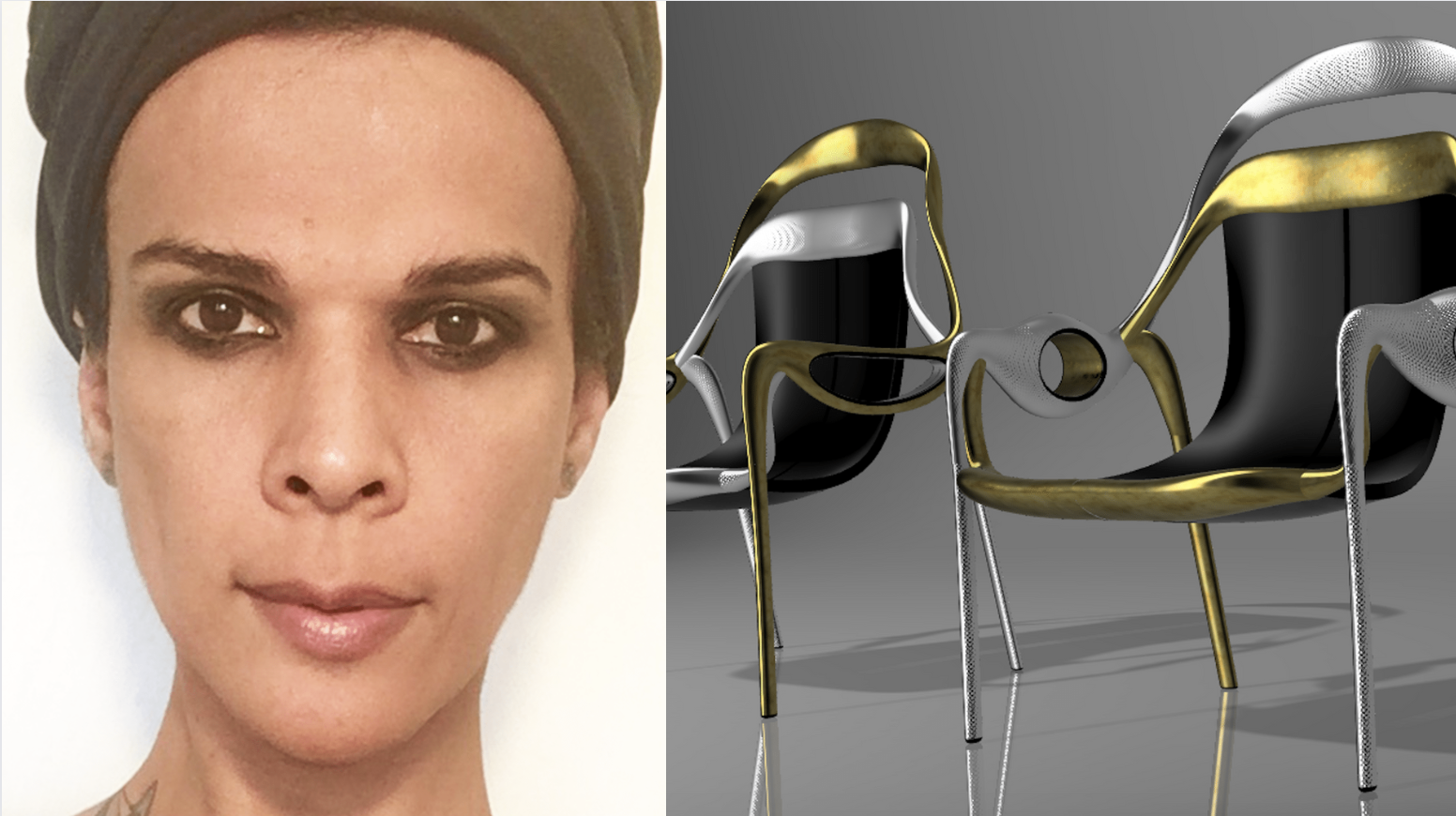 Work on exhibition:
IDENTITY Chair (models), 2021
"The history of art and design in Canada is very Eurocentric and masculine, and this work challenges this legacy. Identity explores how gender stereotypes can be manifested in a chair. The chairs' materials, textures, and shapes represent the binary of masculine and feminine. This binary affects everyone including how one is perceived when they sit in a chair."
From textiles to product design, Elfy Castro integrates traditional and modern techniques with sustainable media. Their work immerses viewers in diverse worlds where past and future find common ground through identity and story.  
Rachel Leung (BDes Graphic Design, 2026)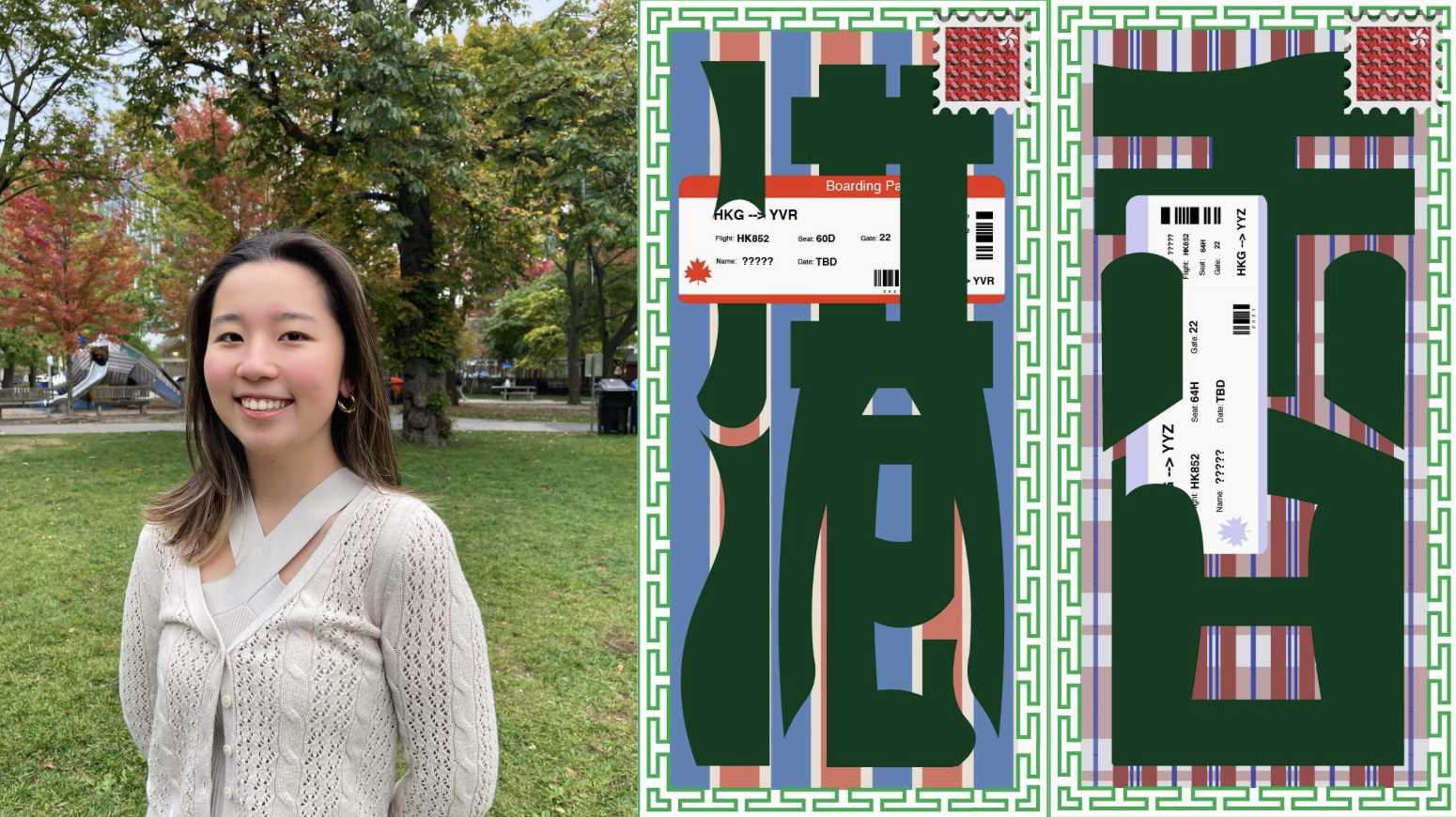 Work on exhibition:
Package to be Delivered, 2022
Digital print on poster paper and foam board mounting
"My artwork depicts the new wave of Hong Kongers immigrating to Canada in recent years. This piece was created about a month after my arrival to Canada to reflect on the experience of leaving home and building my new reality.  "As immigrants from Hong Kong begin a new chapter of their lives abroad, this also marks a new modern era for Canada." 

Rachel Leung explores the function and symbolism of colour in her work. She uses hidden motifs in the details of her designs to draw viewers in and spark their curiosity.
Stephanie Singh (Interdisciplinary Master's in Art, Media and Design, 2023)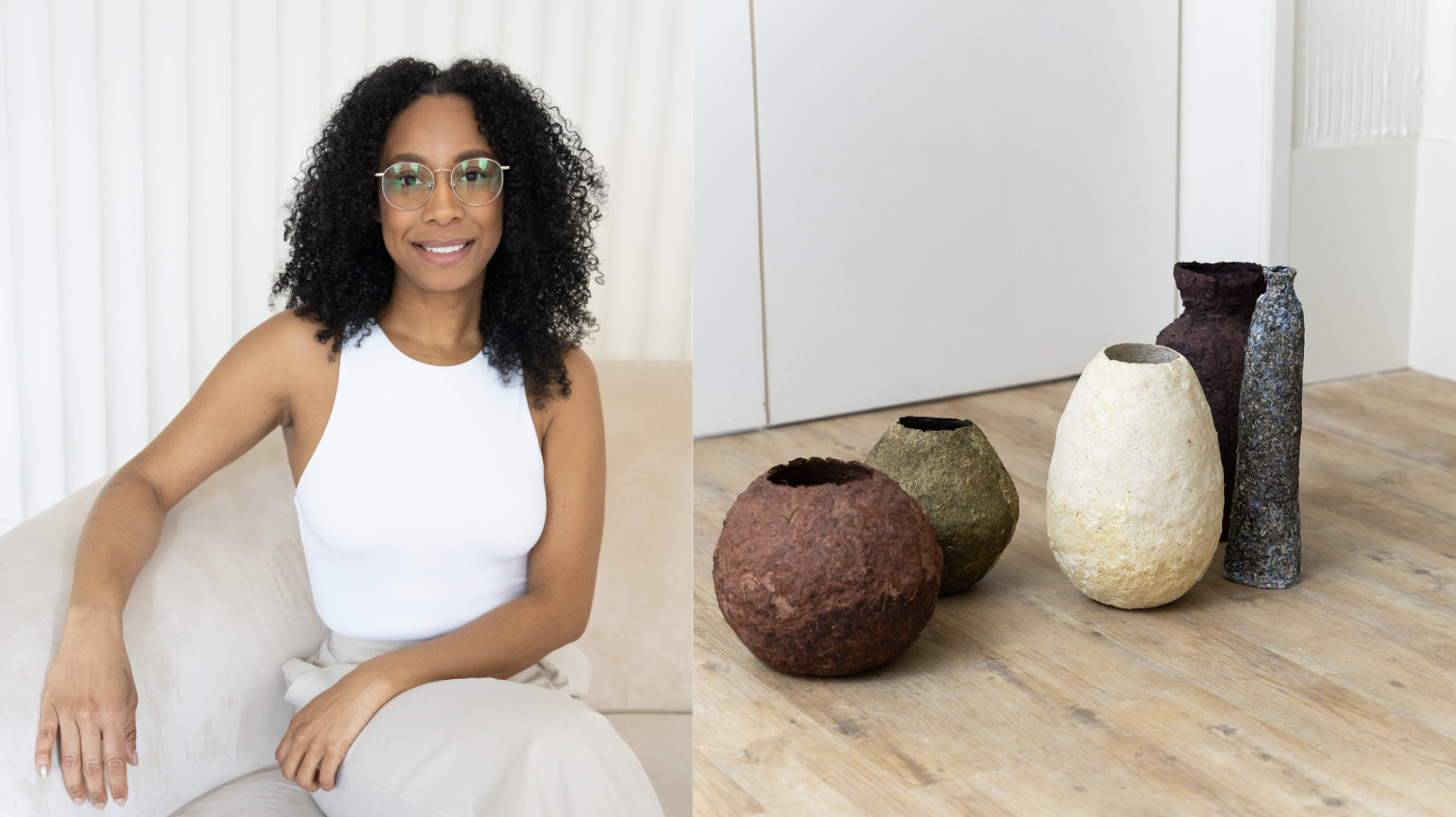 Work on exhibition:
Black Foliage: Material Vases 2022
Marijuana pulp, sugarcane pulp, lignum vitae pulp
"This work centers my experience as a first-generation Canadian-Jamaican. As a Black woman in the Caribbean diaspora, the lands of Canada have educated me on the role of plants in our lives. Plants can be beautiful to look at, but their visual appeal can make it easy to overlook their life-giving properties and complex environmental adaptations. Materials and land are just as important as design and aesthetics." 
Stephanie Singh is a Toronto-based interdisciplinary textile designer. Her work explores memory, preservation, love, care, loss, healing, and plant consciousness. Singh focuses on materials connected to her Caribbean culture, storytelling, and botanicals. 
Khalalelo Sithole (BDes Material Art & Design, 2020)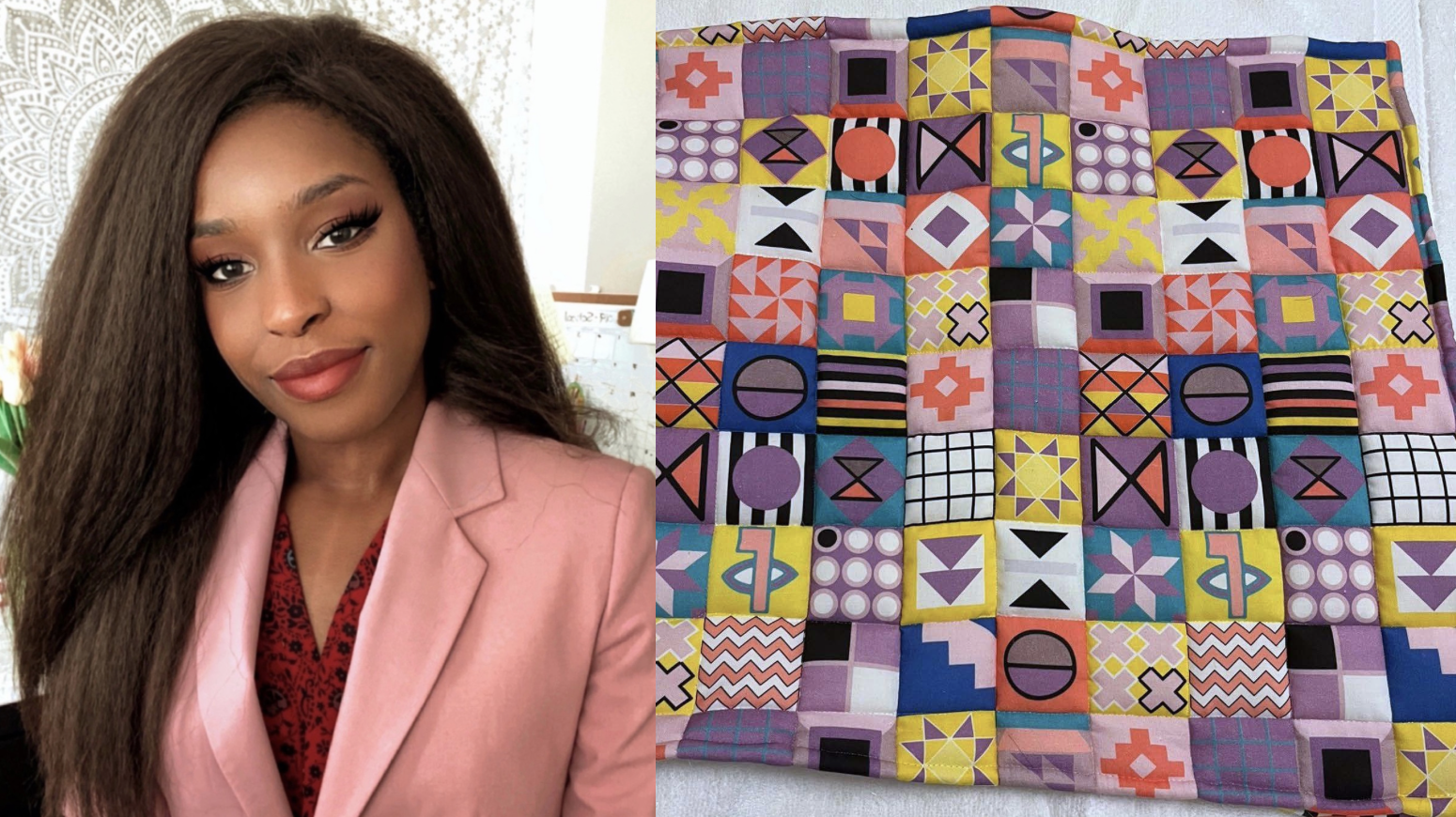 Works on exhibition:
Africville: A History Erased, 2020
Coded Expression, 2020
Quilted Dress, 2020
"Our Black Canadian history is constantly overshadowed by African American history; we know of Rosa Parks but not of Viola Desmond, former resident of Africville. I seek to challenge the systemic erasure of Black Canadian history and retell it through coded textiles; a medium that Black culture has used for generations. This coded collection is a representation of my identity and the erasure of African Canadian history."
Khalalelo Sithole is a passionate fashion and textile designer. She is influenced by modern trends and sociocultural themes. Her work features dynamic color compositions, symbolic patterns, and storytelling.
Dan Cui (BDes Industrial Design, 2023), Harcharan Jagdev (BDes Industrial Design, 2022), Pei Hsuan (Peter) Huang (BDes Industrial Design, 2023)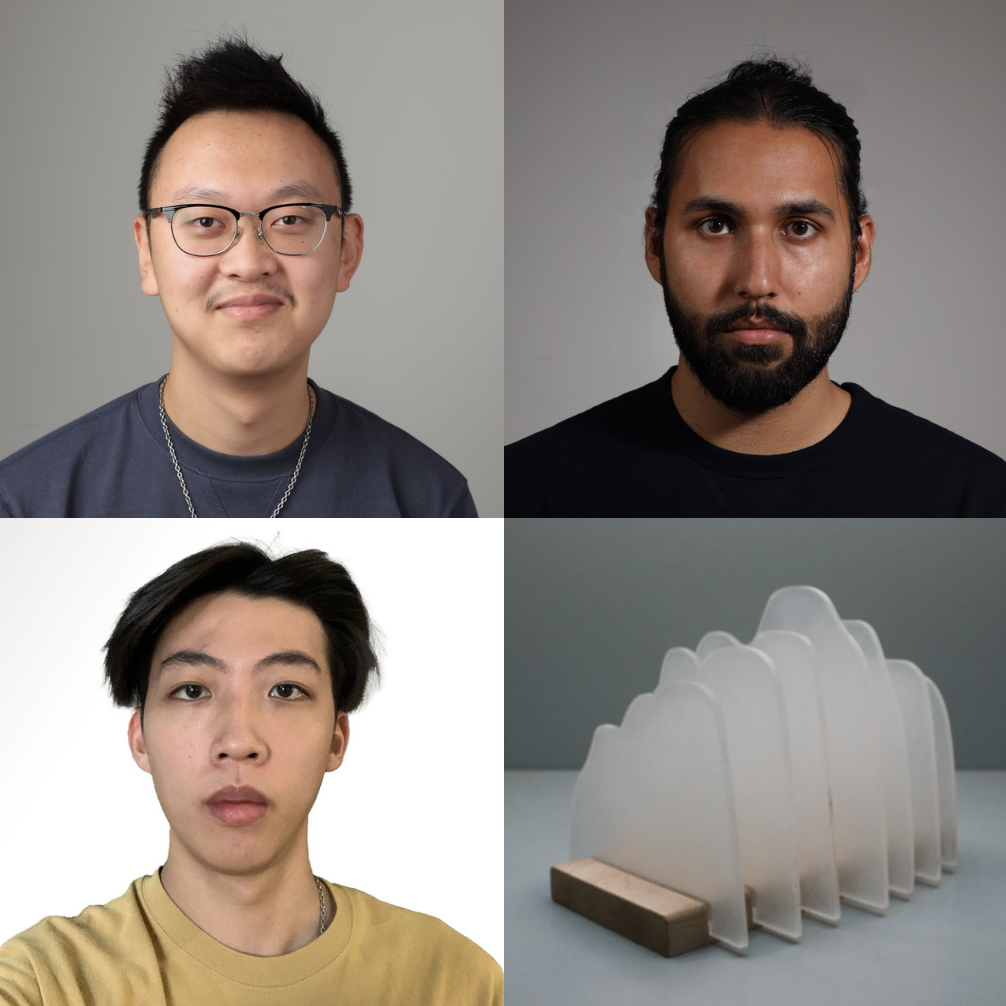 Work on exhibition:
Athabasca, 2019
Acrylic, maple
"Athabasca is a stationery organizer made of acrylic "ice sheets" slotted into a maple base to depict a melting glacier. The forms and material represent the Canadian landscape, and the modularity of the piece speaks to a flexible mindset as we face new challenges. These are some of the core values of contemporary Canadian design: connecting to our environment and caring for its well-being."

Dan Cui is a Chinese-Canadian artist and designer working in furniture, conceptual art, and sculpture. His current focus is sustainability as he explores the relationship between design and the environment.
Harcharan Jagdev is a multi-disciplinary designer who builds living spaces and creates audiovisual and interactive experiences. The core foundation of his work is idealization.
Pei Hsuan (Peter) Huang is a Taiwan-born industrial designer based in Toronto. Currently he is investigating the impact of digital and physical design on the human experience to further understand the world we live in.