Designing for Diversity, our International Online Residency Experience (IORE) brought together 15 emerging designers from OCAD U and ENSCI Les Ateliers (Paris, France) for a virtual design workshop investigating a new role for designers as cultural connectors as they collaborated on interaction design, service design, product design and spatial design. Students joined this collaborative program from France, Canada, India, Germany and El Salvador. They were encouraged to discuss designerly solutions to support cultural diversity sourcing from their own experiences and participation from international guest speakers. On the last day, students presented and shared their integrative design results to a speaker panel. Led by faculty members Job Rutgers (OCAD U) and Sarngsan Na Soontorn (ENSCI-Les Ateliers).
Khuyen Forsythe is currently a Masters candidate at OCAD U, Strategic Foresight and Innovation. She was also a participant in the 5-day intensive IORE Designing For Diversity.
As a designer and strategist, how did you approach the role of 'cultural connector' during this residency? What designerly solutions did you and you group investigate?
I was excited to participate in this residency to collaborate with peers across different cultures. One of the most important things I've learned about collaboration is to listen to each individual, and that good creative decisions are a group effort. Our group collaborated on a single solution that would help small grocers set up interactive wayfinding to strengthen communities and cultures. We created a bilingual toolkit with options for signage and symbol-making to improve store functionality and to share stories of the owner's own culture through their products with the community they were situated in.
Taking a look at your website, your work looks quite multi-disciplinary. Tell us a bit about yourself and your practice. How has your personal story played a role in helping you develop your research. 
I originally graduated from the design program at NSCAD University in Halifax, Nova Scotia. I worked as a graphic designer for several years before freelancing to work on projects that required a lot of research, storytelling, and prototyping. My goals were always to produce meaningful experiences. I enrolled in the SFI program at OCADU to gain a new set of tools for strategy, foresight, and systemic design. I've connected strongly to the collaborative nature of the program, and have spent the last year designing, facilitating, and participating in workshops to solve problems from start to finish.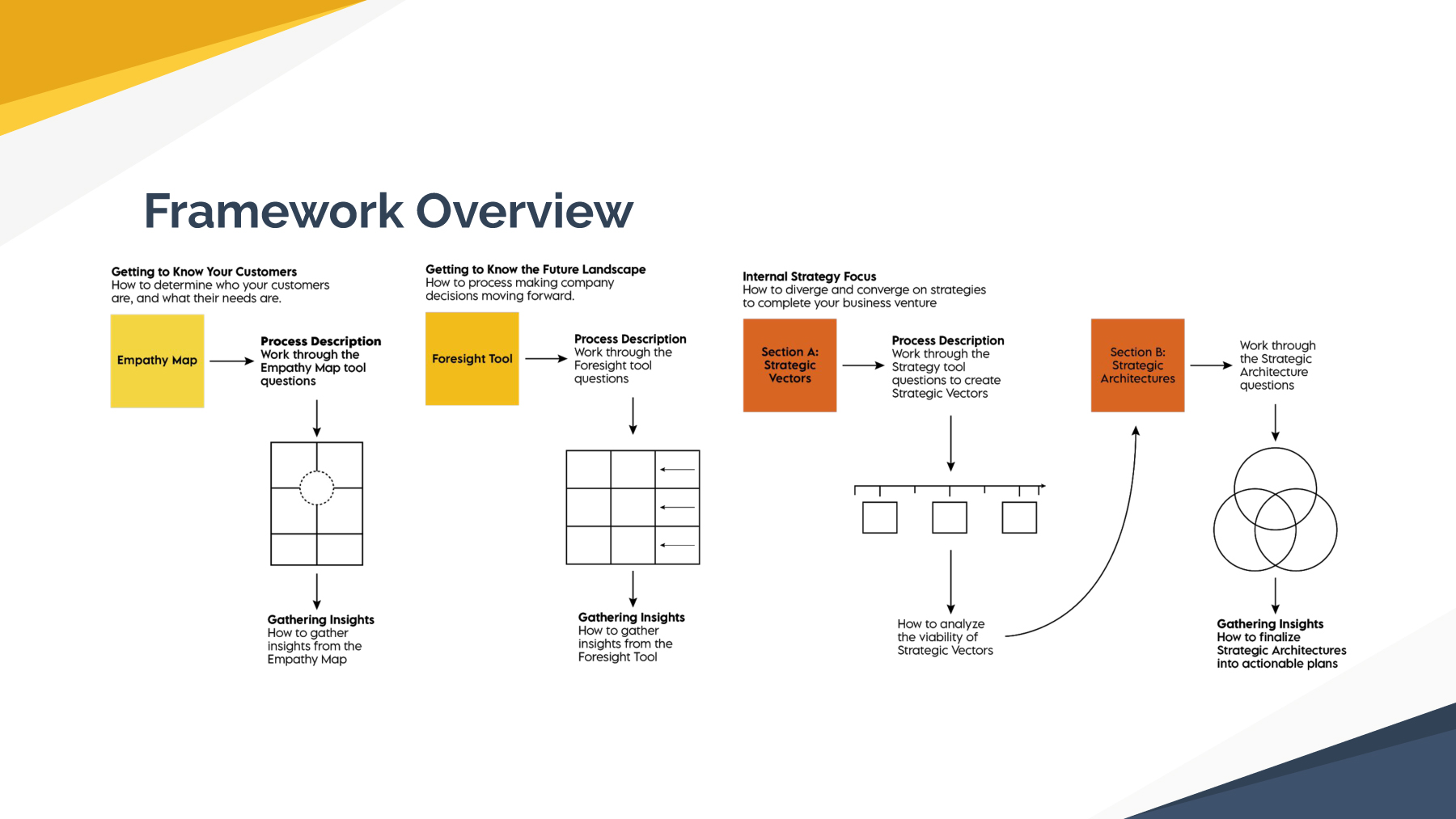 A visual representation of the research and development tools our group used to develop a customer and organizational strategy for a quick-serve restaurant in Toronto, Ontario. 
Design thinking in mind, what are your favourite types of projects to work on?
At the end of the day, I design for people. Any project that aims to improve the human condition, or to make a service or system empowering for people in equitable ways, is a project I am interested in. I think the strengths of design thinking are its roots in collaboration and in creation. Bringing stakeholders to the table to build the ideas that help them accomplish their goals is what I'm truly passionate about.
Though traveling is not a current reality right now, if you could take a trip anywhere in the world, where would it be and why?
 I feel very lucky and privileged to be living in warm and sunny Los Angeles, California right now as I finish up my degree remotely. In a post-pandemic world, it'll be exciting to travel to Italy for the art, the food, and the culture of living life to the fullest.
Follow OCAD U International to keep up to date with all our current projects, events and opportunities