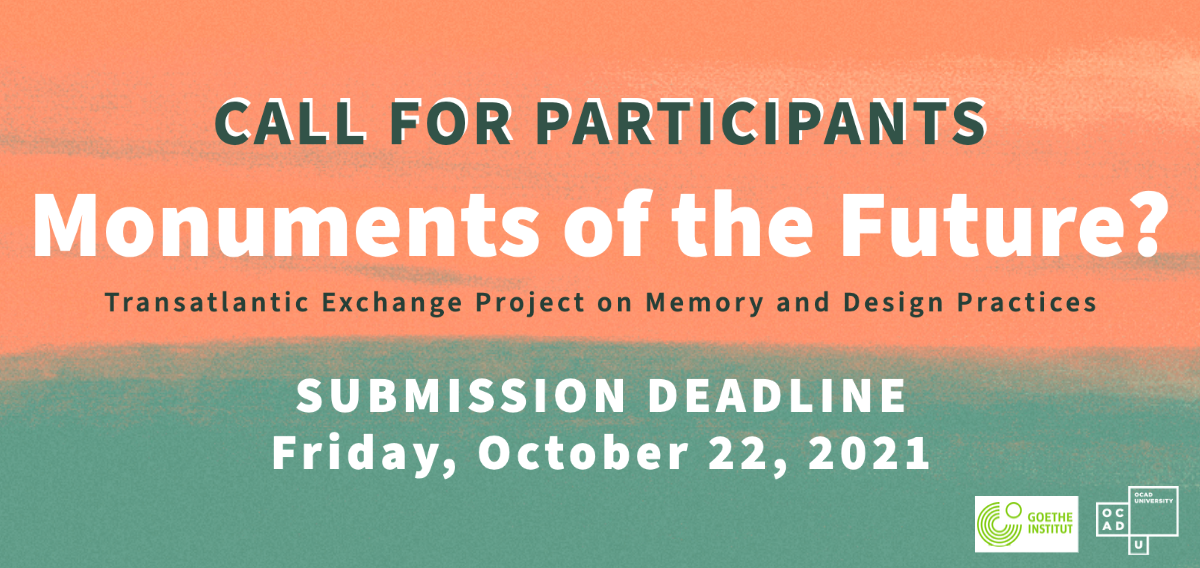 Call for Participants – Monuments of the Future?
A Transatlantic Exchange Project on Memory and Design Practices
co-sponsored by the Goethe Institute (Germany)
Submission Deadline: Friday, October 22, 2021 (midnight) 
Apply to this international collaboration opportunity! 
ABOUT THE PROGRAM 
In the Monuments of the Future Program, five North American and German universities engage in a deep dialogue on the culture of remembrance and, in this context, address the handling of common and opposing memories regarding decolonization, racism, exclusion, and memory narratives beyond the mainstream.  
In the first phase of the project design and history students, their professors, and additional experts including Indigenous Elders, designers, activists, and historians will meet regularly on a digital platform to facilitate six online workshops; co-create a mind map of memory across Canada, the United States, and Germany; design a "memory box" to educate global youth.  
TIMEFRAME 
Six (6) online workshops with students from across the U.S., Canada, and Germany, including one introduction, four discussion sessions, and one wrap-up/next steps session, will take place between November 15th 2021 - February 2022. 
*If the on-going Covid-19 pandemic permits* There will be potential to follow this with a travel opportunity to further research in Germany that will be offered to students during the second phase of the project (Spring 2022). The travel exchange will need be part of a Spring course to receive funding.  
ELIGIBILITY 
The program is seeking applications for four spots on the OCAD U team. In order to emphasize the decolonial focus, there are spots for three students who self-identify at Indigenous and one non-Indigenous student who demonstrates deep allyship. All applicates must be in the middle years (3rd year prioritized, but also 2nd year) of their Design or Indigenous Visual Culture Programs. Indigenous students will be prioritized in fulfilling three of the four spots.  
Participants will be selected through an application process that is based on decolonial praxis, designerly merit, availability and interest in collaboration. 
OCAD U students considering this opportunity: 
Each student will receive a $2000 stipend and if permitting, potential flight and accommodations travel expenses to Germany. 
  This partnership opportunity requires self-motivated students willing to work collaboratively outside of a course on an extraordinary international initiative between Goethe-Institut North America in cooperation with: 
Bundeszentrale für politische Bildung/bpb (Federal Agency for Civic Education):  
Harvard University (Prof. Vincent Brown);  
Parsons/the New School for Social Research (Prof. William Hirst);  
Ontario College of Art and Design University in Toronto (Prof. Dori Tunstall and Prof. Matthew Hickey) 
Academy of Media Arts Cologne (Prof. Mischa Kuball);  
Berlin-Weißensee School of Art (Prof. Ulf Aminde, Prof. Bonaventure Soh Bejeng Ndikung and Prof. Nasan Tur) 
You will need to plan your time efficiently, to prioritise intensive meetings, coordination and project generation with a group of peers selected for this project. The residency group meetings will be determined by the teams once formed. An Elder mentor will be provided for cultural support throughout the project.  
HOW TO APPLY 
In a Google Drive/Dropbox link or single PDF document:
1.       Please include: 
o   What year are you expected to graduate? 
o   Self-Identification as Indigenous or non-Indigenous person 
o   Name, Email address, specific Design or INVC Program, and year of study 
o   Schedule of available days and times  
2.       In a 200-word statement, include the following: 
o   Description of your decolonial praxis (decolonization theory + practice) 
o   Explanation of how you work/would work collaboratively with others  
o   Statement of how your praxis might be influenced by this experience 
3.       Submit 5 images of relevant artwork  
o   JPG at 72 dpi                                                                                                        
o   label image with your initials, title, medium 
Email the completed PDF or Dropbox link to jcardenasobando@ocadu.ca by Friday, October 22, 2021, midnight 
FACULTY LEADS OCADU TEAM 
Dori Tunstall – dtunstall@ocadu.ca 
Matthew Hickey – matthewhickey@ocadu.ca  
QUESTIONS: 
Dori Tunstall – dtunstall@ocadu.ca  
Jasmine Cardenas - jcardenasobando@ocadu.ca 
Stay Connected! Follow OCADU International on Instagram