SiteLines Presents
With this Ring
Documentary Screening and Talkback Session with Directors
SiteLines is a partnership between OCAD U and the Canada Council for the Arts promoting diversity in the arts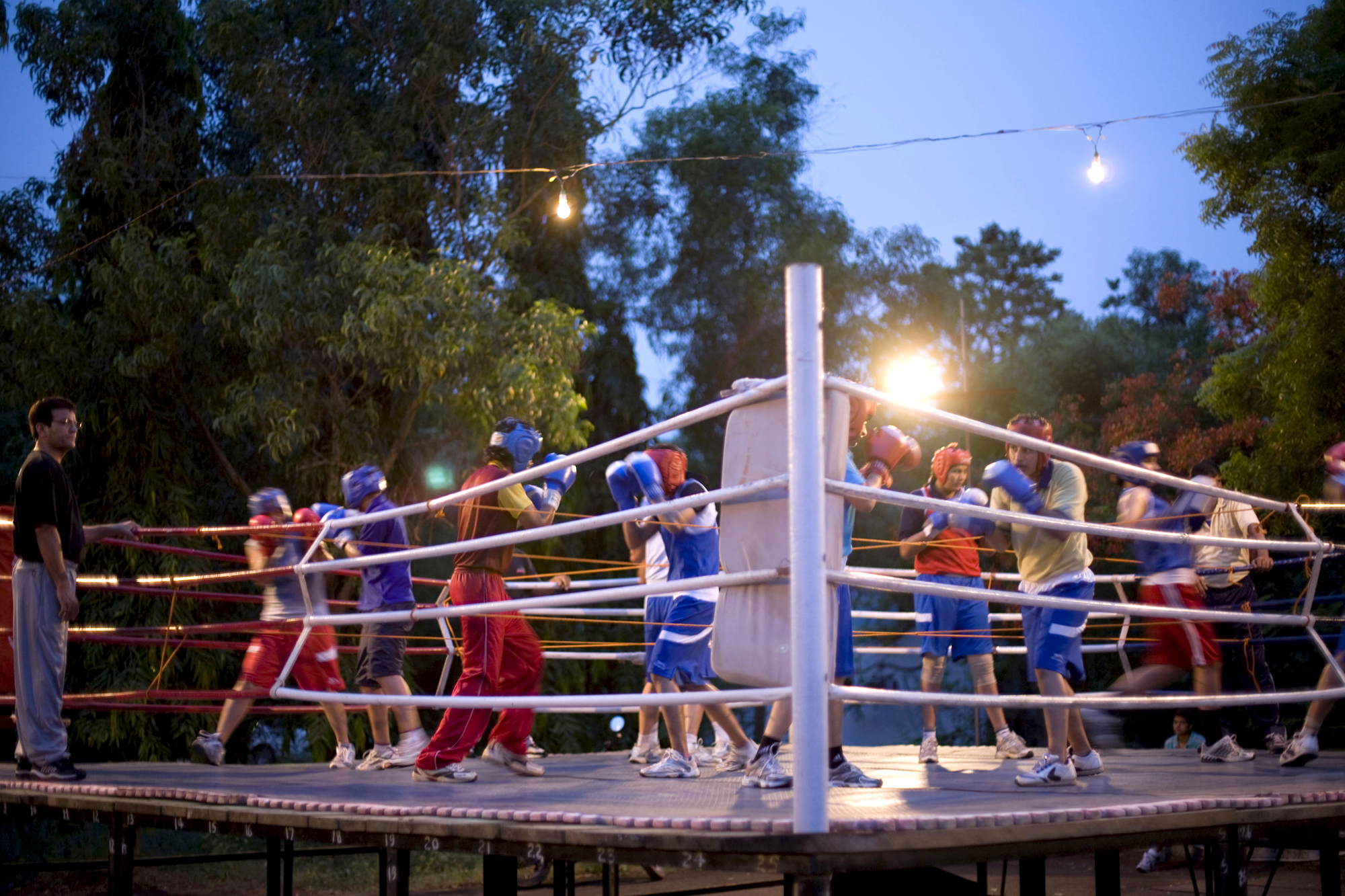 With This Ring is an independent documentary about the women who make up the Indian national boxing team. Filmed over the course of six years in four countries.

Date
Wednesday, October 27, 2021 - 10:00 am EST / 7:30 pm IST
Filmed over the course of six years, With This Ring follows the meteoric rise of three Indian women who side-step traditional roles to become world champion boxers. Worried that boxing will disfigure their faces and hurt their chances of getting married, their parents are reluctant to embrace their chosen careers. Facing pressure to conform, Mary, Sarita and Chhoto test boundaries as they become the primary wage earners in their families. While the team dominates at world championships, they continue to train in oblivion in India. Boxing becomes their lifeline, their source of income, their community, and ultimately what rips them apart.
Featuring boxers
Sarita Devi, MC Mary Kom and Chhoto Loura
Awards
Emerging Director, Documentary - Asian American International Film Festival | Honourable Mention - Mosaic International South Asian Film Festival
Festivals
World Premiere: Mumbai International Film Festival, Mumbai, India | Opening Film: Cinema of Resistance Film Festival, Indore, India | Asian American International Film Festival, New York, United States | Atlantic Film Festival, Halifax, Canada | Chicago South Asian Film Festival, Chicago, United States | Mosaic International South Asian Film Festival, Mississauga, Canada | New York Indian Independent Film Festival, New York, United States
Screenings
Amity University School of Communication, Noida, India | antiSOCIAL, New Delhi, India | Cinema Politica, Concordia University, Montreal, Canada | Film and Television Institute of India, Pune, India | The Humming Tree, Bangalore, India | India International Centre, Delhi, India | Maharaja Sayajirao University University of Baroda, Vadodara, India | National Institute of Design, Ahmedabad, India | Rotary Centre for the Arts, Kelowna, Canada | University of British Columbia, Vancouver, Canada | University of Oxford, Oxford, United Kingdom | University of Northern British Columbia, Prince George, Canada
Zoom Link
https://ocadu.zoom.us/j/87500785600?pwd=dlVua3AvSjMyZG1yS2ttVWZqeEFFdz09
Email
larynvandyk@ocadu.ca
Cost
Free Documentary
Documentary Website
https://www.withthisringfilm.com
Ameesha Joshi, Director & Producer
Ameesha Joshi has a B.A. in Psychology and worked as a UX designer in the software industry for 7 years before turning her attention towards filmmaking. She has an M.F.A in Film Production and has written and directed several short fiction and documentary films that have been screened in film festivals around the world. Her work is often inspired by her Indian heritage and she wants to create stories about complex characters with diverse cultural backgrounds that avoid clichés.
Anna Sarkissian, Director & Producer
Born in Montreal, Anna Sarkissian is a filmmaker, writer, and anthropologist. Her work has been screened at the Canadian Parliament, in galleries, and on television. She received her bachelor of fine arts from Concordia University's Mel Hoppenheim School of Cinema and her master's in anthropology from the University of Oxford. She is currently researching women directors in Hollywood for a Ph.D. in anthropology.