Exploring connections between the natural environment and people through art and texture.
Students from OCAD U School of Continuing Studies.
Fall 2023.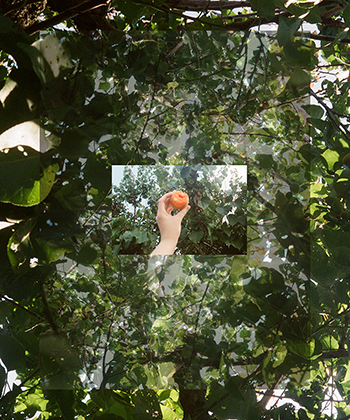 Untitled Portal 05, digital collage, 2023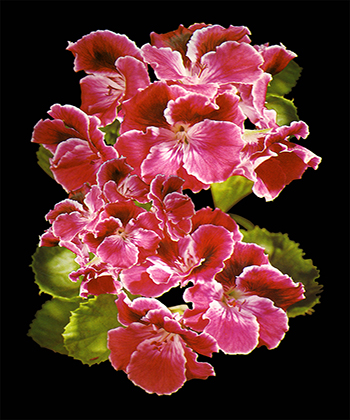 Big Pink, digital collage, 2021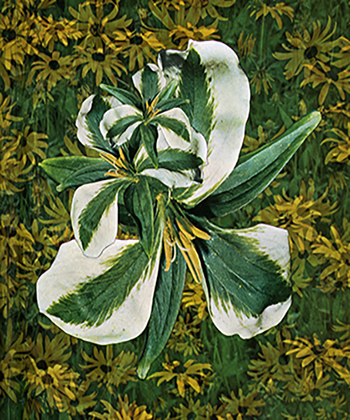 Trumpet Trumpet 02, digital collage, 2021
LAURA KAY KEELING
Laura Kay Keeling is a self-taught visual artist, currently located in Hamilton, Ontario with a practice that questions how we form connections with the natural world. Her work encompasses analog photography and video, digital collage, and installation.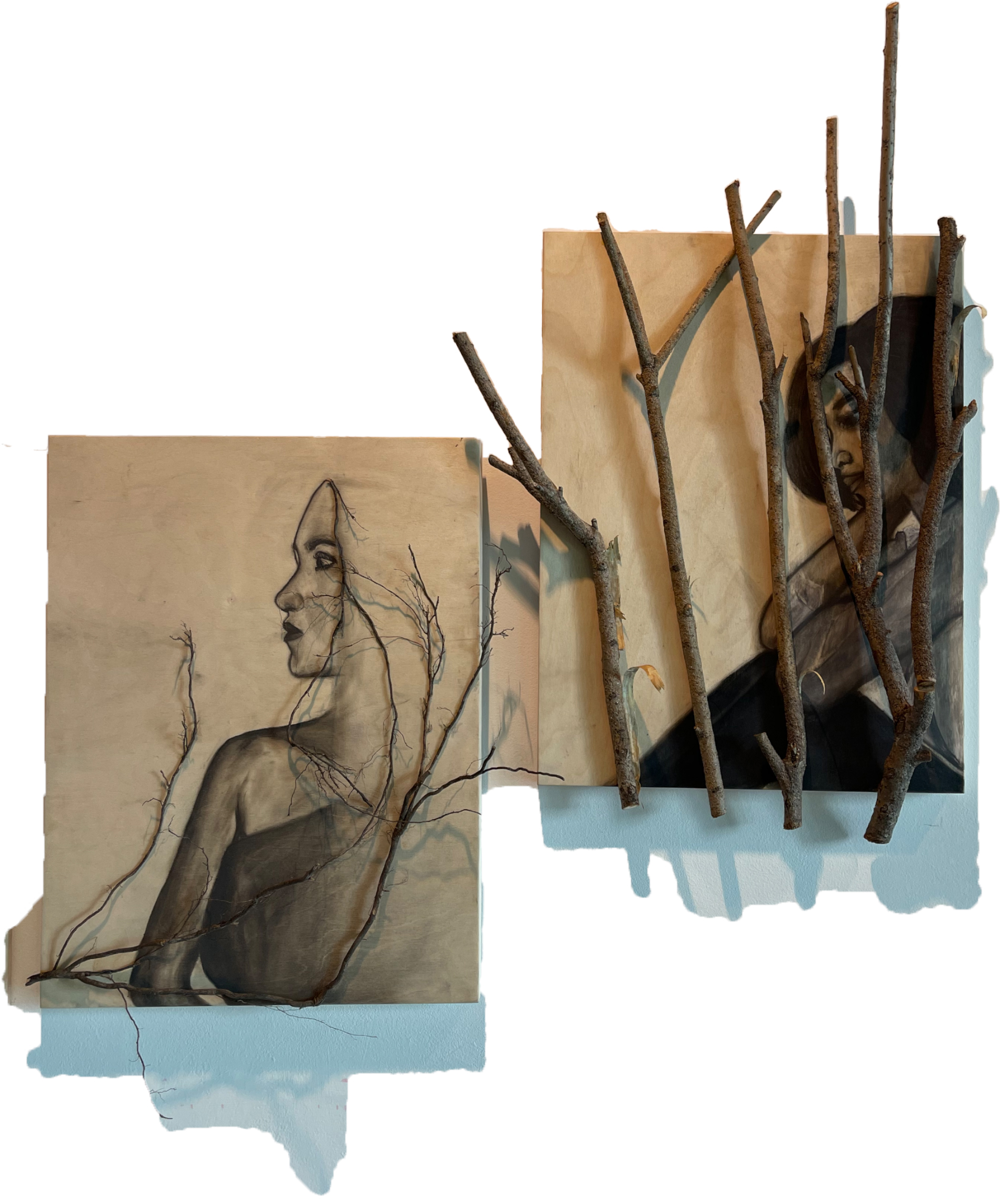 A Vision of Empowerment
This artwork links nature with women's quest for freedom, illustrating shared struggles and resilience like tree roots. Its purpose is to motivate viewers to tap into their inner drive and promote a more just world, underscoring the immense capacity for change.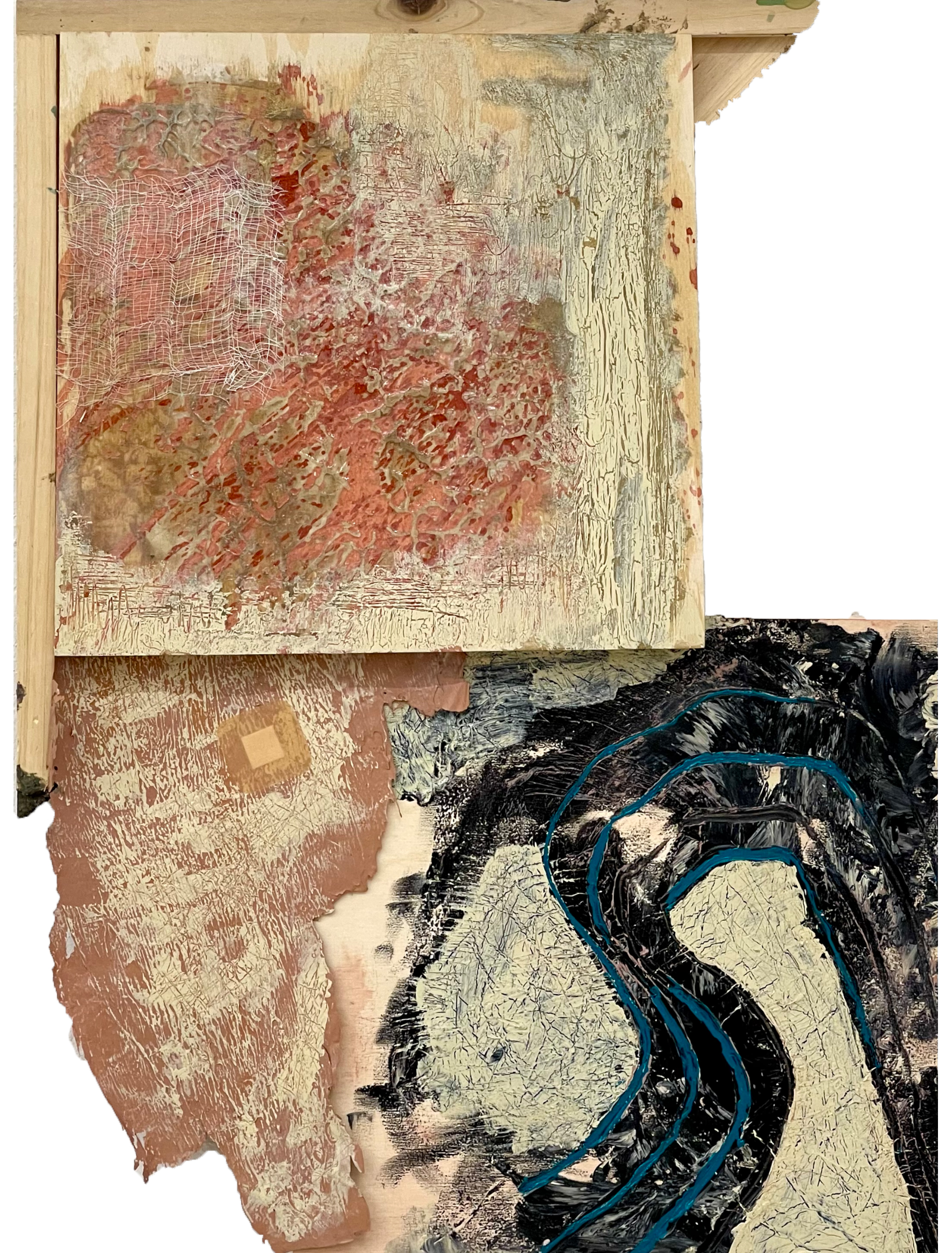 Unseen Torments
Embodiment allows pain to transform into a shared burden, lightened by the empathy of the natural world.
 
Harmonious Chaos
A symphony of tumultuous sound and a mesmerizing ballet of water and stone.
NASIM SALEHI
Nasim Salehi (she/her) is an emerging artist of Iranian Canadian origin, currently based in Toronto. She received a Bachelor of Fine Arts from OCAD University, and is pursuing an interdisciplinary Master's in Art, Media and Design from OCAD U. Nasim specializes in mixed media, performance, and video art, using these forms to explore profound themes like identity, war, immigration, and embodiment. Her work acts as a bridge, fostering connections and empathy, inviting viewers to collectively discover themselves through shared human experiences. It delves into the emotional world of those facing chronic illness, transcending language, and borders. Nasim's art captures the essence of living with chronic conditions, demonstrating how art can speak to the deepest parts of the human spirit, surpassing all barriers.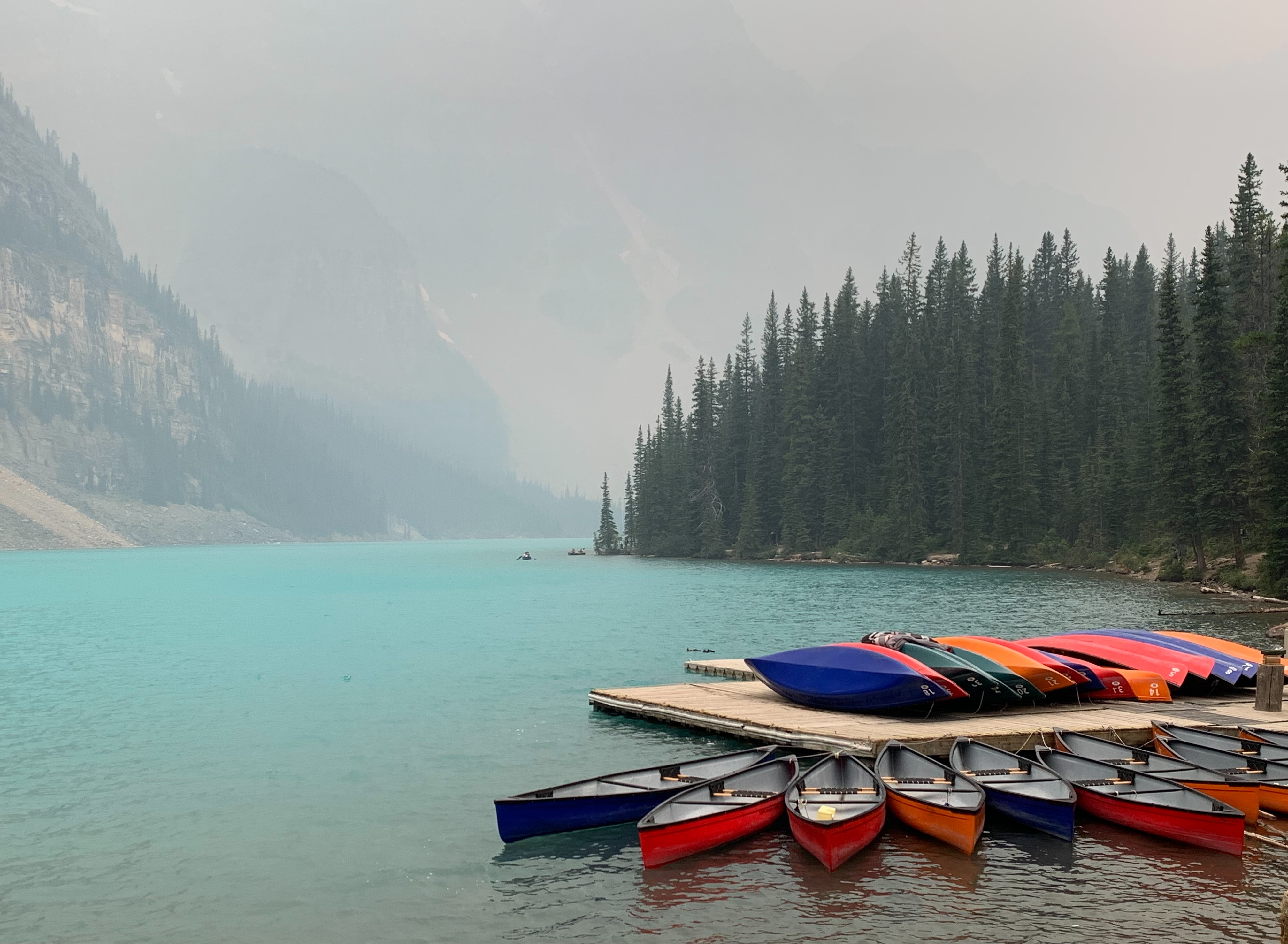 Moraine Lake After the Fire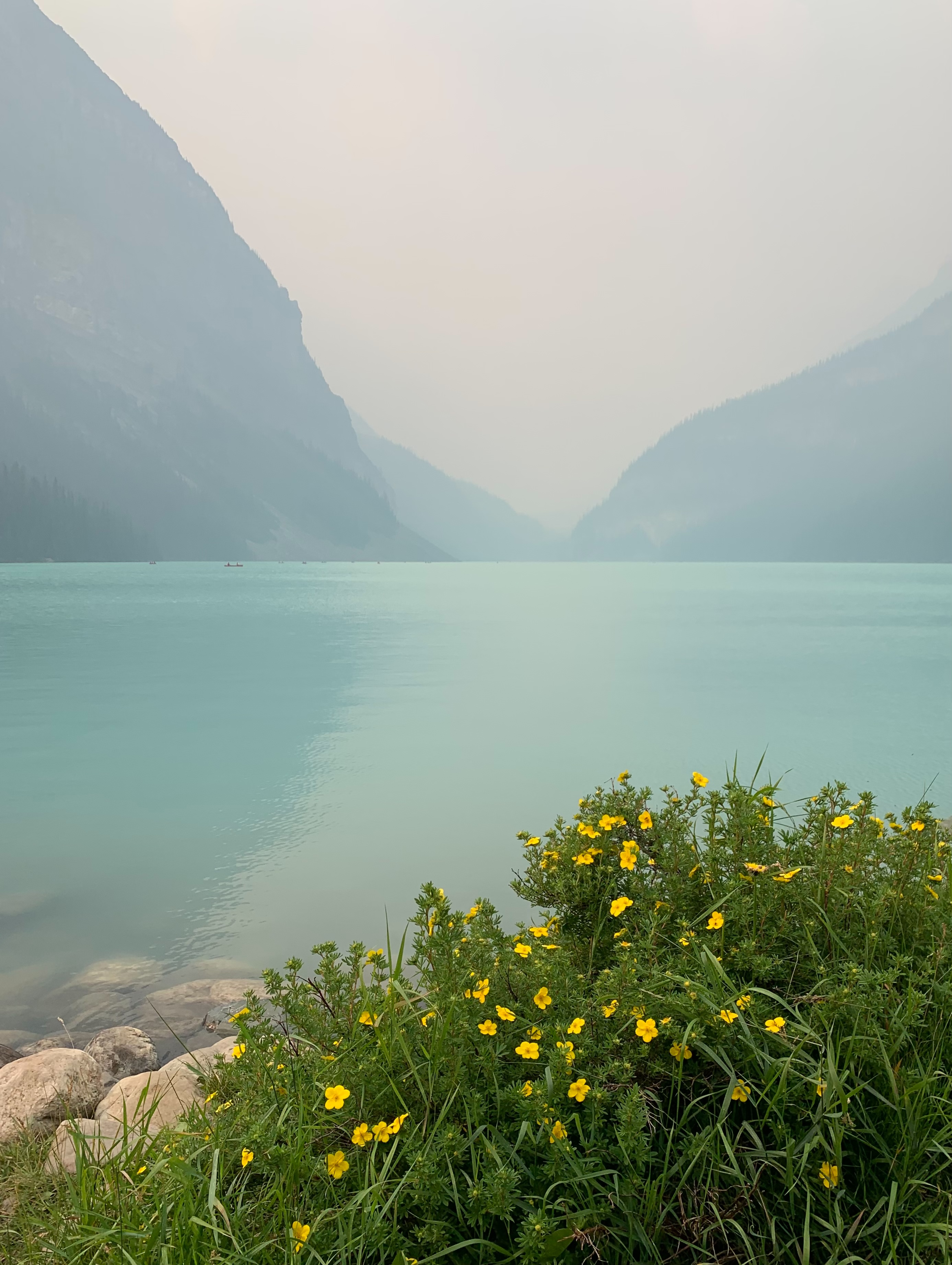 Smoke in the Air at Lake Louise
Environmental factors can permanently or temporarily alter natural landscapes. This is demonstrated by these photos of Lake Louise and Moraine Lake taken in the aftermath of the nearby fires at Dead Man's Flats.
CHRIS RIZIDIS
Chris Rizidis is a self-taught artist who grew up in Toronto and has an Eastern European background. Chris is a short form of Chrisovalantou (a saint from the Greek Orthodox religion). Chris likes to interpret the natural world through art and is passionate about being creative, connecting with other people, and learning about different cultures. Chris loves travelling and strives to inspire hope in others.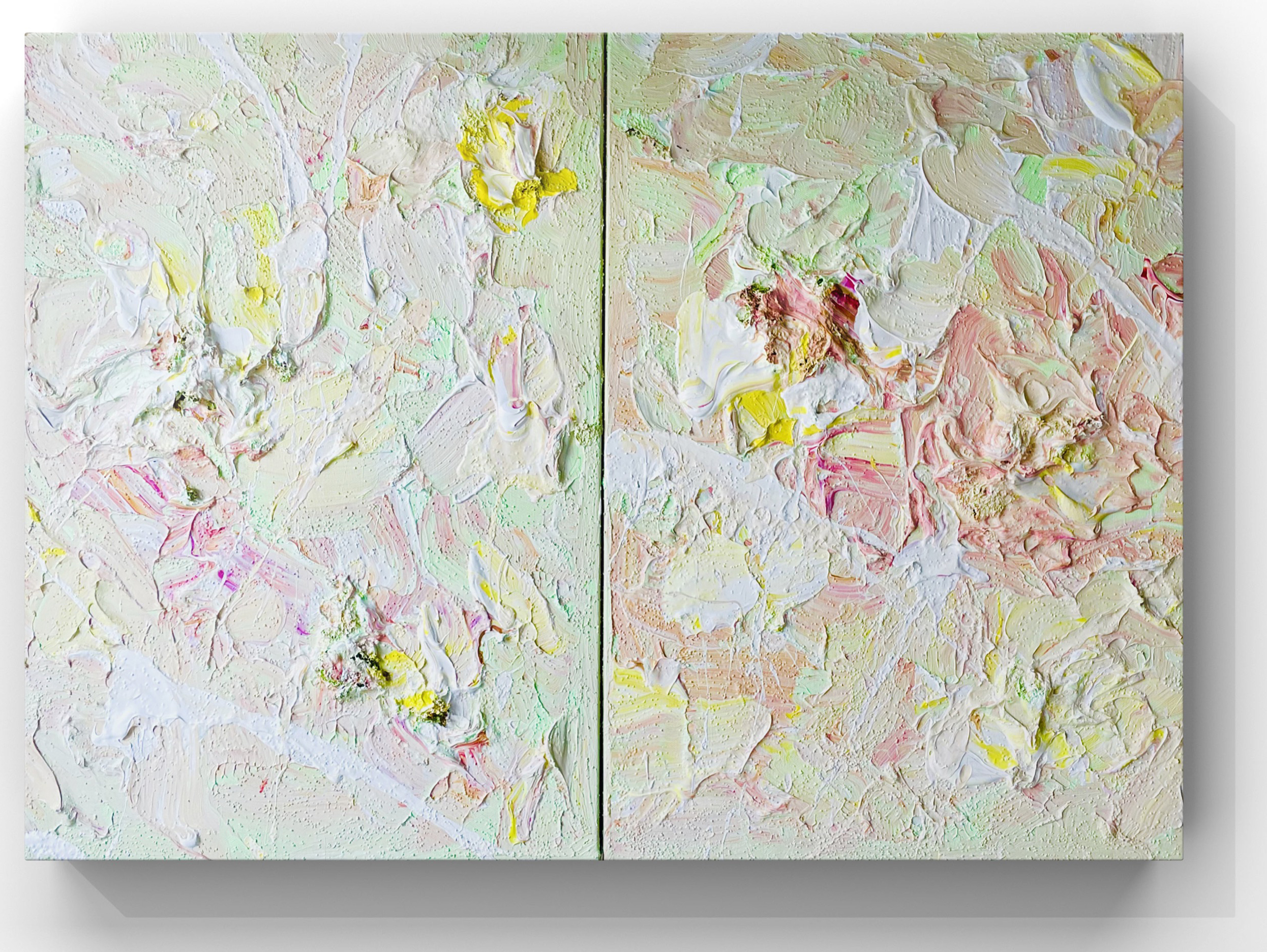 Blooming White #1, acrylic and mixed media, 2022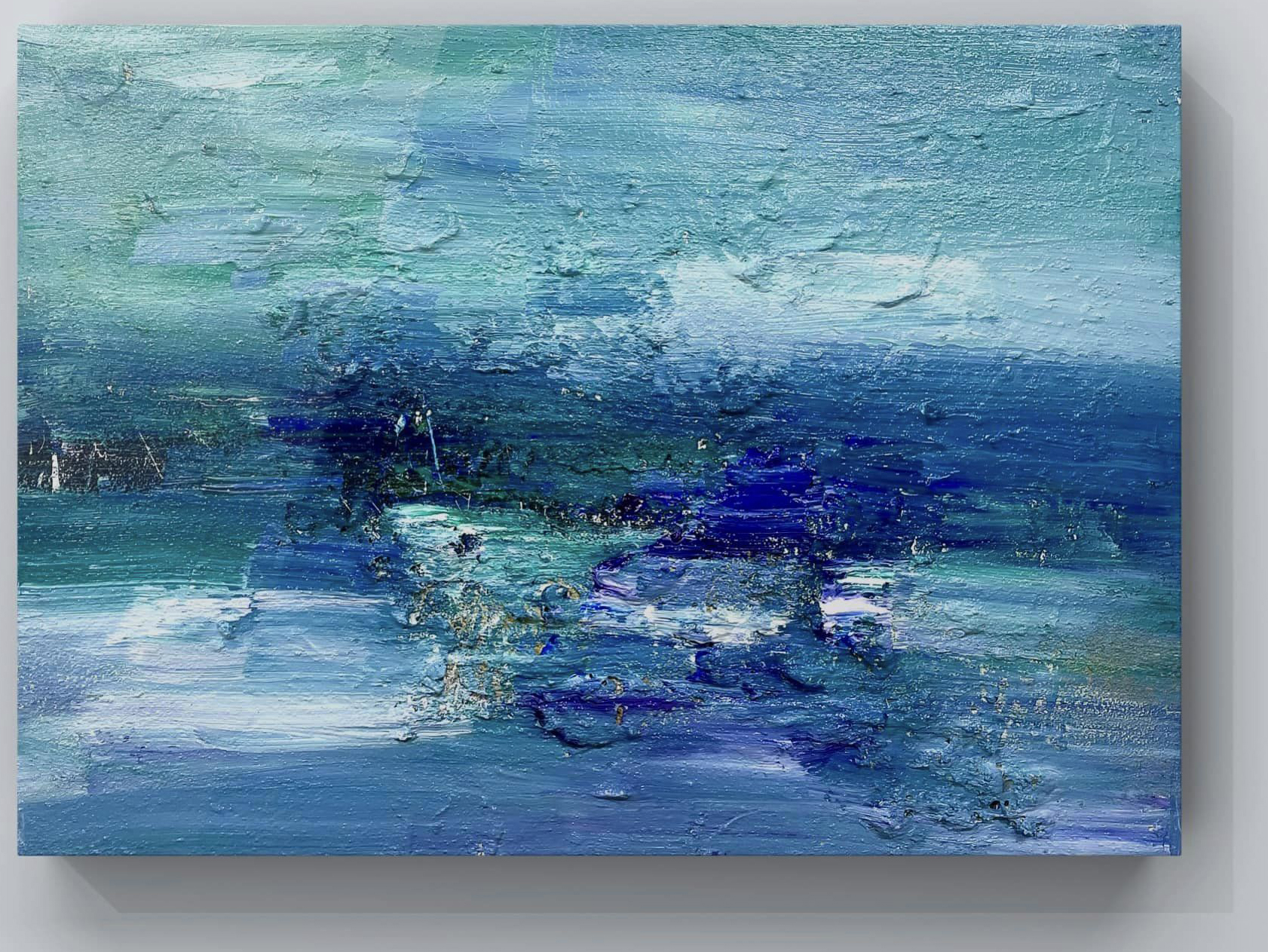 Tomorrow, acrylic and mixed media, 2022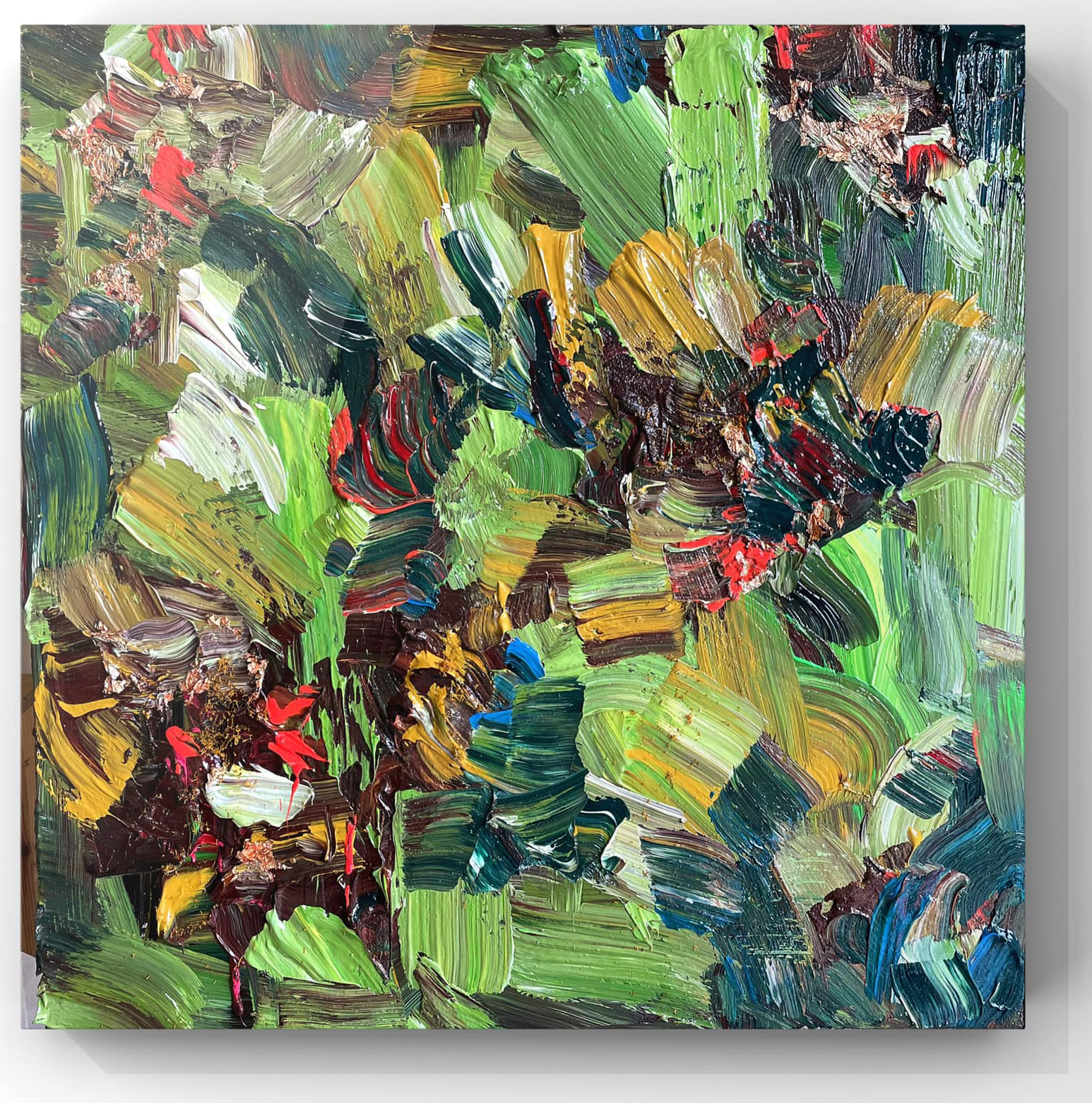 Tropical Night, acrylic, 2022
YI MEI
Yi Mei was born in China and currently lives in Richmond Hill. She specializes in landscape painting, still life, and floral compositions, getting inspiration from her immediate surroundings and local community. Yi incorporates natural elements from her everyday environment, such as dried plants from her backyard and dry moss, which she blends with pigments and modeling paste. She often works on large canvases or wooden boards to create an intimate connection with her audience. She holds an OCAD U School of Continuing Studies certificate in Art and Design Studio Skills and a master's degree in art and design from Donghua University (DHU) in Shanghai. Her art has been part of numerous juried shows, exhibitions, and galleries.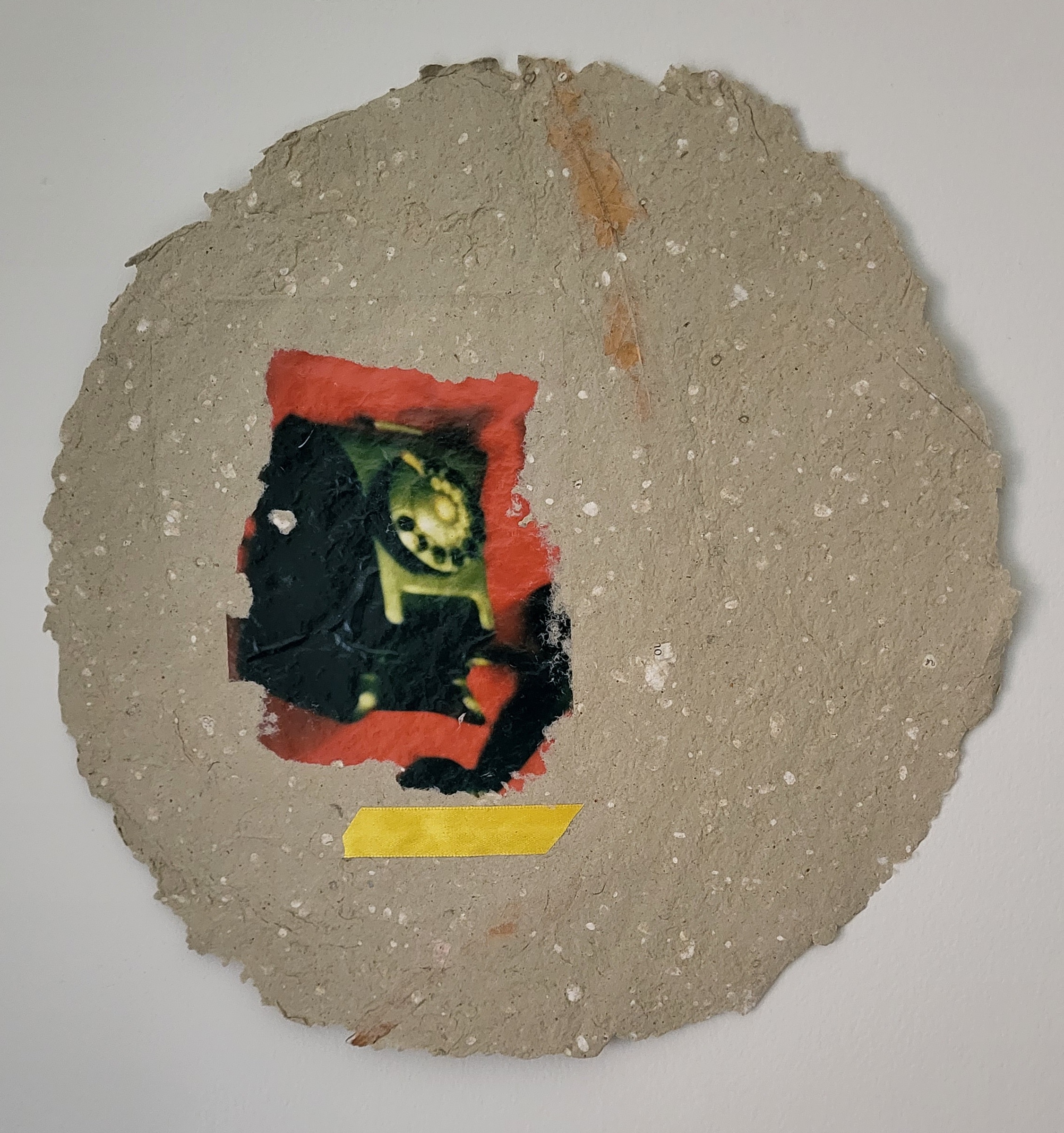 Hyper-communication
Hyper-communication features hand-made paper and photography of an antique telephone. The transition towards sustainability requires us to reimagine media and communications. These days, pictures are rarely printed, but shared instead. Smart telephones have replaced older forms of interaction. The digital age will reduce our reliance on paper, which now is rarely ever hand-made. But at what cost? The round surface of Hyper-communication is meant to represent the Earth. An unclear, man-made mark rests starkly upon it.
EBRU WINEGARD
Ebru Winegard is an immigrant living in Toronto, born and raised in the historic city of Istanbul. Ebru's art background includes extensive education that has allowed them to become a multi-disciplinary creator. Ebru has experience as a graphic designer, visual artist, filmmaker, and art educator. All of these experiences contribute to their creative process. Ebru is now making mixed media art with an emphasis on design and aesthetics.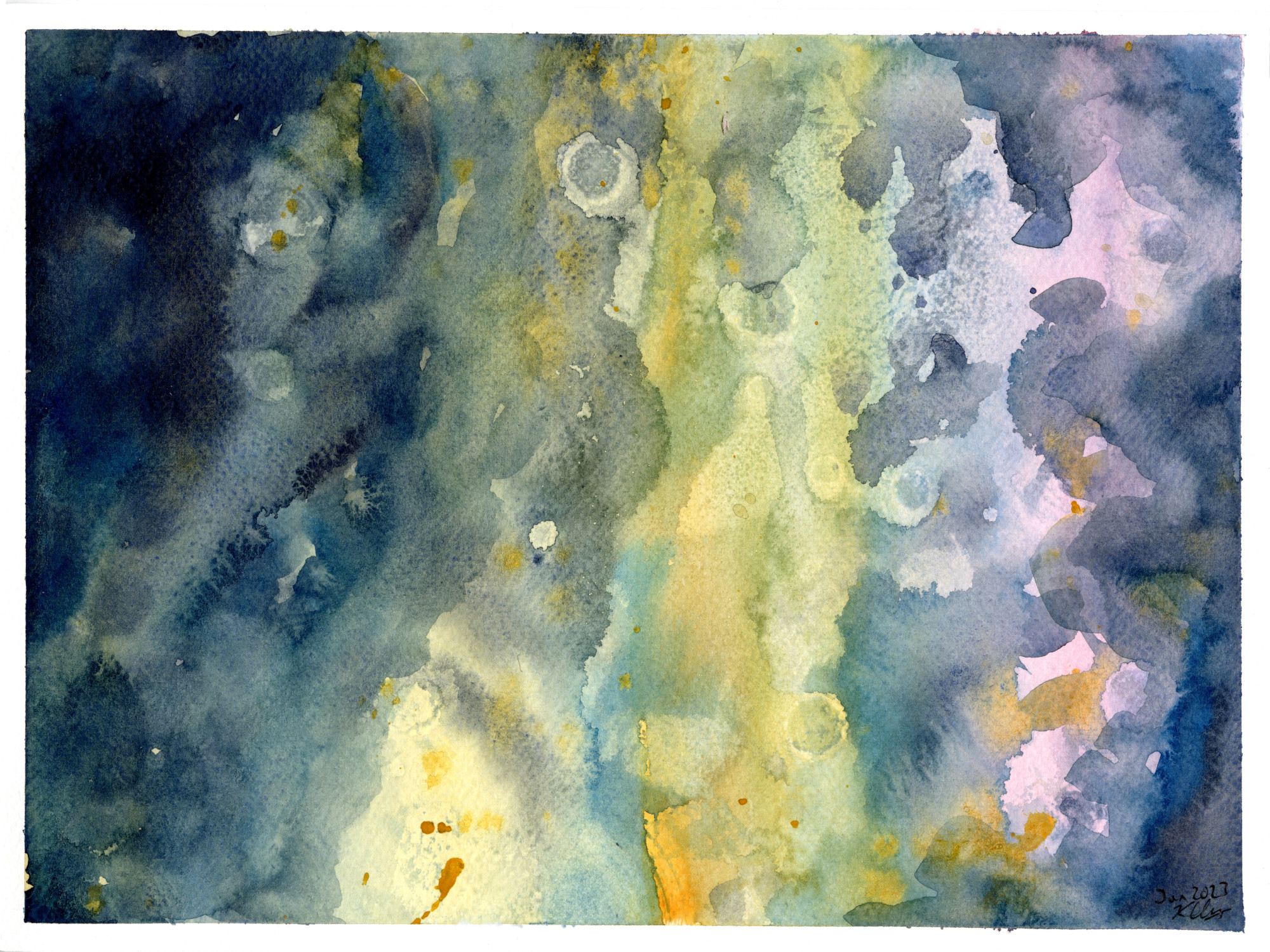 Space, watercolour, 2023
KJ was inspired by the colourful and abstract images of space from the Hubble telescope.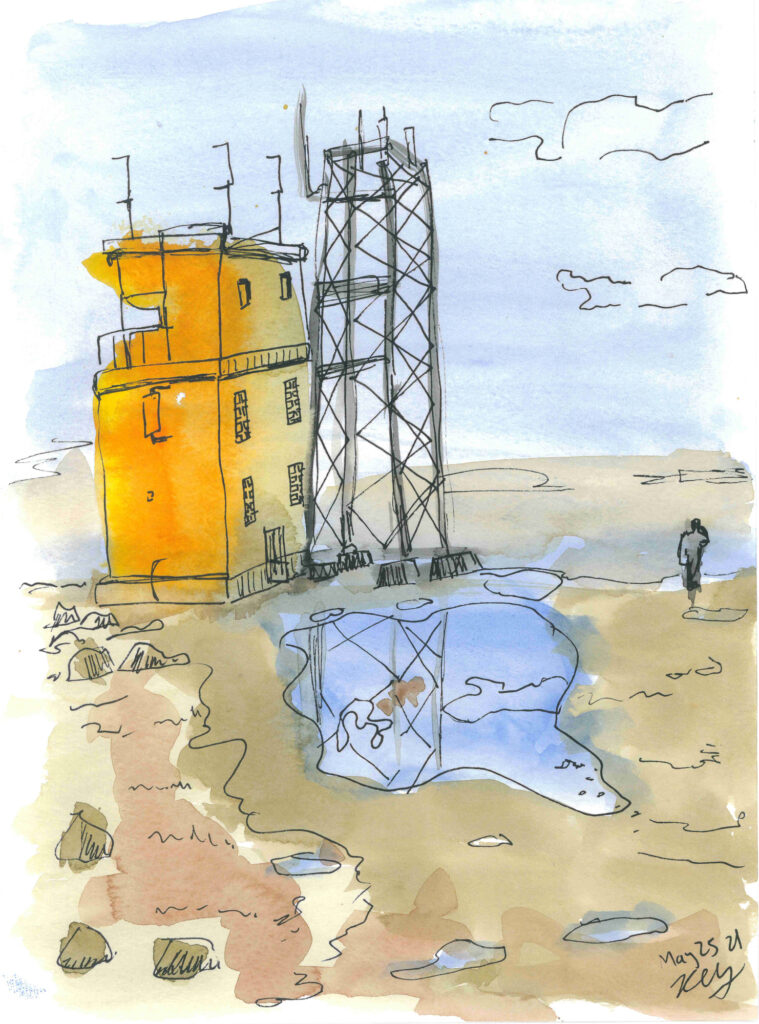 Iceland Lighthouse, watercolour, 2021
On KJ's visit to Iceland, there were many beautiful spots, but this lighthouse stood out. KJ was in a tour group, and this painting represents the connection we have between ourselves and the reflections we see in nature.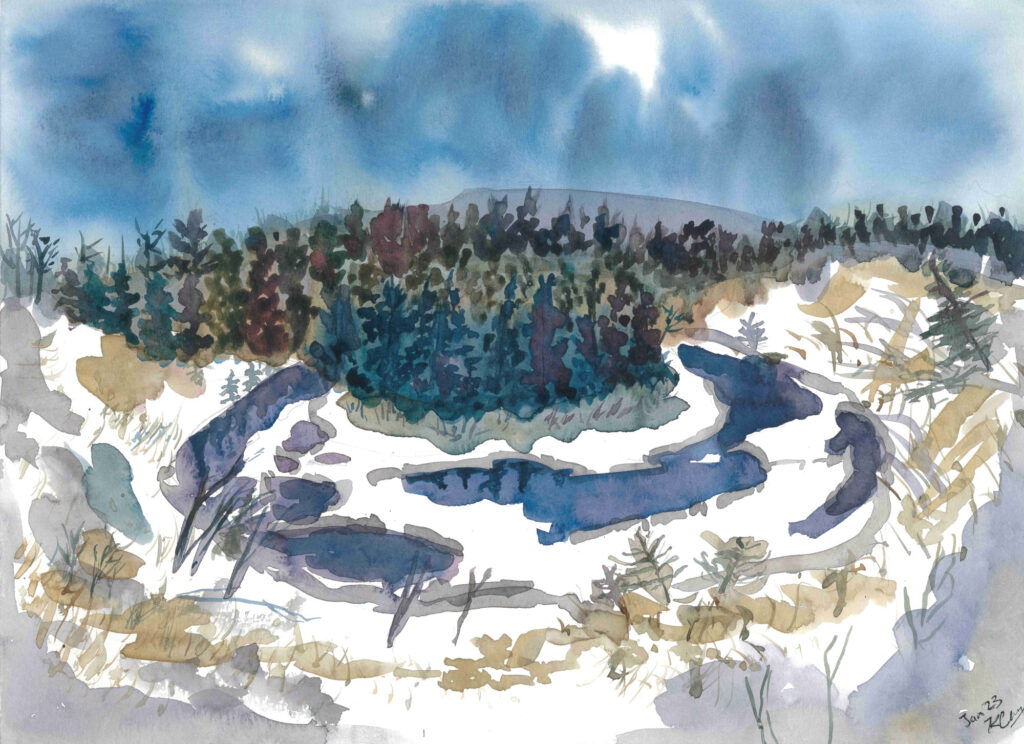 Arrowhead Provincial Park, watercolour, 2023
KJ trekked out in the winter, 2.5 hours north of Toronto to view the huge river bend at Arrowhead Provincial Park, a natural phenomenon where a river erodes away the sides until it became a 180 curve. It is almost too large to fit into one picture. There was such a stillness and calm being there in the winter.
KJ CHONG
A Toronto based painter, KJ Chong uses watercolour to explore the realm of nature and mental health in everyday life. She is influenced by impressionism and Japanese anime. KJ's works translate ordinary scenes into the extraordinary. Her pieces feature contrast and saturated colours. With balanced compositions, KJ's works are serene and delightful.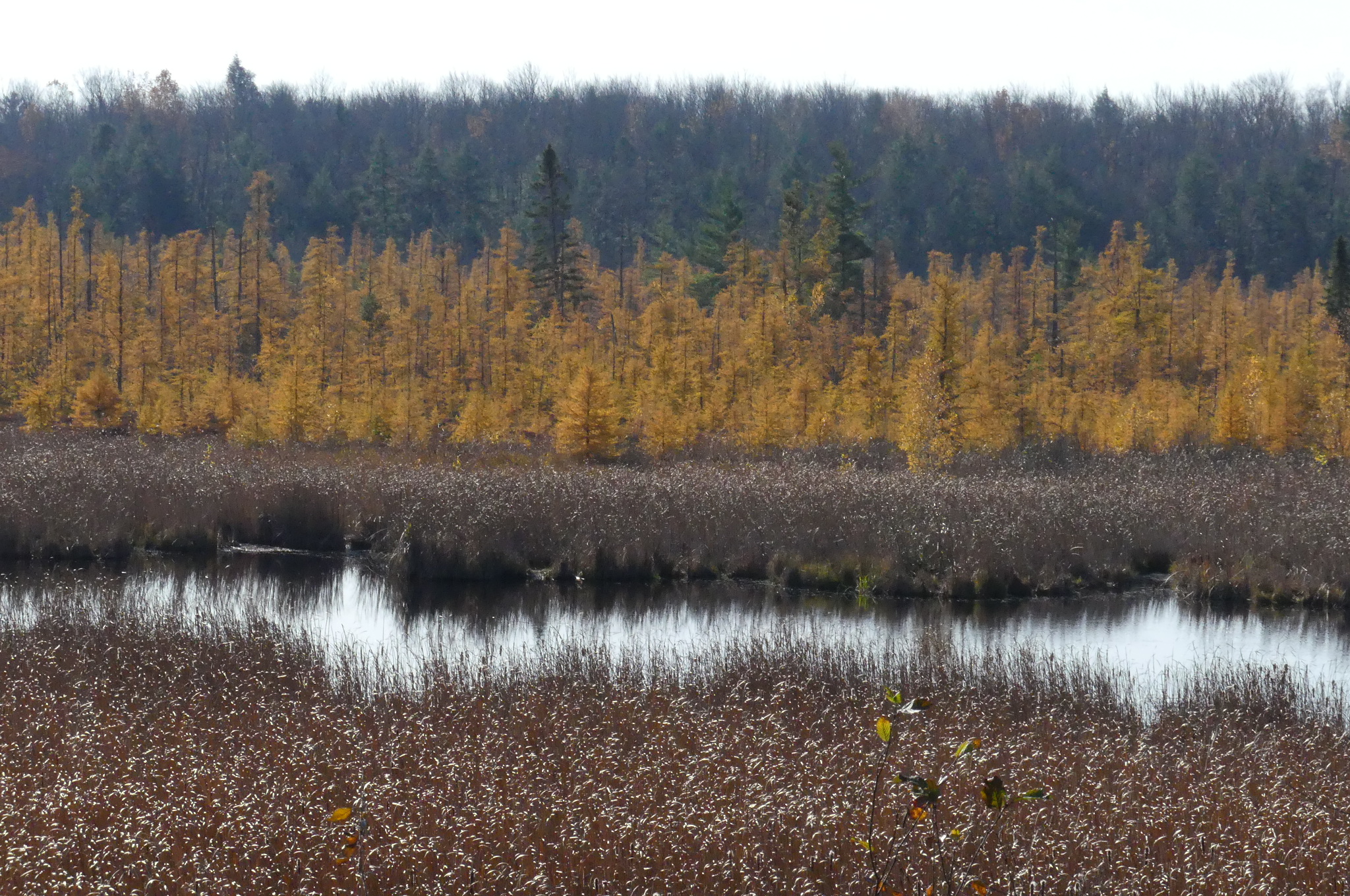 Layered Understanding
For more than 7,000 years, the process of changing seasons continues unbroken in the northern boreal landscape of Mer Bleue Bog, reminding us of how, when untouched, sustainability is inherent in our natural environment. In this photo, Carol interprets the linear visual patterns found in landscapes as a reminder of the earth's natural beauty.
CAROL BRUNT
Since childhood, Carol Brunt has been taking photos of the surrounding natural world. In addition to travel and family photos, Carol creates photoscapes that capture seasonal colours, shapes of rolling hills, movements of water bodies, and the flora and fauna that collectively create our ecosystem. In documenting our natural world, Carol wants to capture its beauty, what it feels like to be there, and to preserve the moment.