Online screening of Wendy Coburn's critical video exploring the intricacies of public protest—not all is as it appears.
Followed by discussion with panelists: Josh Lamers, Aliya Pabani and Kirsty Robertson
Moderated by Rebecca Garrett and b.h. Yael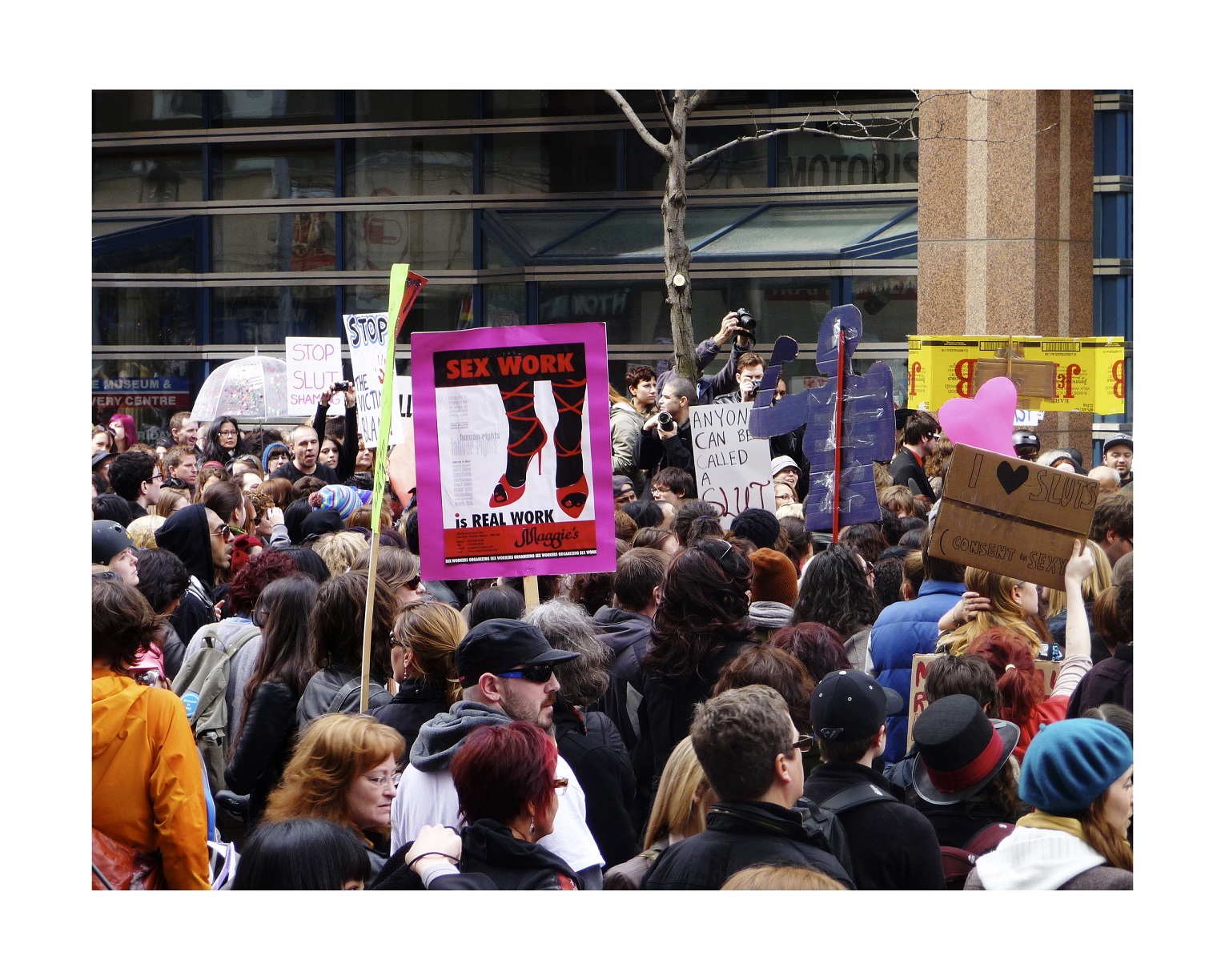 Tuesday February 9, 2021
7 to 9 p.m. EST
This event is over.

You can watch "Slut Nation: Anatomy of a Protest" online until March 12 at: https://www.vtape.org/event/slut-nation-anatomy-of-a-protest
Presented by Vtape and Onsite Gallery, OCAD University
Slut Nation: Anatomy of a Protest, revisits the world's first Slutwalk protest. Grassroots and spontaneous, the 2011 protest offered an important rebuttal of a Toronto Police officer's comments at a safety and security panel at York University, drawing attention to the ways in which gender stereotyping diverts the focus from the perpetrators of violence, and blames survivors of sexual assault instead. The protest's critique of the persistence of rape culture inspired countless satellite protests across the globe. Coburn's reconstruction of the 2011 Toronto protest highlights the movement of an organized group of provocateurs, including their representation in the media, as they march three blocks from Queen's Park to the Toronto Police Headquarters. Bringing together footage and photographs taken by citizen journalists, the media, and the artist's friends, Coburn's work draws parallels to the haunting history of the infiltration of protests in Toronto, including those following the gay bath-house raids in 1981 through to the largest mass arrests of citizens in Canada at the G20 in 2010.
Ultimately, Coburn's expansive body of work poses a series of questions related to freedom of assembly, the critical role of protest, and tactics used to undermine social justice organizing and positive social change.

Slut Nation: Anatomy of a Protest and Wendy Coburn's video works are represented by Vtape, please contact distribution@vtape.org for exhibitions, rentals and purchase.
Biographies:
Wendy Coburn (October 5, 1963 – June 15, 2015) was a Toronto-based artist and art educator whose studio practice included photography, sculpture, installation and video. Her multi-disciplinary work engages a range of concerns such as human relations to land and ecologies, power relations and the construction of differences, popular culture, mental health, gender, whiteness, nationhood and the role of images in mediating cultural difference.
 
Her work has been exhibited and screened in galleries and festivals including Anatomy of a Protest (Justina M. Barnicke Gallery), Photophobia (Art Gallery of Hamilton), The Living Effect (Ottawa Art Gallery), MIX (New York Gay & Lesbian Experimental Film/Video Festival),Transmediale International Media Art Festival (Berlin, Germany), Beaver Tales and Uneasy Pieces (Oakville Galleries), Kassel Documentary Film & Video Festival (Kassel, Germany), and the Dublin Lesbian & Gay Film and Video Festival (Dublin, Ireland).
 
Coburn received her MFA from Concordia University and AOCA from OCAD University. She worked for 18 years at OCAD U including as Assistant Dean and Associate Dean in the Faculty of Art, and as a faculty member with the Sculpture Installation and the Art & Social Change programs. As a key participant in the creation of OCAD U's Art and Social Change minor, Wendy developed the groundbreaking course "Making Gender: LBGTQ Studio" which seeks to foster a greater awareness and understanding of lesbian, gay, bisexual, transgendered and queer cultures and subcultures.
Rebecca Garrett (she/her) is a Toronto based artist whose use of media is situation specific.  Since graduating from the Ontario College of Art in 1981, Garrett has exhibited film and video installations; photo-based wall pieces; mixed media and performative interventions; site specific installations; and single channel videos, in numerous sites and venues in Canada and abroad. Her works explore experimental formal concerns and are committed to the evolution of an alternative and innovative image language.  These concerns are located and challenged by the indexical nature of the sign and the documentary traditions and responsibilities of varied social and political contexts.  Many of her works can be seen as investigations of the affects of structures of containment or control—such as architecture, colonialism or global media—on perception, psychic and cultural survival, and knowledge production.
 
Garrett has worked collaboratively and/or collectively with many groups and individuals in Canada, the USA, Zimbabwe, and Kenya.  Her work expresses a long commitment to naming economic, colonial and social injustices, and building relations of exchange and reciprocity.
Josh Lamers (he/him) is a Black queer organizer, activist, law student, and child welfare survivor/abolitionist. Josh's community and academic work centres the intersections of Blackness, Disability and madness, child welfare survivorship, queerness and transness. Josh is the co-founder of various Black radical spaces such as the Black Liberation Collective-Ryerson that organizes against antiBlack racism in post-secondary education with successful and substantive achievements, and the Collective of Child Welfare Survivors that focuses on radically addressing child protection for Black, Indigenous, and racialized families in Ontario. Josh's research titled From Topic and Evidence to Architect: The Development of Black Diasporic Interpretive Phenomenology and the Resistive Strategies of Black Child Welfare Survivors, received the Graduate Writers Award, and will be published in the forthcoming book "Child Welfare and the Myth of Protection".
Aliya Pabani (she/her) is a Toronto-based artist and audio producer. Previously, she was host and co-producer of Canadaland's arts and culture podcast, The Imposter, and she's also produced audio for BBC 4's Short Cuts, the Toronto Biennial of Art, and in the Barbican's Soundhouse program. Her art has been shown at the Images Festival, The Theatre Centre, and at Khoj International Artists' Association (Delhi), among others. She's currently working on We Are Not the Virus, a documentary podcast series with Toronto's Encampment Support Network that draws on the 4 elements—earth, water, wind and fire—to explore different facets of life in Toronto's encampments through the stories of residents.
Kirsty Robertson (she/her) is Associate Professor of Contemporary Art and Director of Museum and Curatorial Studies at Western University, Canada (London, Ontario). Her pedagogy involves curating large-scale speculative and experimental exhibitions with students. In her academic work, Robertson has published widely on activism, visual culture and museums culminating in her book, Tear Gas Epiphanies: Protest, Museums, Culture (McGill-Queen's University Press, May 2019). Her work on museums has expanded into a new project focused on small and micro- collections that repurpose traditional museum formats for critical and politically radical projects. In addition, Robertson is a founding member of the Synthetic Collective, a group of artists, scientists and cultural researchers working on plastics pollution in the Great Lakes Region and project co-lead on A Museum for Future Fossils, an ongoing "vernacular museum" focused on responding curatorially to ecological crisis.
b.h. Yael (she/her) is a filmmaker and installation artist. She is Professor of Integrated Media at OCAD University and past Chair of Senate. Yael's work has exhibited nationally and internationally and has shown in various settings, from festivals to galleries to community and activist groups, as well as various educational venues. Her work has been purchased by many universities and she is a recipient of numerous arts grants including the Chalmers Fellowship award.
Yael's films and installations have dealt with the many intersections of identity and family (Fresh Blood); it has focused on activist initiatives in Palestine/Israel (Palestine Trilogy and other works), as well as apocalypse, geopolitical and environmental urgencies (Trading the Future). Yael has also worked collaboratively with Johanna Householder (Approximations) and in collectives such as Spontaneous Combustion, Hardpressed Collective and BlahBlahBlah's  Re(viewing) Quebec. Yael has programmed arts lectures and media screenings including Art Creates Change, and she occasionally writes, currently completing a family memoire.
Accessibility: 
Sign language interpretation will be provided for introduction and discussion.
Video captioning will be provided.
Please contact onsite@ocadu.ca to discuss further accommodation needs.
The Estate of Wendy Coburn is represented by Paul Petro Contemporary Art, Toronto.
Slut Nation: Anatomy of a Protest—not all is as it appears is presented by: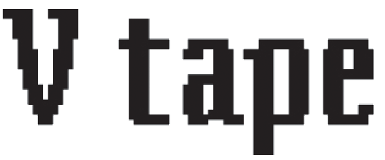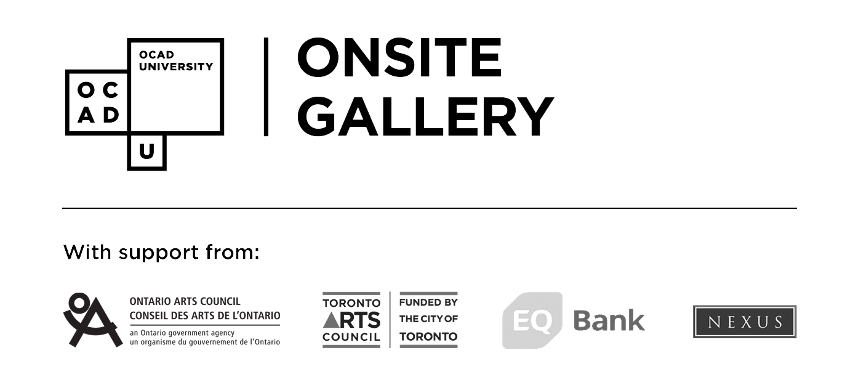 Onsite Gallery is the flagship professional gallery of OCAD U and an experimental curatorial platform for art, design and new media.
Visit our website for upcoming exhibitions and events. The gallery is temporarily closed due to health and safety restrictions. We are located at 199 Richmond St. W, Toronto, ON, M5V 0H4.
About OCAD University (OCAD U)
OCAD University (www.ocadu.ca) is Canada's university of the imagination. Founded in 1876, the university is dedicated to art, design and digital media education, practice and research and to knowledge and invention across a wide range of disciplines.
Contact Information:
Onsite Gallery
Lisa Deanne Smith, Curator
onsite@ocadu.ca
Facebook
Instagram